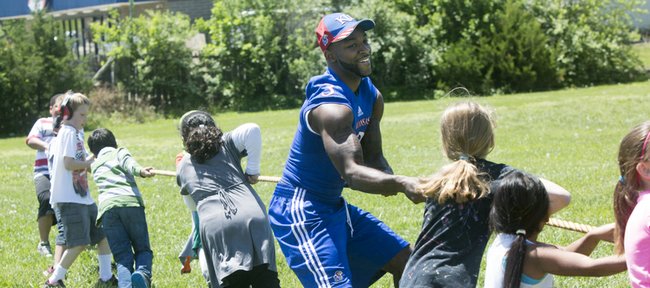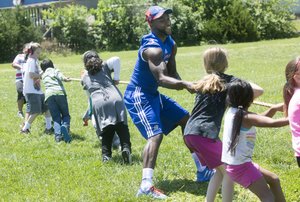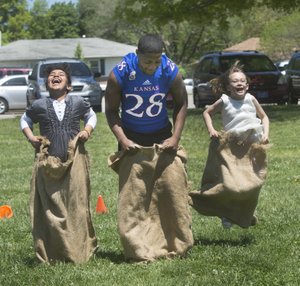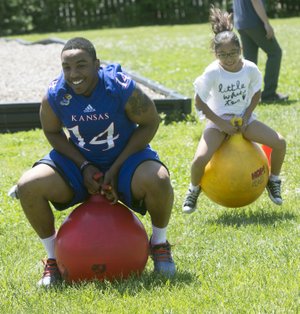 The first thing they always want to do is race.
That's what several members of the Kansas University football team learned recently during a two-week stretch in which more than 40 Jayhawks visited with elementary-school students across Lawrence.
The outreach effort, which included everything from reading to students in the classroom to competing against them at carnivals and field days, was voluntary and inspired by the most simple concept that the KU program makes a priority — giving back.
Part of their giving back meant putting smiles on faces and offering encouragement during field-day events. It also meant digging in at the start for a bunch of old-fashioned foot races.
"They like the KU guys," Schwegler Elementary School physical education teacher Trey Johnson said. "They like to race them and challenge them to tug-of-war and different types of things. They see that blue jersey, and it's something awesome."
Twenty Jayhawks cycled through Schwegler's halls for the school's annual field day. Included among them was senior Tony Pierson, the man KU coach Charlie Weis has called as fast as any player he has ever coached. That made Pierson an easy target for a handful of second-graders who wasted no time challenging him in the field behind the school.
In his first official act as a field-day volunteer, Pierson lined up against a young man sporting a mohawk and wearing a jean jacket. As soon as the word "Go!" was uttered, they were off. Pierson did not bring his Saturday-afternoon speed to the table, but he did pose as a strong challenge for the student, who crossed the finish line first and responded with five simple words: "I beat a football player."
Pierson didn't mind. And he stuck around for another 80 minutes, taking all challengers and jumping at invitations to any other events.
"I think it's a combination of what coach Weis likes and what the players like, giving back to the community," said Pierson, who recalled his own childhood races against sprinting legend Jackie Joyner-Kersee during similar events at his grade school in East St. Louis, Ill. "You go out there and jog around with 'em and have fun."
Pierson was joined at Schwegler by quarterback Michael Cummings and linebacker Courtney Arnick.
"It's definitely a break from the monotony, the stress of school and football and all that," Cummings said. "It's a lot of fun, and it makes me feel like our priorities are in the right place. Everything's not always about us, and it's good to give back. I think we've all really embraced that."
Added Arnick, who competed in sack races, tug-of-war and basketball games on the blacktop: "It just shows who wants to do more other than just football every day. We do a lot of different activities, but something like this is priceless. It's great to be able to do something like this for others, because when we were little, others did it for us, so it's really just like passing it down."
The Jayhawks made it to nearly a dozen schools for four- or five-hour blocks during the two weeks leading up to final exams.
Included among those who participated were: Dylan Admire, Kellen Ash, Scott Baron, Austin Barone, Brian Beckmann, Joey Bloomfield, Brandon Bourbon, Seth Conway, Taylor Cox, Montell Cozart, Jordan Darling, Ronnie Davis, Ed Fink, Ngalu Fusimalohi, Joe Gibson, Jaccare Givens, Michael Glatczak, Jordan Goldenberg, Ben Goodman, Chevy Graham, Nick Harwell, Matt Hentges, Reilly Jeffers, Marcus Jenkins-Moore, Isaiah Johnson, Eric Kahn, Pat Lewandowski, Damon Martin, T.J. Millweard, Jimmay Mundine, Aaron Plump, Kyle Pullia, Preston Randall, Cameron Rosser, Frank Seurer, Victor Simmons, Fish Smithson, Colin Spencer, Keon Stowers and Andrew Yoxall.
"It's really encouraging," Weis said. "We've tried to educate them a little bit about community service, but now more and more of them want to get involved. A lot of them feel good about themselves when they get involved in things like that."