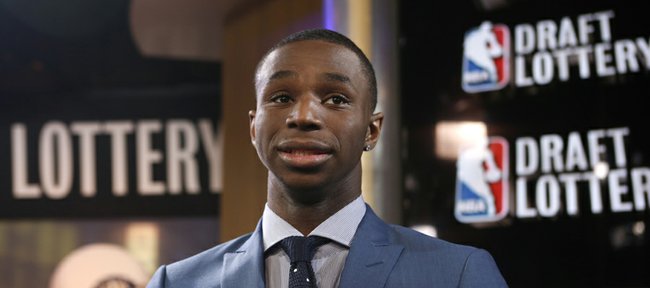 Barring some big surprise, Kansas University's Andrew Wiggins and Joel Embiid will be playing basketball in either Cleveland, Milwaukee or Philadelphia next season.
The NBA Draft Lottery revealed Tuesday that the Cavaliers will pick No. 1, the Bucks No. 2 and the Sixers No. 3. Wiggins and Embiid have long been considered locks to fall somewhere in the top three with Duke's Jabari Parker.
"It's competition, but it's friendly competition. We both have love for each other," Wiggins said, referring to himself and Jayhawk teammate Embiid on the live lottery telecast on ESPN.
"If I don't go No. 1, I hope he goes No. 1. We're all just a family here. We both hope to get No. 1 pick. Hopefully wherever we go we do a lot of damage wherever we are at and have a successful career," Wiggins added.
ESPN's Chad Ford tweeted on Tuesday that the 6-foot-8 Wiggins "is odds on favorite to go No. 1 to Cavs." ESPN's Jeff Goodman, in somewhat of a surprise, has the Cavs taking Parker, the Bucks Embiid and the Sixers Wiggins.
Goodman also tweeted, "Milwaukee may be in a tough spot. Arn Tellem (Embiid agent) may not let Embiid work out for Bucks — do you take him at No. 2 w/o all medical info?"
Embiid, who missed the Big 12 and NCAA tournaments because of a stress fracture in his back, on Tuesday said he's fine.
"(My back) is 100 percent; no pain, nothing. I have been working out just to get back in shape," Embiid said on Sirius XM radio as quoted by A. Sherrod Blakely of Comcast Sports Net.
Embiid was asked on ESPN's lottery telecast what he could bring to the Cavaliers at No. 1.
"I can bring my shot blocking ability. I think I have a good offensive game and I'll be able to get rebounds like I did in college and it will be fun," Embiid said.
Wiggins was asked on the lottery show to tell his fellow top prospects in attendance why he should be No. 1.
"It's just being a competitor. You never want to put anyone else ahead of you," he said. "So I'm always going to put myself first above anybody. Just the competitive side of me. I think I can do a lot of damage in the NBA. It's more open court. That's more my game, more one-on-one, open spaces. I think I'll do pretty well."
As far as other prognosticators, draftexpress.com on Tuesday predicted Wiggins will go No. 1, Parker No. 2 and Embiid No. 3. NBAdraft.net has Embiid No. 1, Wiggins No. 2 and Parker No. 3.
KU represented: The live lottery show had a Jayhawk flavor. Embiid and Wiggins were the only two players interviewed. Also, former KU forward Markieff Morris, who attended with twin teammate Marcus, was the Phoenix Suns' representative, and former KU guard Milt Newton was the representative of the Minnesota Timberwolves.
Tweets: Embiid took to Twitter after the draft lottery show and wrote: "It's been a long day... Time to rest!! This process is getting interesting."
Lots of pub: Wiggins appeared on NBA.com's "Off the Court" show with Rick Fox on Tuesday.
"Something that prepared me for this moment is Kansas because they really treat the basketball players, the basketball team like celebrities out there," Wiggins said. "They show a lot of love and support toward them. I did so many interviews in Kansas, a lot of autograph signing. We always were on the big stage in Kansas. I think that will prepare me for times like this," Wiggins added.
More like this story on KUsports.com