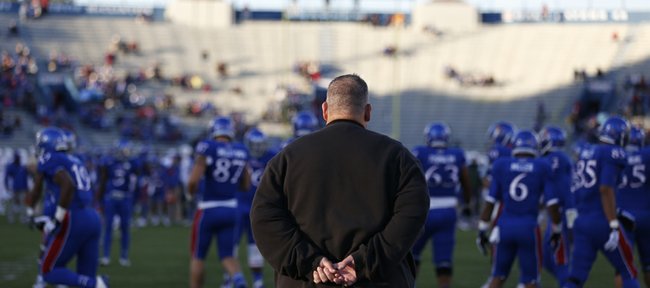 Topeka — Kansas University football coach Charlie Weis kicked off the summer preview party circuit at the 6th Avenue Ballroom in Topeka on Wednesday evening, and his message to the KU fans in attendance was one of continued progress within the program.
"Going into the third year, it's what's the next phase," Weis said before speaking to the Topeka-based Jayhawk fans who packed the ballroom. "The bottom line is, you want to win more football games, and the bottom line is, what are we doing to put ourselves in a position to win more games?"
After meeting with the media, Weis joined KU athletic director Sheahon Zenger and others from KU's athletic department in providing a state-of-the-union-type rundown of where the football team stands heading into the 2014 season.
Weis will do it all again at 5:30 tonight at Sporting Park in Kansas City, Kan., and will wrap up the tour on May 22 in Wichita. A similar banquet scheduled for May 20 in Dodge City has been canceled.
All of the events are open to the public, which can pick up 2014 football items and win autographed KU merchandise, tickets and other prizes.
No update on Heaps
Weis gave no news about the situation surrounding senior quarterback Jake Heaps. Last month, reports surfaced that said Heaps was transferring. At the time, KU officials said last year's starter was still on the roster and had attended a team meeting that day.
"I'm not talking about any of those things," Weis said Wednesday. "We're not here to talk about the personnel of our team, what I'm going to talk about more is the evolution of our team."
Next for NFL Jayhawks
Weis gave some insight into what's ahead for the three former Jayhawks who signed free-agent contracts with NFL clubs following last weekend's draft. The veteran NFL coach's advice to Josh Ford (Atlanta), James Sims (Green Bay) and Aslam Sterling (Denver) had to do with making the most of the opportunity at hand.
"The most important thing for all of them to realize is they're undrafted free agents, they could go one of two directions in a hurry," Weis said. "They could be packing their bags and getting out of there or else they could start opening some eyes and (have) people sit there and say, 'Hey, maybe this guy's got a chance to help us.'"
More like this story on KUsports.com