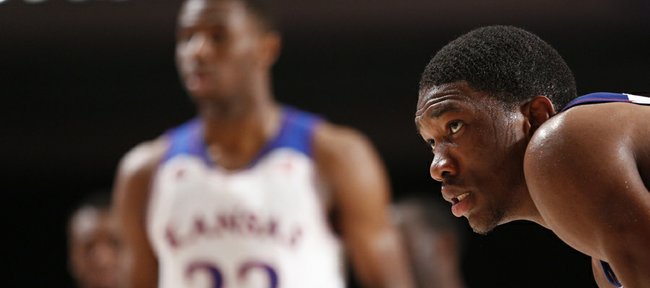 Boston Celtics president of basketball operations Danny Ainge said he's not sure how the absence of Andrew Wiggins, Joel Embiid and Jabari Parker at this week's NBA Combine will affect the three players' positioning at the top of the draft.
Ainge told the Boston Globe that the combine doesn't normally change opinions of players that much.
"Well, it could sway it, even though it's very, very rare that you go do an interview with someone at this stage of the season and you all of a sudden just have a drastically different opinion of a kid," Ainge told the Globe.
"But the difference is that in most cases, with most teams, you're only drafting one guy. So you may be having a hard time deciding between five or six different guys, and maybe there's something said or found that becomes a tiebreaker. But it's just a tiny piece of the whole puzzle. We've watched these guys in some cases for a few years. We know all about them and we know their histories."
Another NBA front office exec told nba.com it's no big deal the Big Three of the draft are skipping the combine.
"I wouldn't be (scared about drafting them)," the official said. "If I was one of those two teams that was going to look at those guys, I would do it anyway. I'm going to have them in and have them do it (physicals, interviews, measuring) anyway and then it's for my own private use. And for those guys who only need to submit to one or two physicals, it's not going to kill them."
Embiid, Wiggins and Parker are considered locks to go in the top three of the 2014 Draft, but the order is up for grabs.
Embiid is recovering from a stress fracture in his back that kept him from playing in the Big 12 and NCAA Tournaments.
"I doubt he'll visit anyone but the top three teams (in draft)," an Eastern Conference scout told the Globe. "His agent doesn't think he'll slip past the third pick, so there's no reason to visit the fourth team. And those top three teams will have their doctors examine him inside and out."
In all, 60 players are at Chicago's Moody Bible Institute Wednesday through Sunday. A scout told the Globe that Embiid's agents (Arn Tellum, B.J. Armstrong of Wasserman Media Group) could have their own back specialist send interested teams a report on Embiid.
"A back issue for a young 7-footer is a huge red flag," one scout told the Globe.
Scouts say: The Philadelphia Daily News' Bob Cooney spoke with five scouts about Embiid and Wiggins. Four of the scouts said they'd make Embiid the No. 1 overall pick.
Of shooting guard Wiggins, the scouts said: "Wiggins is an elite athlete with good length. He has the potential to be a good defender and right now is a very good transition player. Right now, his skill level is not that high. He's a streaky shooter, but is improving. His ballhandling skills are not that good. Has a high upside. Maybe he turns out to be a really good player in the league, maybe he is just a good player. … I don't see him being a franchise player in the NBA."
Of Embiid, the scouts told the Daily News: "He has the biggest upside, but also is the biggest risk (back). He is a big guy who is athletic and can create space, and is so intriguing, because he has skills and hasn't been playing the game all that long. He can be a major force on the defensive end, and on the offensive end he can be a low-post scorer who also has the ability to step out a little bit. He is the complete package at 7-foot, but is also a question mark because of the back issue. He is the one player in this draft that I see has a chance to truly be a franchise player."
Ukrainian recruit: KU and Virginia are said to be leading Michigan, Oregon, Iowa State and North Carolina for Sviatoslav Mykhailiuk, a 6-6 wing from Ukraine who will either attend college this fall or play for a pro team overseas.
"If he ends up in college he'll face a little bit of a challenge because of his age (turns 17 this summer)," ESPN's Fran Fraschilla told Jason King of bleacherreport.com. "But he's just so skilled. He would impact a team immediately. He's a 6-6 combo guard. He's not a pure point, but he can play the point. He's a dead-eye shooter who is tough as nails. It'd be like signing a really good player from Detroit or Pittsburgh or Chicago. He's a competitor."
As far as possibly playing pro ball, Fraschilla told Bleacher Report: "A club over there could make it very difficult for him to leave. Right now I'd say there's a 50-50 chance he ends up in college."
For the Bleacher Report story go to http://ljw.bz/1jvR8rR
More like this story on KUsports.com