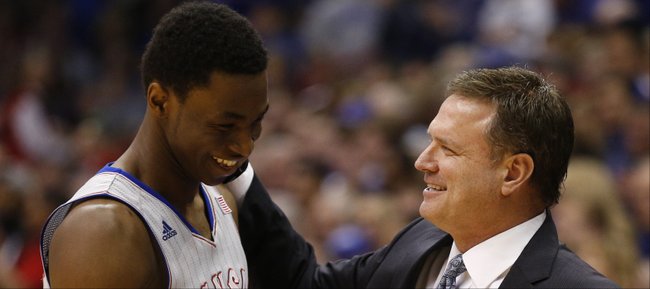 The 10th anniversary of the NCAA's academic progress rate brought good news for Kansas University.
Led by men's basketball and volleyball's perfect 1,000-point four-year average, all 18 of KU's athletic programs came in well above the 930 mark that conveys programs in good standing according to the NCAA.
Included among the four-year marks released today were five programs (men's basketball, volleyball, men's golf, women's basketball and women's tennis) that recorded perfect APR scores during the 2012-13 school year.
Given that many of KU's programs reached new heights during the past year in terms of qualifying for the postseason, the APR proof that KU's student-athletes continue to balance academics and athletics made this year's scores even sweeter.
"When your sport is going well, by golly, your whole world is going well, so the challenges that might come at you in terms of academics (are easier to handle)," said Paul Buskirk, KU's associate athletic director for student support. "They're in the midst of competition. They think this is the best thing ever. The more competitive we become, the challenges are still there in academics but I think the kids rise up to it."
While it's the students who deliver the grades, Buskirk also sang the praises of KU's coaches and, more so, the faculty members who have worked tirelessly and closely with student-athletes who have had to miss time in the classroom because of postseason competition.
"The faculty are the heroes," Buskirk said.
Not letting the role of Buskirk and his staff slide by unnoticed, Jim Marchiony, KU's associate athletic director for public affairs, made sure a tip of the cap went that direction, as well.
"We've got a great academic support staff, we have coaches that understand what is needed and they are bringing in student-athletes who understand and buy in as well," Marchiony said. "When you have those three plus a faculty that is helpful and understanding of the time demands then you've got a good recipe for success in this area."
A team's annual APR score is a measure of two things: the overall eligibility of its athletes and the retention of those athletes from semester to semester as they pursue their degrees. Each scholarship athlete in every sport has the potential to earn four points per school year. Two points are possible for being eligible and two points are possible for remaining in good academic standing at your school. Once KU gets the numbers for each athlete on each team, the results are then combined to produce each team's overall APR number.
The system came about in 2003 as a new way for universities to track the academic performance of their student-athletes. Until 2003, the only gauges available were team grade-point average and graduation rates. However, researchers discovered that both numbers moved too slowly to matter on a year-to-year basis. Today, with the APR system in place, the numbers are tracked over both a four-year period and on an annual basis, and programs that fall below the NCAA's good-standing mark of 930 face the potential for penalties which range from loss of scholarships to postseason bans.
"This has been the single most impacting measurement to get and keep coaches' attention on the priority of academics," Buskirk said.
KU's multi-year APR numbers by program
(2012-13 number in parentheses)
Baseball — 952 (952)
Men's Basketball — 1,000 (1,000)
Men's Cross Country — 984 (970)
Football — 959 (957)
Men's Golf — 979 (1,000)
Men's Track, Indoor — 954 (966)
Men's Track, Outdoor — 950 (953)
Women's Basketball — 969 (1,000)
Women's Cross Country — 994 (969)
Women's Rowing — 984 (978)
Women's Golf — 980 (972)
Softball — 985 (985)
Women's Soccer — 965 (964)
Women's Swimming — 970 (971)
Women's Tennis — 977 (1,000)
Women's Track, Indoor — 967 (958)
Women's Track, Outdoor — 967 (958)
Volleyball — 1,000 (1,000)