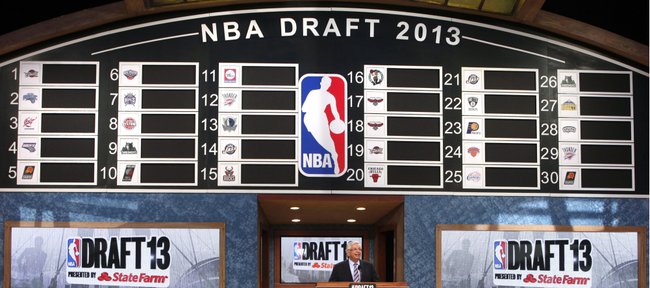 Look for Kansas University basketball coach Bill Self to be in Brooklyn's Barclays Center on June 26 for what could be a historic NBA Draft.
The Jayhawks' Andrew Wiggins and Joel Embiid will be trying to be the top two overall picks from the same school for the second time in history. Kentucky's Anthony Davis and Michael Kidd-Gilchrist were 1-2 in the 2012 Draft.
"I'll be in the stands if I'm not there (in Green Room)," Self said Monday, noting he doesn't want to impose on the players, who only get a handful of tickets for family members and friends. Self was speaking on Kansas City's 810 WHB radio while participating in the Joe McGuff ALS Golf Classic at Nicklaus Club at LionsGate in Overland Park.
"Certainly I hope I am there in the Green Room with them because it is an exciting time. Both Wiggs and Jo, they have a chance to go really, really high. When you stop and think about it, it's going to be really cool for everybody that supports KU to know that you are going to have two guys that potentially are All-Stars that are always going to be singing KU's praises because they both had a phenomenal experience here," Self added.
It was reported Sunday that Embiid, Wiggins and Duke's Jabari Parker will not be attending the upcoming NBA Combine in Chicago. Usually, lottery picks don't participate in drills at the combine but are willing to have measurements taken and undergo physical exams and interviews.
It's believed those three will be gearing for individual workouts and tests with teams. They are expected to be the top three picks in the draft, though the order is far from determined.
Graham talented: Self gushed about the ability of Devonté Graham, who signed with KU over North Carolina State on May 3.
"He may be as talented a lead guard as we've had in a while, probably since Sherron (Collins) from an overall talent standpoint," Self said of the 6-foot-2 Brewster Academy player, who is ranked No. 36 in the recruiting Class of 2014 by Rivals.com.
"He has a presence on the floor. We think he has great intangibles. He is quick, can do a lot of things. He can score the ball. He is probably more a lead guard than a true point guard, which is fine because the best teams we've ever had, we've played without a true point guard. We played with two or three lead guards. He's probably a cross between Russell (Robinson) and Mario (Chalmers) from a size standpoint and length and athletic ability," Self said.
More Thunder talk: Self joked with 810 radio about talk shows discussing the possibility of his becoming coach of the NBA's Oklahoma City Thunder. Self is a native of Edmond, Okla.
"I can't believe some of the stuff that comes up. That's fine," Self said. "I think people around here know I shouldn't have to defend how much I love KU and how good it's been to us. There are all kinds of things flying around this time of year, the vast majority are things that don't stick at all.
"The thing about it ... I know all these people," Self added of OKC ownership, coaches and front office personnel. "I know the people that are making the decisions and there's nothing involved with me. That's what I think is so interesting, because people can make something out of (it) when there's less than zero there. ... The Royals are doing pretty well. The Chiefs just had a draft. The NBA playoffs are probably as good as they've ever been. I don't understand how it could be that slow (where Self is a topic of discussion). I guess you talk radio experts can squeeze in a lot of stuff to talk about in your three-hour window."
Langford update: Former KU guard Keith Langford has received a Turkish passport and will play for the Turkish National Team in the upcoming FIBA World Cup, Sportando.com reported Monday.
Langford played for Armani Milan of Italy this past season. He won the Euroleague's Alphonso Ford Award, which goes to the leading scorer in the Euroleague (17.5 ppg).
"A lot work went into getting this award. My agent, Nick Lotsos, told me nine years ago when he first met me that I was the best pure scorer he had seen since Alphonso Ford. I had no idea who that was at the time but he gave me the story of representing him and I decided that one day I was going to win that award as well in honor of him and our agent. I believe that anybody can learn to play basketball, but you are born a scorer," Langford told eurohoops.net.
Ford, one of the great Euroleague players, died from a bout with leukemia in 2004 at the age of 33. Langford's agent, Lotsos, was one of Ford's best friends.
More like this story on KUsports.com