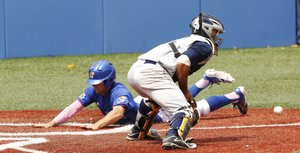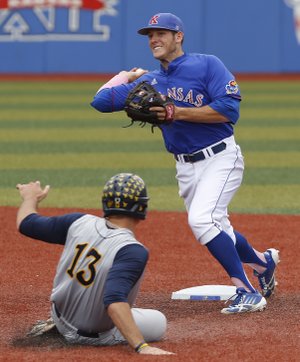 Dakota Smith tries to avoid putting extra pressure on himself when stepping to the plate in RBI situations with two outs.
"I think I've learned to make it become just another at-bat and not try to over-stress myself out," Smith, Kansas University's junior right fielder from Leavenworth, said after bashing a two-out, two-run double in the third inning and two-out RBI single in the fifth in Saturday's 5-2 baseball victory over West Virginia at Hoglund Ballpark.
"Hopefully (I can) just drive the ball where someone is not. It's been working out lately," added Smith, whose three RBIs came in support of Robert Kahana, who improved his record to 4-5 after allowing two runs off six hits in 61⁄3 innings.
"We got the lead early. After that, it was a lot of Robert getting the job done," noted Smith, who had three hits in four at-bats.
Kahana, a junior from Ewa Beach, Hawaii, struck out one and didn't walk anybody, though he did plunk three hitters. Three double plays took care of any possible damage. Drew Morovick didn't allow a hit in 1 2/3 innings, and Stephen Villines gave up one hit that didn't come around to score in the ninth as KU improved to 32-21 overall and 14-9 in the Big 12.
The Jayhawks have won eight straight league games for the first time since 1978, when KU won nine in a row in the Big Eight.
"Our team is playing really well. The talk in the locker room ... everyone's up. We're ready to play. Everything's going our way right now," Kahana said.
The Jayhawks grabbed a 1-0 lead over West Virginia (27-19, 9-10) in the second when Smith, who had singled, scored off an RBI groundout by catcher Ka'iana Eldredge. Smith's double made it 3-0 in the third and single made it 4-1 in the fifth.
Both teams plated a run in the seventh. KU's Tucker Tharp drew a bases-loaded walk for an RBI.
"It seems like when you are going good, you find a way to get two-out RBIs," KU coach Ritch Price said. "Guys find a way to put the ball in play with runners at third and less than two outs. Dakota Smith had a huge day. Yesterday was Tucker Tharp and Connor McKay and Michael Suiter (in 5-3 win on Friday). Different guy, different game."
Of the eight-game Big 12 winning streak, Price noted: "First off, it goes back to having the right mentality in your dugout, that you come out here and compete every day and you grind. When you play 56 times, you've got to play through the peaks and valleys and face the adversity you are going to handle through the course of the journey. If you love to play, at the end of the season, you get a chance to do something special (play in NCAAs). We've gotten better each month. We obviously are playing our best baseball of the year."
Today, KU will send senior Frank Duncan (6-2, 2.02 ERA) to the mound on Senior Day in the series finale, which has been moved up an hour to a noon start.
West Virginia 000 100 100 — 2 7 0
Kansas 012 010 10x — 5 9 1
W — Robert Kahana, 4-5. L — Ross Vance, 3-2. Sv — Stephen Villines, 7.
2B — Billy Fleming, Cameron O'Brien, Jackson Cramer 2, WVU; Colby Wright, Dakota Smith, KU.
Kansas highlights — Kahana 6 1/3 IP, 6 H, 2 R; Drew Morovick 1 2/3 IP, 0 H, 0 R, 2 K; Michael Suiter 3-for-5, 2 R; Smith 3-for-4, R, 3 RBIs; Wright 2-for-5.
More like this story on KUsports.com