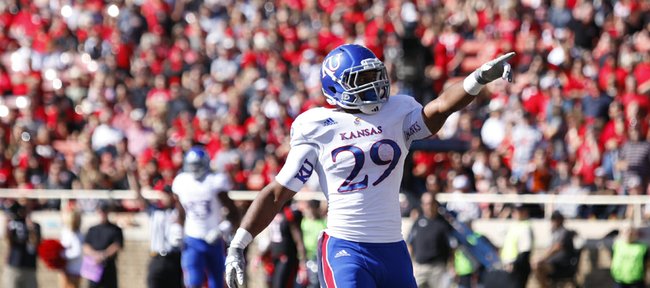 Former Kansas University running back James Sims waited for 256 names to be called during this weekend's NFL Draft, but never heard his own.
However, about an hour after the seven-round draft ended Saturday evening, Sims finalized a free-agent deal with the Green Bay Packers and will begin pursuit of his NFL career as a teammate of Aaron Rodgers, the all-pro quarterback who visited Allen Fieldhouse this past season.
Sims, a 6-foot, 200-pound back from Irving, Texas, was regarded by most as a long shot to get drafted and seemed upbeat after deciding to join the Packers.
"Draft is over and ya boy is gonna be a Green Bay Packer," Sims wrote on Twitter on Saturday night, his first tweet in 143 days. "#Blessed#Hungry#Humble#TimeToEat."
In what turned out to be a down draft for Big 12 football, Kansas and Texas were the only conference teams not to have a player drafted.
Sims finished his Kansas career as a four-year starter who led the team in rushing for four consecutive seasons and set career-highs each time. He was the first Jayhawk in history to record back-to-back 1,000-yard seasons and left KU third on the all-time rushing list (3,592) and second all-time in rushing touchdowns (34) and 100-yard games (16).
It certainly has become common to see draft-eligible Jayhawks go unselected, but it does not spell the end for Sims' chances. Inspired by the success of former Jayhawks Chris Harris and Steven Johnson, both undrafted prospects who were key members of the Denver Broncos' Super Bowl run last season, Sims maintained throughout the draft prep process that he believed he would have a shot whether he was drafted.
"Not going through the season at Kansas is going to be different," Sims said in March. "But I'm just anxious to see where I end up next fall and take things from there. I just have to prove myself again. That's nothing new for me."
In other KU draft news, KU officials confirmed that offensive lineman Aslam Sterling, 6-5, 315, has agreed to a free-agent deal with the Denver Broncos. Sterling started 20 games during his two seasons as a Jayhawk after transferring from Nassau Community College in New York.
Wide receiver Josh Ford, 6-3, 207, also announced via Twitter that he had been picked up by the Atlanta Falcons. Ford, a juco transfer from Arizona Western, made little impact as a receiver during his two seasons at Kansas but caught the eye of NFL scouts because of his strong play on special teams.
More like this story on KUsports.com