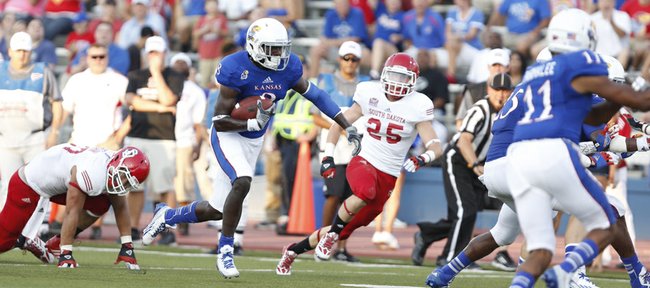 When wide receiver Josh Ford came to Kansas University from Arizona Western prior to the start of the 2012 football season, he arrived with dreams of catching passes in the NFL when his time as a Jayhawk was finished.
By the time he left — two years, nine receptions and 126 yards later — the 6-foot-3, 207-pound receiver's sights still were fixed on the NFL, but for a completely different reason.
Although Ford never became one of KU's primary pass-catchers, he made a name for himself on special teams, where he racked up 14 tackles and two blocked kicks and also forced and recovered a couple of fumbles.
As each game came and went without Ford making an impact on offense, the Landover, Maryland, native started to focus more of his energy into special teams.
"I kind of just naturally got discouraged at the receiver progress, and that just slowly but surely dropped as a possibility," Ford said. "So special teams is definitely the primary objective in my mind as far as getting to the next level."
Throughout the season, KU coach Charlie Weis fielded inquiries from several NFL teams about Ford's special-teams prowess. At KU's pro day in mid-March, many of the teams in attendance talked with Ford only about special teams.
Known as a playmaker, Ford admitted that putting his dreams as a wide receiver behind him was tough.
"I never really had that conversation with myself," he said of saying goodbye to catching passes. "I didn't even think I'd be that good when I first started playing special teams. It was hard to accept it, but I've been a lot more efficient at special teams than I have been as a receiver."
Just before the 2013 season began, Ford had an opportunity to speak with Darrel Stuckey, a former all-conference safety at KU who has become one of the best special-teams players in the NFL with the San Diego Chargers. The KU coaches told Stuckey about Ford's development, and the Chargers' special teams captain reached out to Ford and gave him some advice along with his phone number.
"We had a nice little conversation," Ford recalled. "He basically told me that if I don't make it as a receiver, the NFL guys love the type of thing where guys excel on special teams. In my opinion, special teams is just effort, really. Punt block and things like that are timing, but for the most part, kickoffs and just holding a guy up and blocking him is just effort."
As the NFL Draft gets underway tonight with the first round and continues Friday and Saturday, Ford is not expecting to hear his name called. But KU has had great success lately with undrafted free agents making a roster, and Ford hopes to follow in the footsteps of former Jayhawks Chris Harris and Steven Johnson, who caught on with the Denver Broncos despite not getting drafted.
"Josh brings a lot to the table," said former KU running back James Sims, who also is anxiously awaiting to see what his future holds. "He's big, he's fast, he's physical, and I think he'll be able to play at the next level. If you get him out there and put him in the right position, he can make plays for you."
Sims, who led Kansas in rushing during the past four seasons and leaves KU in third place on the all-time rushing list, is the only Jayhawk with a shot of getting drafted this weekend. If he does, it's most likely to happen in the last couple of rounds.
KU coach Charlie Weis, who spent 16 years coaching in the NFL, said throughout his two seasons working with the 6-foot, 200-pound Irving, Texas, native that Sims always looked like an NFL running back to him.
"He can run inside, and he can run outside, and he can pick up the blitz," Weis said of Sims. "He can run, and he can catch. I don't know what he can't do. Does he run sub-4.5 (-second 40-yard dash time)? No. But he's a really, really good player. And if you're a really, really good player here, there's a better than even chance that you're going to have a chance to be a really good player (in the NFL)."
More like this story on KUsports.com