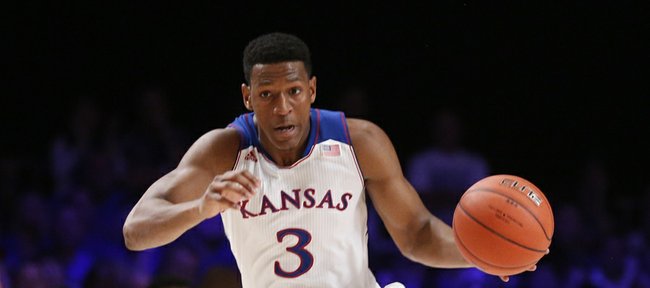 Unable to crack the rotation in two seasons at Kansas University, with prospects for minutes not so great entering his junior year, Andrew White III will seek playing time at another school.
White, a 6-foot-6 sophomore wing from Richmond, Va., on Thursday cited a desire for playing time as reason for his plans to transfer to a yet-to-be-determined university.
"I spoke with my family and the coaches several times throughout the spring and after the season ended, discussing what my expected role would be on the team," said White, who met with coach Bill Self on Thursday. "Coach Self told me it would be questionable to break into the rotation. My family and I decided it would be the best choice to move on and explore other school options.
"I'm definitely sad because I love my teammates," he added in a phone interview with the Journal-World. "I love this school. I love the coaching staff. I didn't have any problem with KU except for my playing opportunities. Everything else I could handle and was happy with. I love everything about this city, state and school. The one determining factor was one of the most important decisions in staying or leaving."
White, who was ranked No. 51 in the recruiting Class of 2012 by Rivals.com, averaged 5.0 minutes a game in 25 games his freshman season and 5.9 minutes in 19 games his soph campaign. He played behind Andrew Wiggins, Wayne Selden, Brannen Greene and Conner Frankamp last season. KU brings in highly-regarded Kelly Oubre for 2014-15.
"We're definitely disappointed about this, but also respect Andrew and the decision he's made," Self said. "Andrew and I talked periodically throughout the season and at the end of the season we discussed what his role could be potentially moving forward. He had a very good spring and we talked again today. He feels it is in his, and his family's, best interest to pursue some other opportunities."
White has been known as one of KU's hardest workers, shooting baskets after midnight into the wee hours regularly in the Jayhawks' practice facility.
"We respect everything about Andrew White," Self said. "He's been a great ambassador for our school. He's a terrific student and terrific young man. He's been nothing but positive and a great teammate for everyone in our program. He will be dearly missed. We wish him nothing but the best and we will do everything we possibly can to assist him with this move. Understand this, Andrew and I have talked about this, he will always be welcome in any capacity coming back to the University of Kansas because we think that highly of him."
White, who has not chosen a transfer destination, went out with class on Twitter.
"It has been a meaningful two years here," he wrote. "Thank you to all the fans, staff, friends and everyone who support my basketball career. Thanks basketball staff for allowing me to be here. Most importantly thanks to all my teammates. I love you all. It's been a great experience witnessing this great of a school and program."
He added in his official statement: "I'd like to thank the entire KU staff – the academic staff, trainers, strength and conditioning staff, managers – anybody who has ever supported me. I'd like to thank the coaching staff for giving me the opportunity to be here and taking me under their wing and teaching me all the things they have throughout my two years here. Most importantly my teammates; I look at those guys like brothers. I actually talked to them right after I talked with coach Self so we could discuss it amongst the team because I've always been a team-first guy. I'm going to miss those guys a great deal. I'm going to miss all of the fans that support Kansas basketball because those are the people that make a program like this go. They are important to us and I definitely feel the generosity and love from those people who have supported me and my career."
Where will White transfer?
"I haven't looked into it right now. I told my dad all along I didn't want to deal with the recruiting process while I was here at Kansas," White told the J-W. "Up until today I was pretty optimistic I'd still be here. I haven't thought outside of being in a Kansas uniform up until two hours ago (8 p.m.) when the news broke. I'm still a long ways away from gathering information about schools in the future."
He may or may not play back near his Virginia home.
"That isn't a factor. Most schools will be within closer distance just because Kansas is so far away," said White, whose 6-foot-2 junior brother Andrien is a mid-major to major-college point guard recruit entering a crucial AAU season. "I'm not limiting my school option to close to home. My decision to leave did not have anything to do with location. The only reason I'm leaving is because I wasn't going to get a major opportunity to play."
Of his son's stay at KU, White's dad, Andrew White II said: "It's been a great ride, a beautiful ride. We're elated as parents he had the opportunity to be at Kansas, to be on those teams, see those players come through. The crowd and the fans there ... it's been a great experience for Andrew.
"He loves Kansas. They treated him so very well. He's been very very successful as a student there. His mother and I are very proud of what he's been able to accomplish academically and even from a basketball standpoint he's been in position of being a role player there. We've relished him adjusting to that. We love Kansas and are really happy Andrew was there."
KU, which last week lost Naadir Tharpe to transfer, has two scholarships available in recruiting. KU is reportedly recruiting Sviatoslav Mykhailiuk, a 6-foot-6, 190-pound wing from Cherkassy, Ukraine, who turns 17 in June. He has been compared to NBA player Manu Ginobili. Other schools reportedly involved include SMU, Virginia, Oregon and Michigan.
KU has signed point guard Devonte' Graham, wing Kelly Oubre and center Cliff Alexander.
More like this story on KUsports.com