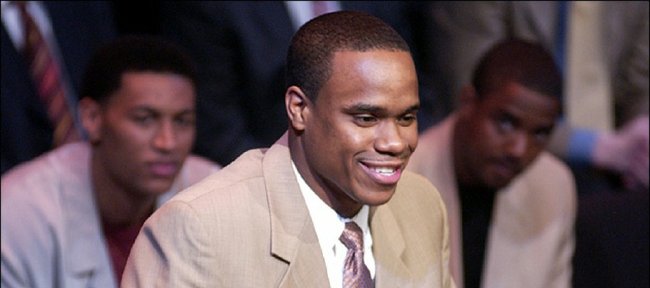 Former Kansas University basketball guard Michael Lee — a graduate student manager for the Jayhawks' 2008 national title team before spending two years as assistant coach at Gardner-Webb and three more at University of San Francisco — spent the past season tutoring younger players.
The 2005 KU graduate, who is armed with a degree in sociology, was head junior varsity coach and varsity assistant at Deer Valley High School in Antioch, California. He also was a substitute teacher in the Antioch Unified School District.
"I love dealing with kids, and I love the game," said Lee, who resigned his assistant-coaching job at San Francisco in the spring of 2013. "I feel I have so much knowledge and perspective to give them about the next level they aspire to.
"Not all of them will make it. But I've been there. I understand the academic process, the eligibility process. I'm happy to give them that information and to talk to parents. I've talked to juniors and seniors in high school who have never heard of the NCAA Clearinghouse. I'm like, 'You've got to be kidding me,'" Lee added.
Lee also coaches 15-and-under Grace Kings AAU program in Antioch. The team travels to tournaments in various locales, such as Las Vegas and Washington, D.C.
"It's kind of hard to get gyms out here," Lee said, "so I take kids to the park. Anybody who has a hunger for basketball, we'll go to the park and train outside. You want to play, let's go play. I've been able to do that with some kids."
He likes to use what mentors have taught him.
"I've had good teachers in coach (Roy) Williams and coach (Bill) Self," Lee said of the two men he played for while at KU. "Learning the process from them at that level ... how much guys get pushed and how much studying goes into the game, watching film. That's what I try to impart to kids as much as they want to listen. We don't force-feed them."
Lee, who is married and has three children, is currently at a crossroads of sorts. He'd like to find full-time work, ideally a spot on a college coaching staff. He's also open to entertaining offers in the business world.
"I'm going with the flow, seeing what's out there, what options I have a realistic chance of pursuing," Lee said. "It's a little different now. I have a family. I'm married with kids. I don't have a luxury to just up and take anything. It has to be right.
"I have a great network of people I can reach out to. That's all you can ask for. I can call coach Self. He'll answer my call. I was fortunate enough to go out to Carolina last year and work the (Tar Heel) camp. Coach Williams sat me down and gave me his perspective on things. C.B (McGrath, UNC), coach Rob (Steve Robinson, UNC), coach Townsend (Kurtis, KU), coach Roberts (Norm, KU), coach Dooley (Joe, Florida Gulf Coast) ... I'm fortunate enough, if I call them, they'll pick up the phone. The rest is up to me, trying to find the right situation and keep grinding, hopefully to give myself a chance."
Gooden excelling: Lee has enjoyed watching the NBA playoffs.
"It doesn't appear anybody's playing defense," Lee said. "It's high-scoring. I'm happy for my Trail Blazers," the Portland native added. "I like what Miami is doing. I think the Spurs play the best brand of basketball. What the Wizards are doing with that young core they've got in there ... it's good to see Drew out there," he added of former teammate Drew Gooden, who plays for Washington. "I'm watching the Wizards just because Drew is out there."
KU vs. Florida: The Big 12 and SEC today will announce matchups for the 2014 challenge between conference teams, the Big 12 tweeted on Tuesday. KU and Florida are expected to meet in a rematch of last year's game, this time in Allen Fieldhouse. ... Iowa State AD Jamie Pollard's twitter account revealed all Big 12 games will be shown on ESPN networks next season (ESPN, ESPN2, ESPNU & ESPNEWS).
More like this story on KUsports.com