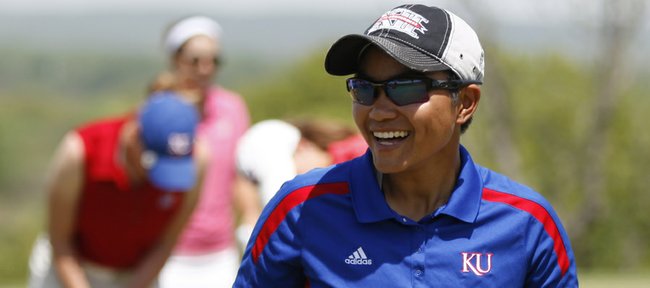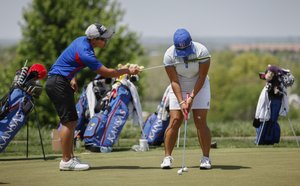 One of the best golfers in the history of the Kansas University women's program was introduced to the sport as a youngster in Thailand.
"My dad brought me to the golf course and he'd just leave me there. I had nothing to do so I just had to hit the golf ball," said Yupaporn "Mook" Kawinpakorn, a sophomore all-Big 12 selection out of the province of Samut Prakan, part of the Bangkok Metropolitan Region.
Kawinpakorn, who takes an all-time KU-best seasonal stroke average of 74.41 into the NCAA Central Regional golf tournament (Thursday-Saturday, Karsten Creek Golf Club, Stillwater, Oklahoma), quickly developed a love for the game, not only by playing in her homeland but watching U.S. tournaments on TV.
"I've grown up knowing Tiger Woods. He is like my hero," Kawinpakorn said Monday before practice at Lawrence Country Club. "He's good at everything. He hits it far. He is very determined. He is everything that I want to be ... like him.
"My new hero," she added, "is Rory McIlroy. He's young and he's strong. He's very focused on his game. I want to become like him, too."
While dropping names, Kawinpakorn also gave a shoutout to one of her best friends, KU red-shirt senior Thanuttra "Fhong" Boonraksasat, who arrived at KU from Nonthaburi, Thailand, in 2009.
Boonraksasat takes a 75.59 stroke average into NCAAs.
"I know Fhong from back home. She told me this school was looking for a player. I sent my resume here and they took a look at it. I think they liked me or something," Kawinpakorn said, smiling. "They (Jayhawks) offered an 100 percent scholarship and why would I say 'no,' right?" added Kawinpakorn, who accepted the offer without even visiting campus.
Boonraksasat, who had some rough times her freshman year as KU's first player from Thailand — "I didn't understand 80 percent of what people were saying," she said — was determined to help Kawinpakorn have a smoother adjustment to college life.
"Fhong helped me to get through the very hard times, understand the language and places," Kawinpakorn said. "I'm very happy I chose to come here and be part of this team."
Kawinpakorn, who along with Boonraksasat has welcomed another golfer from Thailand — freshman Pornvipa "Faii" Sakdee (76.25 stroke average) of Kamphaeng Phet to the squad this season — has adjusted quickly.
"When I first came to the U.S. when I was 15, I went to Florida and played in a (high school) tournament there," Kawinpakorn said. "My English wasn't that good. I could understand, but I was too shy to speak. It was hard for me to communicate and talk and act. I've gotten better.
"I love English. I wanted to learn the language and get to know new people and new places and experiences. I've seen a lot of good stuff here. It's actually my dream to come here. I wanted to come here and play golf in college."
Tenth-year KU coach Erin O'Neil is happy to provide opportunities for KU's three golfers from Thailand as well as junior Minami Levonowich (77.47 average) who was born in London. Senior Meghan Potee (76.79) is KU's lone member of the NCAA Regional lineup from the U.S., hailing from Noblesville, Indiana.
"There are a lot more international players. You'd be hard-pressed to find teams anywhere that don't have at least one international player on their roster," O'Neil said.
"Some are from the academies (in U.S. where they play golf and also attend high school). Others ... we will reach out to coaches in other countries. We'll contact them and see if they have any players that are interested in playing in the States. With our team, they all grew up playing golf together and knew each other.
"It is a lot of work for them. Their culture is very different from ours," O'Neil explained. "We have a very good support staff that helps them in all facets. We help them make that transition as easy as we can."
Of Kawinpakorn, who placed second in the Big 12 tournament and is one of the up-and-coming collegiate players, O'Neil said: "She has done great. Her strength is her ball striking. She also has a very good short game, is very balanced across the board with her game. She has a good touch around the green."
O'Neil, who has the Jayhawks in the NCAA Tournament for the first tine since the organization went to a regional format in 1993, indicated it will take top performances from all five golfers to place in the top eight of 24 teams and advance to the 24-team NCAA finals.
A spot in the finals would figure to help KU's program to continue to attract top international players such as Mook, Fhong, Faii and Minami.
"I don't know about pressure. No pressure, no diamonds, right?" Kawinpakorn said, smiling. "I think pressure is good if you look at it in a positive way. It's good for us to keep doing what we are doing right now. I'm a little bit nervous, but excited at the same time, so it's good."
More like this story on KUsports.com