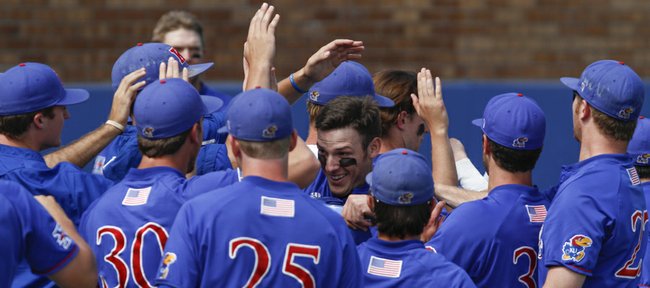 Photo Gallery
Kansas baseball vs. Texas Tech (Game 2)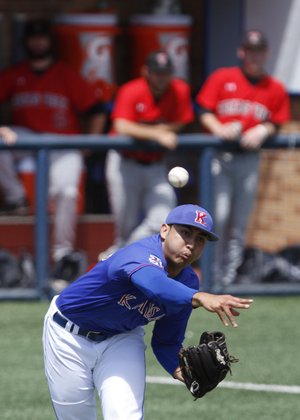 Images from Saturday's game between the Jayhawks and Red Raiders at Hoglund Ballpark.
When Kansas University's baseball team hit the field Saturday for Game 2 of its series against No. 19 Texas Tech, the Jayhawks knew they had an opportunity to make a statement about whether they belong in the NCAA Tournament.
Nine innings, nine hits and six runs later, the Jayhawks did just that, winning their sixth consecutive game and second in a row over the Red Raiders, 6-4 at Hoglund Ballpark.
For the second day in a row, the Jayhawks (29-20 overall, 11-9 Big 12) were outhit by Texas Tech. But quality pitching and timely plays in key situations were the difference, as the Jayhawks took advantage of five Texas Tech walks and allowed just one.
"I think our execution has been good, our quality of at-bats has been good," KU coach Ritch Price said. "Compete and grind. Those are two things I preach every day."
After rocking the Red Raiders (36-15, 11-9) 11-3 on Friday night, Kansas picked up where it left off offensively with three runs in the second inning Saturday. Two of those came from a two-RBI double from first baseman Blair Beck, who did not play Friday night but could not wait to get out there Saturday.
"You have a different feel when you see everybody jumping out like that," Beck said of KU's red-hot offense. "Even just the walk up to the plate is different. It's more fast-paced. Everyone wants to hit."
Justin Protacio, Connor McKay, Ka'iana Eldredge, who each had two hits, and Dakota Smith, who delivered a two-RBI single in the fourth inning with two strikes and two outs, joined Beck to lead KU's offensive attack on Saturday.
Robert Kahana, Drew Morovick and Stephen Villines handled things on the mound for Kansas, which has not trailed all weekend and added a key insurance run in the bottom of the eighth inning after Tech had cut the KU lead to 5-4. That run came courtesy of a throwing error by Red Raiders third baseman Matt Broadbent on a rocket off the bat of Eldredge.
Villines, a true freshman from Lake Forest, Calif., whom Price said he loved because he has that "Southern California swagger," retired the Red Raiders in order in the ninth to pick up his sixth save of the season.
Knowing they had won the series, a feat that should send KU's RPI up at least 10 spots by tonight, the Jayhawks' postgame handshake line had a little extra energy and volume.
"Obviously, we're playing with a lot of energy and a lot of passion, and those guys are excited about the opportunity that's in front of them," Price said.
Added Beck: "This is big for us just to start getting hot. Everybody's playing well, everybody's producing, and every time we go out on the field we trust each other, and we're just trying to get the win."
Kansas will look for the series sweep at 1 p.m. today and will close out Big 12 play next weekend at home against West Virginia. Every victory they can muster the rest of the way only helps the Jayhawks' positioning for the postseason, but they're not thinking too much about the big picture.
"As hot as we are, I just want to keep playing and winning," Smith said. "Everyone's hitting the ball, everyone's throwing well, everyone's fielding well, and as long as we keep doing that, I think we're just gonna keep getting hotter and hotter."
Texas Tech 002 011 000 — 4 12 1
Kansas 030 200 01x — 6 9 2
W — Drew Morovick, 7-2. L — Chris Sadberry. 4-2. Sv — Stephen Villines, 6.
2B: Matt Broadbent, TTU; Blair Beck, KU.
KU highlights: Robert Kahana 41⁄3 IP, 9 H, 3 ER; Drew Morovick 32⁄3 IP, 4 H, 1 ER; Stephen Villines 1 IP, 0 H, 0 ER; Justin Protacio 2-for-5, R; Dakota Smith 1-for-4, 2 RBIs; Connor McKay 2-for-4, run; Blair Beck 1-for-3, 2 RBIs, R; Ka'iana Eldredge 2-for-4, RBI.
More like this story on KUsports.com