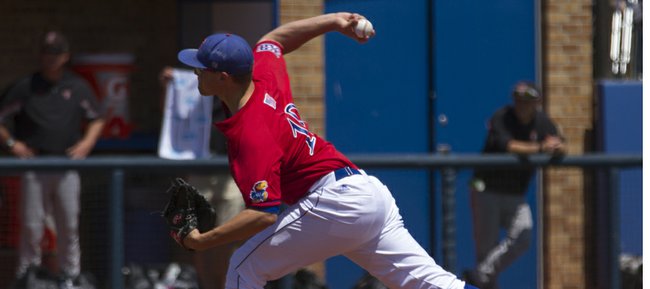 With brooms in the bleachers and jubilation on the faces of his teammates, Kansas University starting pitcher Frank Duncan stepped toward Sunday's postgame interview at Hoglund Ballpark and was blindsided by a towel full of shaving cream.
"Oh, that tastes awful," Duncan said as more than a dozen Jayhawks laughed and roared in the dugout behind him. "Oh wow. That's all the way in my ear."
After the senior locked down the Jayhawks' second consecutive Big 12 Conference sweep with a complete-game, 4-1 victory over No. 19 Texas Tech on Sunday, it only seemed fair. After all, then Duncan knew how the Red Raiders felt all weekend.
In winning their seventh game in a row behind yet another masterful performance from a starting pitcher, the Jayhawks swept back to back conference foes — KU took three from Baylor last weekend — for the first time since 1994 and picked up their first home sweep of the Red Raiders (36-16 overall, 11-10 Big 12) since 2008.
Perhaps the most impressive part about the Jayhawks' latest sweep, which elevated them into sole possession of third place in the Big 12 standings, was the fact that KU (30-20, 12-9) did not trail all weekend. The performances of pitchers Jordan Piche', Robert Kahana, Drew Morovick and Duncan on Sunday were a big reason for limiting the Red Raiders to just eight runs in three games.
"He's a four-pitch mix guy and he can really spin the ball," KU coach Ritch Price said of his Sunday starter, who went the distance and gave up just five hits, one run and walked none while fanning seven. "When he's got everything going like he did today, he's one of the best pitchers in the country."
The Jayhawks jumped out to a 2-0 lead right away, as left fielder Michael Suiter ripped an RBI double and designated hitter Connor McKay followed with an RBI groundout in the bottom of the first inning.
Tech cut into KU's lead with a run in the fourth but red-hot Colby Wright added to the Jayhawks' cushion in the sixth with a two-RBI single with two outs that plated Tommy Mirabelli and Ryan Pidhaichuk, who reached base with a single and hit-by-pitch, respectively, to kickstart the rally.
Wright, KU's sophomore second baseman from Castro Valley, Calif., finished the day 3-for-4 and tallied five hits and six RBIs during the weekend. Wright has been one of the catalysts for KU's current seven-game winning streak. During that stretch he is 14-for-26 with five walks and eight RBIs.
"I gotta get on whatever he's doing," Duncan said of the man who gave him a little breathing room on Sunday. "He's playing really well right now."
Added Price of the infielder who played in just 11 games and recorded two hits all of last season: "In the 12 years I've been at Kansas, we've never had a player make that kind of progress from year 1 to year 2. It's a pleasure to watch him play right now."
Before closing out the Big 12 schedule next weekend with three home games against West Virginia, the Jayhawks will look to make it eight straight victories when they travel to Missouri State on Wednesday night. The Bears are the last team to beat the Jayhawks and that fact, along with a couple of others, is not lost on KU's lineup.
"Any time you're playing a team from Missouri, it's personal," Duncan said.
Added Wright: "We came into these series, Baylor and Tech, (knowing) we had to make up some ground and get after it with the season on the line, and we've done awesome. We just hope we can ride out this streak as long as possible."
More like this story on KUsports.com