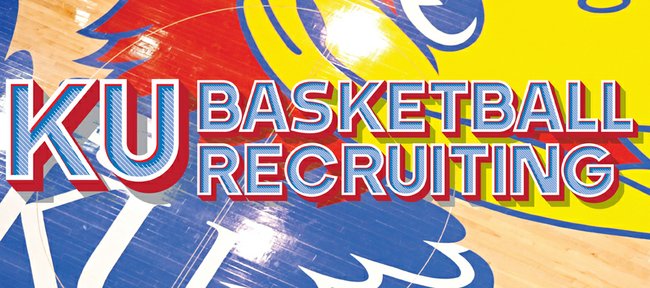 Kansas University, which landed blue-chip basketball point guard Devonte' Graham on Friday, has emerged as one of eight finalists for Jalen Brunson, a 6-foot-1 junior point guard from Stevenson High in Lincolnshire, Ill.
Brunson, who is ranked No. 14 in the recruiting Class of 2015 by Rivals.com, tweeted Saturday that he has a list of KU, Michigan State, Michigan, Illinois, Purdue, Villanova, Temple and UConn.
Brunson, son of former Temple and NBA player Rick Brunson, averaged 26.1 points and 4.7 assists last season. He scored an Illinois-state-tournament single-game-record 56 points in a semifinal loss to Jahlil Okafor's Whitney Young team. Okafor is headed to Duke.
KU is also in the running for No. 1-ranked Malik Newman, a 6-3 junior combo guard from Callaway High in Jackson, Miss. He is considering KU, Duke, Kentucky and many others.
Graham 'outgoing': Graham was asked Friday what fans should know about him on a personal level.
"I'm very outgoing. I get along with a lot of people. I think I'm a very friendly guy on and off the court," said the 6-2 senior from Brewster Academy in New Hampshire who chose KU over North Carolina State, Providence, Virginia and Virginia Tech.
"I'm a leader and a point guard," added the No. 36-rated Graham, who added that he had a younger brother and two younger sisters.
Quite a season: Graham's Brewster Academy team (33-2) won its fourth New England prep title in the last seven years and its third national prep championship in the last five years.
His teammates included Jared Terrell, a 6-3 senior shooting guard who was recently released from his letter of intent at Oklahoma State; 6-9 Georgetown signee Isaac Copeland; 6-8 UCLA signee Jonah Bolden; and 6-2 San Diego State signee Kevin Zabo. Terrell was MVP at the national prep tourney.
"The whole season was amazing," said Graham, who scored 22 points in a 88-78 victory over Thomas More Prep in the national title game. "Being a part of the program has been great for me and the rest of the team. The players are great people. I have some new brothers now. Winning the national championship was amazing. The school has had a big impact on my life."
Graham attended Broughton High in Raleigh, N.C., for four years, signing with Appalachian State his senior year. He couldn't get out of his letter of intent after having second thoughts, thus went to Brewster a year.
Assessment of Graham: Scouting report on Graham by ESPN's Paul Biancardi, available at ljw.bz/1iQmTeS
"As a lead guard with excellent athletic ability, Graham shows the balance between being a facilitator who is thinking about setting up his teammates and being a scorer. His basketball IQ is what stands out. He understands spacing and flow within his floor game, or he can turn it up a notch and play at a faster tempo. He can be trusted by his coaches because he is more of a decision-maker versus a risk-taker, and has vision and passing accuracy to connect with his teammates. He led his Brewster team in assists (171) and his assist-to-turnover ratio was terrific at 5-1.
"As a 3-point shooter, he shines by knocking down shots on a fairly consistent basis, which complements his floor game so well. Once inside the arc, watch out for his dribble pull-up game and floaters, as he is equally adept in those areas. Defensively he levels the drive well as he stays in front of his man and will step in and take charges off the ball, which is uncommon for most high school players."
Commenting on how Graham "fits" at KU, Biancardi writes: "The biggest void for Kansas was a floor general who can make an assist and/or score from the point guard spot. Graham is efficient and effective in both categories. First and foremost, he is a determined defender on the ball, and defense is where it always starts with Kansas. He can set the tone by how he pressures the ball along with a group of elite athletes who are big, strong, fast and quick, which will lead to many easy points in transition."
This, that: CBSsports.com reports that the Big 12/SEC challenge pairings should be released this week. Look for KU to be matched with Florida in a game to be contested in Allen Fieldhouse. Florida beat the Jayhawks, 67-61, this past December in Gainesville, Fla. ... KU signee Cliff Alexander did not play in Saturday's Ball is Life all-star game in Long Beach, Calif., because of back spasms. KU signee Kelly Oubre also missed the game. A game organizer said he was "under the weather."
More like this story on KUsports.com