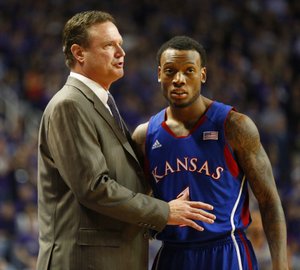 Kansas University junior Naadir Tharpe — who was on top of the college basketball world after being named national player of the week Jan. 21 after scoring 44 points in victories over Iowa State and Oklahoma State, and at rock bottom after a risqué photo surfaced on Twitter nine weeks later — is no longer a member of the Jayhawk team.
Tharpe and KU coach Bill Self announced Thursday, via news release, that the 5-foot-11 starter would transfer to a school closer to his Worcester, Massachusetts, home and his 2-year-old daughter, Amara Grace, who has not been in good health.
"Naadir and I have talked numerous times since he's been here about his role and about his situation back home with his daughter," Self said. "He's told me many times how much he misses his little girl, and she's had some health issues that has certainly made it difficult for him to be away from her for this extended period of time. She's doing very well now, but Naadir approached me after the season was over about him wanting to be closer to her. This is his decision to try and accomplish that."
Amara Grace was born in January of his freshman season.
"Due to extenuating circumstances within my personal life, I will no longer be attending the University of Kansas," Tharpe said. "My daughter has current medical issues that require weekly visits to her physician, as well as with a specialist. At this juncture, I feel it is best to be closer to home where I can assist and support in any way necessary.
 "I enjoyed my time here," Tharpe added. "I appreciate the players that were here before me that I got a chance to play with and that are still friends with me right now. It's going to be tough leaving a situation like this because of the teammates I'm leaving behind. Everything happens for a reason, and I have to continue my journey a different way."
Of the situation, Self added: "Personally, it's something that we 100 percent support and wish him nothing but the best. I certainly appreciate all of his efforts since he's been here. Naadir has been a good player for us in his three years here. But we also respect the fact that he wants to be closer to his daughter and we want to do everything we can to support that."
Self had no comment regarding any negative issues regarding Tharpe.
A picture of Tharpe and a woman that included nudity appeared on Twitter after the season. The emergence of the photo caused an escalation in negative comments about Tharpe by a fanbase unhappy with his play down the stretch of the season and in the NCAA Tournament.
Tharpe did not attend the postseason awards ceremony, but not because of any disciplinary reasons. He was attending the memorial service of his grandfather back home in Massachusetts.
It's possible Tharpe will be immediately eligible for his senior year. Though he is not ready to graduate, he could apply for a waiver if he chooses a school close to home for these family reasons.
Tharpe was named honorable-mention All-Big 12 this past season after averaging 5.0 assists per game to rank third in the league. His 2.43 assist-to-turnover ratio also was third in the conference for the second-straight season. Tharpe led KU in assists (170) and free-throw percentage (82.1) and tied for the team lead in most three-pointers made (43).
KU has returning point guards in Frank Mason and Conner Frankamp and is recruiting Devonte Graham, who like Tharpe hails from Brewster Academy in New Hampshire.
KU also reportedly has contacted No. 76-rated Shelton Mitchell, a 6-3 senior at Oak Hill Academy in Virginia, who has been released from his letter of intent at Wake Forest.
Graham, 6-2 from Raleigh, N.C., who attended Broughton High before heading to Brewster this past school year, has narrowed his choices to KU and North Carolina State.
"He needs to be diligent in his decision and let the process take its course," Dwayne West, Graham's coach with Garner Road Basketball Club AAU, told the Charlotte Observer. "He didn't do that last time."
West said Graham initially was "nervous" because he was unranked by the recruiting services, gobbling up the first offer he received from Applalachian State in 2012. After changing his mind, he couldn't obtain a release. So he attended Brewster Academy this past season.
At Broughton, the Observer indicated Graham played alongside Cameron Gottfried, son of N.C. State coach Mark Gottfried.
Playing time, maybe even a starting spot, appears available at KU.
Playing time also is available at N.C. State, likely as a key reserve. N.C. State returns sophomore point Cat Barber and has added Alabama transfer Trevor Lacey. Point guard Tyler Lewis transferred to Butler.
West told the Charlotte Observer Graham is a "true point guard" who can also score.
"He has an understanding of what level he can play and compete at that he didn't before," West said. "The season at Brewster confirmed to him the reason he made the original decision (to leave Appalachian State)."
Groundbreaking today: Groundbreaking for the 32,000-square-foot, $18 million DeBruce Center is set for 11:30 a.m. today at the northeast corner of Allen Fieldhouse. The event is open to the public.
Lead donors are KU alumni Paul and Katherine DeBruce of Mission Hills. The DeBruce Center will become the home of James Naismith's original "Rules of Basketball" and will be flanked by the stories of Naismith and Phog Allen.
The center will also consist of a student center to seat up to 320 that includes retail dining, cafe seating, a training table setting for both the KU men's and women's basketball teams and a catered event space.
With a connection to Allen Fieldhouse through the second-floor concourse and the Booth Hall of Athletics, the DeBruce Center will support future exhibits around the history of the game and KU tradition.
The rules of basketball were purchased at a December 2010 auction by David Booth and his wife, Suzanne, for $4.3 million. The rules have been in Austin, Texas, the last three years where Lawrence native Booth and his wife now reside.
Bids being taken: KU athletic director Sheahon Zenger recently told the Journal-World that the athletic department was in the process of receiving bids from architecture firms for the Fieldhouse Apartments project that will be the future home of KU men's basketball players along with an equal number of non-student-athletes. Zenger said KU had not yet begun accepting bids from contractors for the $17.5 million project that will be built on Naismith Drive south of Allen Fieldhouse, but said that would be the next step once plans and designs are in place.
Royce to GCU?: Former KU guard Royce Woolridge, who is transferring from Washington State, could land at Grand Canyon University, azcentral.com reports.
The 6-3 Woolridge averaged 7.3 points per game as a junior. He will graduate this month, thus will be eligible immediately at any transfer destination.
Grand Canyon is coached by former NBA player Dan Majerle.
"Dan is the man," Woolridge told azcentral.com. "I want to come back home. I'm leaning towards them."
Woolridge has said he is transferring to be close to his ailing grandmother, who lives in Phoenix.
Camp starts: The Bill Self Basketball Fantasy ProCamp is being held today through Sunday in Allen Fieldhouse. Individuals pay between $5,000 and $7,000 to live the life of a college player for a weekend. No KU players are competing in the games.
Football looms: KU senior Tarik Black hasn't ruled out playing NFL football. The 6-foot-9, 260-pounder recently spoke with a Green Bay Packers scout after receiving the scout's number from Packers quarterback Aaron Rodgers, who liked what he saw of Black at a KU game last winter.
Black, who has no football experience, has heard from three NFL teams as the draft approaches, Yahoo Sports said Thursday. It's unlikely he will be taken in the draft, but he could attend a team's minicamp. One problem is he'd like to be a second-round NBA Draft pick.
"Basketball is my love," Black told Yahoo. "I'm definitely going to put effort into making basketball my life. But an opportunity presented itself and I want that opportunity to hold."
Black joked that no matter what happens, he at least has Rodgers' cell phone number. For the story go to http://ljw.bz/1kuCEuC.
More like this story on KUsports.com