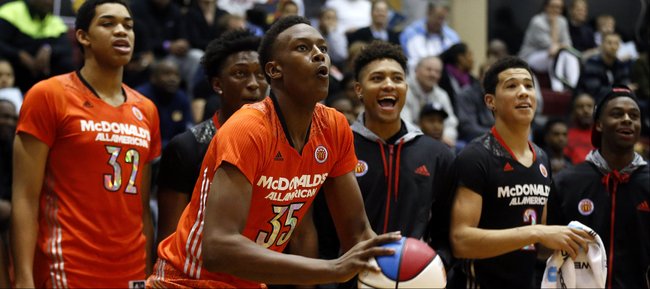 Sometimes the best tonic for trying to overcome your school's failure to land a coveted recruit lies in turning on the young superstar with a barrage of insults.
"Didn't want him anyway."
"Seemed like a real spoiled jerk on TV."
"I can't see him cutting it academically at my school."
"I've had it with one-and-done players. I'd rather take my chances with four-year players."
It's difficult to imagine fans of any of the six schools that did not land Myles Turner, including Kansas University, reaching into the sore-loser bag to fire the typical darts.
Nothing about Turner's signing ceremony suggested he is anything but a late-blooming, bright young talent crazy about his sister and parents and eager to make himself a better basketball player. In short, he seemed like the sort of guy any school in America would love to have competing for it.
You can't win them all. Kansas has won enough recruiting battles to win at least a share of 10 consecutive Big 12 regular-season titles. Texas landed Turner, which makes KU's attempt to push the title streak to 11 all the more difficult. Is that such a bad thing? The harder a team has to work for something, the more it means, and the better it prepares that team for the next challenge.
The Big 12 has felt like a three-tiered conference in recent seasons: Kansas alone at the top, a huge block of good but not great teams in the middle and a small block of schools not worthy of the NCAA Tournament at the bottom.
Not this upcoming season. Plenty will pick Texas to win the Big 12. Others will put Kansas at the top of preseason predictions. Here's what's good for the Big 12: Tons of people in offices across America will advance both schools to the Final Four on their brackets.
Possible matchups for anywhere from two to four Kansas vs. Texas games in the 2014-2015 season:
Point guard: Likely KU recruit Devonte Graham vs. sophomore Isaiah Taylor.
Shooting guard: Wayne Selden, his explosiveness restored by offeseason knee surgery, vs. Javan Felix or Demarcus Holland.
Small forward: Kelly Oubre vs. Jonathan Holmes.
Power forward: Perry Ellis vs. Turner.
Center: Cliff Alexander vs. Cameron Ridley.
Texas has the experience edge and probably even the talent advantage. It won't be the first time in the past decade someone other than Kansas looked like the best of the Big 12 on paper. A lot has changed, but last I checked, the games still are played on hardwood, not on paper. It's tough to bet against such a long streak.
More like this story on KUsports.com