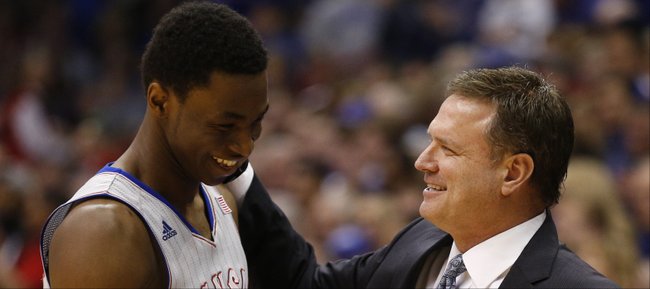 Kansas University freshman basketball guard Andrew Wiggins will hold a news conference at 2 p.m. today, at which he will announce his intentions to enter the 2014 NBA Draft.
KU freshman Joel Embiid, who like Wiggins is expected to be taken in the top three of the draft, will not be part of this news conference.
Wiggins has long acknowledged he's a one-and-done college player. Nothing has changed entering this news conference, sources said Sunday night.
The 6-foot-8 guard from Ontario, Canada, addressed his emotions after his last home game as a Jayhawk, KU's 82-57 Senior Night victory over Texas Tech,
"I am happy, yet sad it is my last game," Wiggins said after scoring nine points with four boards in 23 minutes. "I'm thankful for everything. I've been blessed with a good team, great coaches and the best fans anyone could ever ask for."
Wiggins, who averaged 17.1 points and 5.9 rebounds for the 25-10 Jayhawks, recently rated his one-and-done season a "10" on a scale of 1-10.
"It did," he said of his year in Lawrence exceeding his expectations. "(There's) nothing like college, sharing moments with your brothers you'll never experience again."
Wiggins never wavered in his decision to play college basketball one season only.
"I would say just being able to enjoy my last year of school," Wiggins said in November to ESPN when asked what he was most looking forward to during the 2013-14 school year.
Wiggins is listed as No. 1 pick in the 2014 Draft by draftexpress.com. Embiid is listed as No. 2.
"To reach his full potential, NBA teams will want to see Wiggins become more aggressive with the way he approaches the game. He has somewhat of a laid-back demeanor on the floor, which can be seen in the way he finishes around the basket at times, his tendency for shying away from contact, and his propensity for settling for long jumpers. He looks reluctant at times to just explode down the lane and dunk on people, which his physical tools suggest he should be able to much more frequently than he does. Part of that might have to do with his youth, lack of experience and strength," wrote Mike Schmitz of draftexpress.com.
"To his credit, Wiggins only recently turned 19 years old, and is obviously nowhere near a finished product. His tremendous scoring instincts and defensive prowess give him outstanding two-way potential, and that, coupled with his incredibly rare physical tools, makes it very easy to see why he's such a coveted prospect."