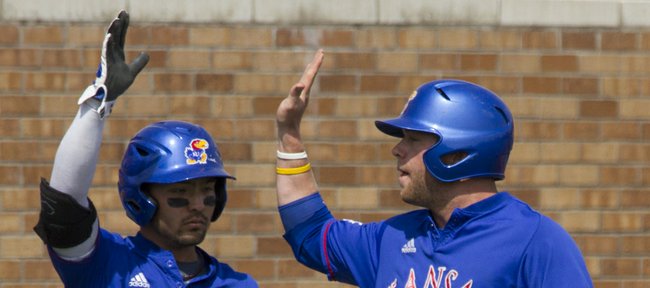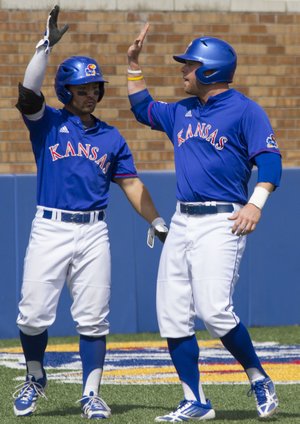 It hadn't been a good weekend for Kansas University junior Dakota Smith. He only had one hit in his previous 12 at-bats against the University of Oklahoma when he came up to the plate in the bottom of the ninth inning Sunday afternoon with the score tied, two outs and the winning run on second base.
Smith finally changed his fortune when he drilled a fastball over the head of a diving left fielder for a walkoff double, scoring Justin Protacio and providing the heroics for the Jayhawks, as they avoided getting swept with a 4-3 victory at Hoglund Ballpark in front of a crowd of 1,178.
"That was pretty special," KU coach Ritch Price said. "Especially as tough of a day as Dakota had at the plate today and all series. It was good to see him clutch up with the game on the line."
Protacio drew a one-out walk, and freshman Joven Afenir followed with an infield single. After Michael Suiter struck out, Smith, a 5-foot-10 designated hitter, hit the 2-2 pitch and was mobbed behind second base.
"Pretty much all weekend they've been throwing me sliders, so I kind of just decided that if they threw me a fastball I wasn't going to miss it," Smith said.
The Jayhawks (18-10, 3-3) led 3-1 heading into the ninth inning before the Sooners (20-9, 4-2) began a two-out rally. After one run scored and with two runners on first and second, Oklahoma's Craig Aikin hit a single to center. Pinch-runner Tyler Coolbaugh tripped after rounding third base on Aikin's single and was caught between third and home. However, Jayhawks catcher Ka'iana Eldredge's throw to third baseman Aaron Hernandez was in the dirt, and Coolbaugh scored to tie the game.
"I saw him fall, so then I thought we were going to get into a rundown where I was trying to close the distance," Eldredge said. "I thought Hernandez was coming in, but then he went back. (My arm) just kind of got caught, I got the yips and then made a crappy throw."
Price said he planned to talk to Jordan Piché about his role today, following his fifth blown save of the season and his second of the series.
"I may change his role here for a little bit to try to take that mental pressure off of him," Price said. "He's got too good of stuff to be struggling like that."
KU senior right-hander Frank Duncan cruised through most of the game, giving up one run on seven hits while striking out five in eight innings.
"He just threw stuff for strikes," Eldredge said. "He's a four-pitch guy, and he mixed well. He threw everything down, stayed down in the zone."
Price made a few changes to the lineup, adding lefties Ryan Pidhaichuk and Tommy Mirabelli, to force the Sooners out of their rhythm against right-handed-heavy lineups.
Protacio opened the game with a walk and scored on a single by Suiter in the first inning. In the second, Hernandez was hit by a pitch, advanced to second on a single by Eldredge and scored on a dropped popup, giving KU a 2-0 lead.
After the Sooners scored in the third, the Jayhawks responded in the fourth when senior Tucker Tharp hit a one-out double and scored on a single from Mirabelli.
KU will play host to Wichita State at 6 p.m. Tuesday.
Oklahoma 001 000 002 — 3 10 2
Kansas 110 000 001 — 4 10 1
W — Jordan Piché, 4-2. L — Kindle Ladd, 1-1.
2B — Craig Aikin, Oklahoma; Dakota Smith, Tucker Tharp, KU. 3B —Hunter Haley, Oklahoma.
Kansas highlights — Frank Duncan, 8 IP, 1 ER, 5 Ks; Michael Suiter, 3-for-5, RBI; Justin Protacio, 1-for-3, 2 BB, 2 runs; Ka'iana Eldredge, 2-for-3.
More like this story on KUsports.com