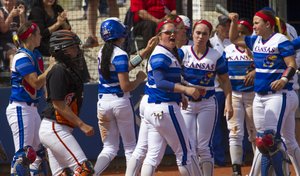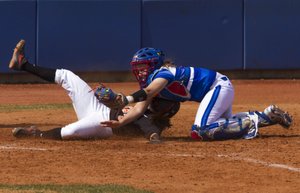 On a day when the offense was outhit and the defense committed the only two errors of the game, Kansas University capitalized on a couple of Oklahoma State miscues in the bottom of the ninth inning to pick up a Big 12 softball series sweep with a 2-1, extra-inning victory Sunday at Arrocha Ballpark.
The wild victory staked the Jayhawks (27-10 overall, 3-0 Big 12) to their second-best conference start since 2007 and also made it seven conference victories in a row dating to the end of the 2013 season. That streak is KU's second-best of all-time.
"This conference is wide-open," said winning pitcher Kelsey Kessler (16-7), who fanned 13. "And we want to make that statement that we're a tough team to beat."
Sunday's win followed the same pattern as the two that came before it during a hard-fought, low-scoring weekend that featured two of the premier pitchers in the Big 12.
Neither team scored until the fifth inning, when KU freshman left fielder Taylor McElhaney crossed home on an RBI single from Saturday's hero, shortstop Chaley Brickey.
It looked like that lone run might be enough, but OSU rallied to tie the game in the top of the sixth off an RBI double from center fielder Shelby Davis. Davis' gapper nearly drove home a pair of runs, but OSU shortstop Gessenia DeLaCruz was tagged out at home after missing the plate on her initial slide. Despite being tagged out, DeLaCruz was allowed to go back to third because of an obstruction call during her trip home. The events led to protests and questions from both dugouts, but Kessler stranded DeLaCruz at third, which set the stage for KU's second extra-inning game in three days.
"I can't say enough about Kelsey Kessler and how she pitched for us this weekend," KU coach Megan Smith said. "She was on it, focused and determined. When Kelsey's on, she's going to do extremely well, and she certainly was all weekend."
The Jayhawks and Cowboys (19-14, 0-3) combined to leave 23 runners on base during Sunday's thriller, but KU caught a break in the ninth when OSU's coaching staff elected to replace starting pitcher Simone Freeman with Meagan Lively after she threw two straight balls to McElhaney to lead off the bottom of the ninth.
"It's definitely refreshing to see a new pitcher," McElhaney said. "She threw hard, but she was kind of wild."
McElhaney reached first base after just two pitches from Lively, Ashley Newman walked on five pitches, and Brickey also worked her way to a walk after a scrappy at-bat.
With first baseman Maddie Stein at the plate with the bases loaded and one out, Lively uncorked a wild pitch that allowed McElhaney to charge home with the winning run.
"Coach said be ready for anything, especially passed balls," said McElhaney, who also ended the top of the fourth inning by throwing out an OSU runner at home plate. "So I was looking for that and just tried to stay ready."
Asked if she was more impressed by her defensive gem or winning slide, the freshman shrugged.
"Honestly, they were about the same," she said. "I was just fighting for my team."
Kessler, who spread OSU's seven hits over nine innings and walked five, had other thoughts about McElhaney's perfect throw.
"That was exhilarating," she said.
Oklahoma State 000 001 000 — 1 7 0
Kansas 000 010 001 — 2 5 2
W — Kelsey Kessler, 16-7. L — Meagan Lively, 1-2.
2B: Shelby Davis, OSU; Alex Jones, KU; Maddie Stein, KU.
Kansas highlights: Kessler 9 IP, 7 H, 0 ER, 13 K; Alex Jones 1-for-3; Chaley Brickey 1-for-4, RBI; Taylor McElhaney 0-for-2, 2 runs; Maddie Stein 2-for-4; Ashley Newman 1-for-4.
More like this story on KUsports.com