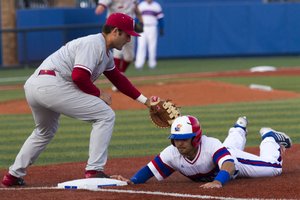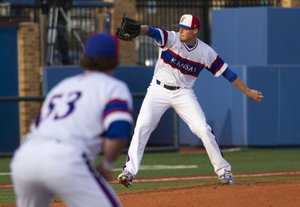 In a showdown between Big 12 closers, Oklahoma's Ralph Garza beat out Kansas University's Jordan Piché on Friday at Hoglund Ballpark.
Though Jayhawks senior right-hander Piché entered the game in a tough spot — with the bases loaded and one out — in the top of the eighth, the Sooners scored a run in each of the final two frames to win, 2-1, while Garza allowed no hits and no runs in 12/3 innings.
"You know, they beat our best guy," Kansas coach Ritch Price said after his team's Big 12 home opener. "I tip my cap to them. That's two of the best closers in the league, and tonight their guy was better than us."
Piché fanned the first batter he faced, Anthony Hermelyn, for the second out of the eighth, but OU designated hitter Austin O'Brien drew a full-count walk to tie the game at 1 before Piché struck out Hector Lorenzana to get out of the jam.
A 6-foot senior from Greeley, Colo., Piché opened the ninth by striking out Taylor Alspaugh, and then got Keach Ballard to ground out to second.
However, OU leadoff man Craig Aikin walked to fuel a critical two-out rally for the Sooners (19-8 overall, 3-1 Big 12). Hunter Haley followed with a single to right field, placing runners on the corners, and Sheldon Neuse delivered what proved to be the game-winning RBI single to center.
"Obviously, you can't walk the leadoff guy," Price said. "(Aikin's) the fastest guy on their club. We get the first guy out, then you walk him. It sets the table for exactly what happened. A guy hits a ground ball to the right side, and he goes first to third. Now you're trying to get a strikeout to get out of the inning without giving a run up."
Kansas (17-9, 2-2), which scored the first run of the game on a two-out, RBI double from junior Aaron Hernandez in the bottom of the seventh, had a chance to regain the lead in the bottom of the eighth.
A sophomore righty, Garza entered with Michael Suiter on first base and one out, then got KU designated hitter Dakota Smith to ground out. Tucker Tharp drew a two-out walk, and he and Suiter advanced to scoring position on a passed ball. Next, Garza plunked Ryan Pidhaichuk to load the bases.
But senior catcher Ka'iana Eldredge struck out on a 3-2 pitch.
"We obviously had opportunities to win," Eldredge said. "I swung at ball four with the bases loaded."
Price knew his team's No. 1 starting pitcher, left-handed junior Wes Benjamin, wouldn't throw long Friday, due to discomfort in his arm. The Jayhawks hoped Benjamin could throw roughly 75 pitches and get in at least five innings, but he left as a precautionary measure in the top of the third after straining his forearm. He faced 13 batters, struck out four, walked two and allowed two hits on 60 pitches.
Kansas ended up using relievers Stephen Villines, Jon Hander, Taylor Rappaport, Smith and Piché the rest of the way, and they combined to give up just four hits and three walks.
Price couldn't fault the bullpen for the loss.
"I wish we would've made them swing the bat," he said. "It ends up where they tie the game on a walk after we get a huge strikeout, and obviously the (two-out) walk in the ninth's the difference in the ball game, too."
The Jayhawks will host the Sooners for Game 2 of the series at 2 p.m. today at Hoglund Ballpark.
Oklahoma 000 000 011 — 2 6 2
Kansas 000 000 100 — 1 5 2
W — Ralph Garza, 4-0. L — Jordan Piché, 3-2.
2B — Aaron Hernandez, KU.
KU highlights — Wes Benjamin, 2.2 IP, 0 Rs, 0 Hs, 4 Ks, 2 BBs; Jon Hander, 2 IP, 0 Rs, 0 BBs, 0 Hs; Hernandez, 2-for-3, RBI; Justin Protacio, 1-for-3; Connor McKay, 1-for-4; Ka'iana Eldredge, 1-for-4.