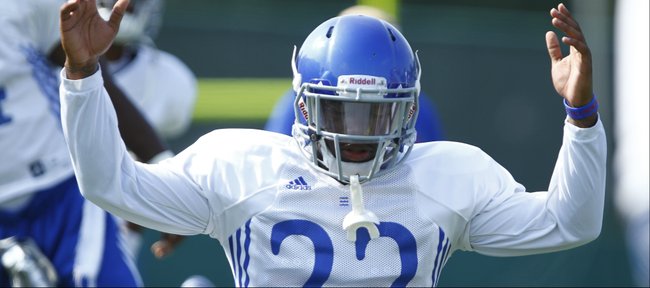 On Tuesday, Kansas University football coach Charlie Weis called third-year sophomore Greg Allen "probably the most pleasant surprise on defense" this spring.
Thursday, defensive backs coach Scott Vestal explained why.
"This is his third year in the program," Vestal said. "And, mentally, he has come a long way. It's never been a physical thing with Greg. He does have the tools. He's a good looking player. But mentally he's starting to grasp things in more of a big-picture way."
While today's college athletics landscape dictates that players who do not contribute immediately often get overlooked, Allen represents one of those players that used to be known as "program guys." They sit for a couple of years, soaking up everything they can and then get their chance to play when others have graduated and the light bulb above their head starts to shine a little brighter.
Vestal said that was exactly what happened for the 5-foot-11, 210-pound nickel back from Houston during the offseason. And it's the reason he and Weis have heaped such high praise on Allen at the midway point of spring practices.
"The most important thing (is) I think it matters to Greg more now than it ever has," Vestal said. "I think he just takes it more seriously now. He is managing his career, how he eats, his classes. He's getting better in all areas."
For a guy who moved around to multiple positions — all in the secondary — during his first two seasons, finding the right fit also has played a positive role in his development. After starting his career as a cornerback and flip-flopping between that spot and safety for two seasons, Allen now is working at nickel back — part of KU's base defense — where he seems to be better suited to use his size and speed to make plays.
"The nickel's a hybrid," Vestal said. "And certain people thrive in certain spots."
Although he has found his way onto the field in just eight of 24 career games and has just two tackles to his credit, Vestal said Allen's progress this spring was a clear sign that he had put in the time to improve.

"He sat in the same meetings as everybody else the past two years," Vestal said. "There's a whole lot of mental reps in there, even if you're not getting them physically out on the field."
As for Weis, who has more time to look over the entire operation after giving up his offensive coordinator duties in the offseason, Allen's strong spring has inspired KU's head coach to entertain what that could mean for the Jayhawks' depth.
With senior cornerbacks JaCorey Shepherd and Dexter McDonald having strangleholds on their jobs and cornerback Kevin Short penciled in as the starting nickel back, continued improvement by Allen could make Short a viable replacement on the outside if the need arose.
"It gives you some flexibility," Weis said. "Because Greg Allen has had a great camp, you could put him out there (at nickel back) and move Kevin to corner."
Allen and the Jayhawks ran through Day 7 of spring drills on Thursday and will hit the practice fields again today and Saturday.
More like this story on KUsports.com