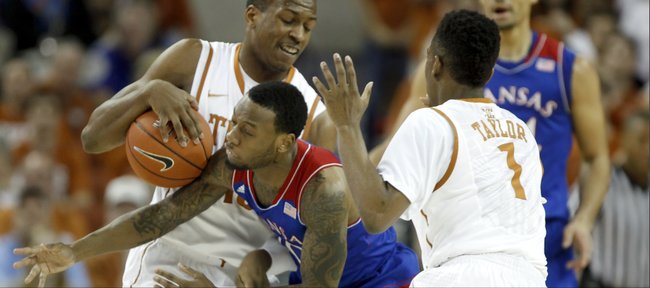 Point guard is basketball's version of football's quarterback in ways that extend beyond job duties. Things go wrong and it's almost always the quarterback's fault. Nobody in sports has a bigger, shallower fan base than the backup quarterback.
The past two years, the Kansas University point-guard position has had something in common with the school's quarterback spot. No matter the starter, the chorus crying for somebody else showed up ready to sing every game, just in case.
And it does, in fact, feel like it's time for somebody else to take his turn sweating under the interrogation lamp. Naadir Tharpe had his moments, but never consistently brought the type of production at either end of the floor that established him as the guy to lead the team. His confidence took a serious hit and the best way for it to come back just might be using him as a sixth man, a combination guard capable of getting hot from the outside.
Naming his replacement represents a far greater challenge than figuring out how to use Tharpe.
If there is a next DeAndre Kane — a graduated point guard with one more year of eligibility who can transfer without sitting out a year — that's certainly an option worth pursuing. But no point in trying to talk yourself into one being available if that player doesn't exist.
The answer very well could come from within the program.
If how brilliantly Conner Frankamp performed in the most pressure-packed games of his life with so little college experience doesn't put him in position to gain serious consideration for the job, why recruit him in the first place? He played with remarkable poise in St. Louis. Sure, he was exposed at the defensive end, failing to communicate well and getting overpowered and beaten by quicker players, but more playing time and work on his body can camouflage those issues to an extent.
Wayne Selden, Brannen Greene and incoming recruit Kelly Oubre supply size on the wings, so KU can afford to play a small point guard, whether it be Frankamp or fellow freshman Frank Mason.
Frankamp (zero turnovers in his final 140 minutes) offers better ball security than Mason. He's also a purer shooter, and with regular playing time would increase significantly his .313 three-point percentage.
Mason plays at a faster pace, defends with greater strength, quickness and confidence and gets to the paint more consistently than Frankamp. If two of his lobs off drives had been converted, he would have had four assists, not two, in the loss to Stanford.
Kansas won't be able to improve significantly on a 10-loss season without major strides at the point-guard position, so maybe the guy who displays the most consistency in practices wins the job. Maybe the answer to a complicated question is that simple.
More like this story on KUsports.com