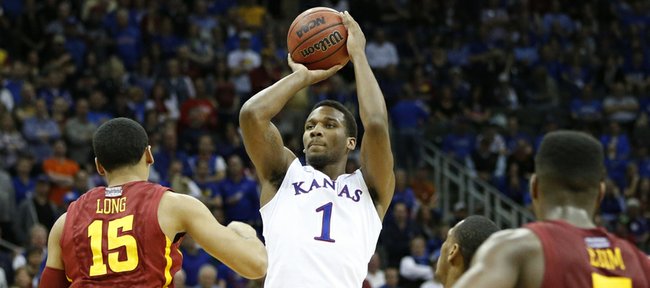 Wayne Selden — who was listed as a likely first-round pick in the 2014 NBA Draft by various analysts for much of his freshman season — tweeted on Tuesday that he's putting off the pros for at least a year.
"Want to let Jayhawk Nation know, I will be returning for my sophomore season! Can't wait to get to work & get back in the fieldhouse," Selden, a 6-foot-5, 230-pound shooting guard from Roxbury, Mass., wrote on Twitter shortly after 2 p.m.
He typed those words hours after making a morning phone call to KU coach Bill Self.
"Wayne contacted me this morning and said he was getting annoyed with all the speculation on whether or not he was going to return to school next year or not. He said, 'What do I do?,' and I said, 'If you feel comfortable with everything, tweet it out,'" Self said. "I told him to make sure you are sure. Of course, he is sure."
The McDonald's All-American, who had no comment on his future after Sunday's season-ending loss to Stanford, averaged 9.9 points and 2.7 rebounds for the 25-10 Jayhawks. NBA sources have told the Journal-World that he would have been a likely second-round pick in the 2014 Draft, though some analysts still believe he might have been included in the first round.
"Wayne had a terrific freshman year and he is just going to continue to get better. He's excited about the opportunity for himself to get better and also for our team to improve and be stronger next year. He's excited about the role he will have," Self said.
"We're very happy about this, but it comes as no surprise. Wayne has never led us to believe anything other than he was committed. If the timing is right and when the time is right and it's time for him to make a decision for whether he stays in school longer, we'll cross that bridge when we get to it. Certainly he's on board with being a Jayhawk in 2014-15," Self added.
Asked if Selden might be shifted to point guard in the future, Self said: "I don't know. We'll have to wait and see how everything plays out."
Self said there was "no timetable" for freshman center Joel Embiid to announce his future plans. He and Andrew Wiggins are expected to be battling it out with Duke's Jabari Parker for the top spot in the 2014 Draft.
"I hope I can have a chance to do some postseason meetings (with players) before I leave to go to the Final Four," said Self, who has given the Jayhawks the week off. "We do not have a set pattern on what is going on yet."
Self said he is not taking the week off.
"Probably not. We've got some recruiting stuff we've got to do," he said. "Unfortunately we are not working on what we want to work on this week. Certainly there are some things we need to get done before we kick it in for recruiting in April."
Asked to give a final comment on a season in which KU went 25-10 and won a 10th straight Big 12 regular-season title, but also lost in the Round of 32 of the NCAAs, the Jayhawks' 11th-year coach said: "It was good. We obviously didn't play as well the last five or six games after Jo got hurt (KU went 3-3 in its last six games with Embiid out of action because of a stress fracture in his back).
"I'm not saying it was the biggest reason and I'm not making excuses, (but) we weren't the same after he got hurt as we were before. Tarik (Black) did a great job. Other guys played very well at times. When it counted the most we picked a bad time to shoot it the way we did and not perform very well.
"I'm proud of a bunch of kids who tried real hard and hopefully when we are in this position again we'll respond favorably."
More like this story on KUsports.com