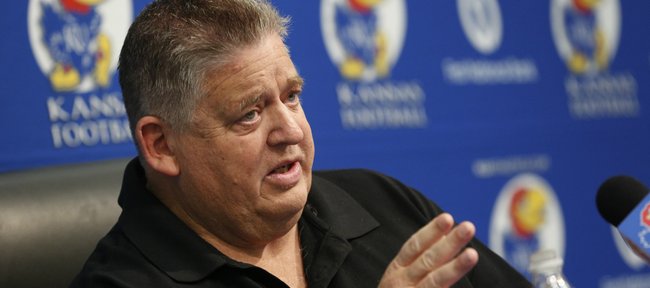 Kansas University football is back to spring practices after a week off for spring break.
KU coach Charlie Weis welcomed his team back to town with an intense workout Sunday night and will return to the field today after Weis and his offensive coaches meet with the media.
While the installation of a new offense and the transition to new offensive coordinator and offensive-line coach John Reagan and wide receivers coach Eric Kiesau have been among the biggest story lines of the spring thus far, the forward movement of a defense that made positive strides in 2013 has operated a little under the radar.
That's understandable given the offensive struggles KU has endured during Weis' first two seasons and every fan's interest in how those weaknesses will be improved this season, but those who are responsible for taking the defense to an even higher level in 2014 believe the pieces are in place for another big season.
"I think the defense has a chance of really doing something pretty good around here this year," Weis said before spring drills began. "There are some players that I am really looking forward to getting out there."
While those players — like defensive end Andrew Bolton, defensive back Kevin Short and several newcomers — have an element of excitement surrounding their name, the more proven players have the defensive coaches most fired up about the upcoming season.
"I think across the board we have a lot more guys who have been in the battles, and there's just more of a trust factor that you know this guy can get his job done," defensive coordinator Clint Bowen said.
Asked for specific examples of the guys he was talking about, Bowen started rattling them off and had trouble stopping.
"We know (linebacker) Ben Heeney's gonna be a leader on our defense," he said. "On the back end, you know (safeties) Cassius Sendish and Isaiah Johnson are gonna show up and work and play. Up front, (defensive lineman) Ben Goodman's no longer in that I'm-a-starter-fo-the-first-time role. They're guys who the other guys have seen make plays in Big 12 football games."
In addition to the advantage of the younger players on the roster having players to look up to and count on, several of KU's defensive coaches said knowing their personnel better was a huge advantage for them, as well.
"Absolutely," defensive-backs coach Dave Campo said. "Because when you look at the guys we've got, I know the strengths and the weaknesses, and I know what we have to work on to get better. When you've got a guy that you're doing an assessment on, obviously that's not as easy to do. There's a lot more work."
Less work evaluating means more time to move forward. Bowen said that was the goal this spring but added the entire coaching staff would do its best to move at a pace that works for the entire team.
"You always have to be cautious because you are breaking in new kids as well," Bowen said. "But for the older guys and the ones that have played, you can move with your install a little bit faster. We started off way ahead of where we were a year ago."
Cantrell joins KU staff
Weis announced Monday afternoon that former KU offensive lineman Ryan Cantrell had been hired as the assistant director of football operations. Cantrell, who played at KU from 2005-08, will slide into the spot previously held by Maurice Crum, who will move to a new role as assistant director of high school relations.
Before returning to his alma mater, Cantrell worked four seasons under Reagan at Rice.