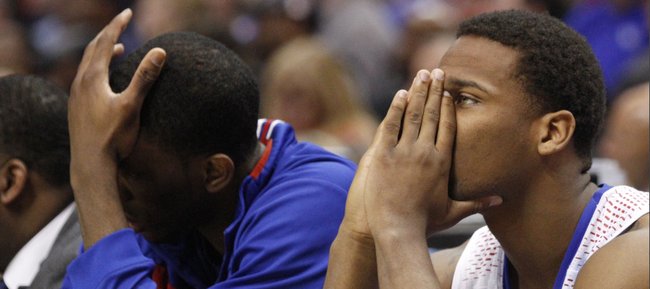 Photo Gallery
Kansas v. Stanford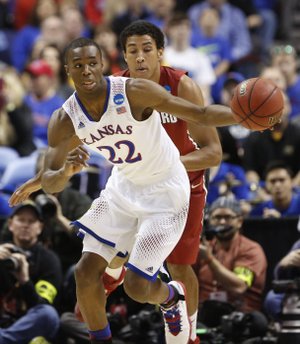 Images from Sunday's game between the Kansas Jayhawks and Stanford Cardinal.
Podcast episode
Kansas basketball coach Bill Self, freshman Conner Frankamp and sophomore Jamari Traylor discuss KU's season-ending loss to Stanford, in the round of 32, Sunday in St. Louis.
Podcast episode
Coach Johnny Dawkins and players Chasson Randle and Dwight Powell discuss Stanford's win over Kansas on Sunday in St. Louis.
KEEGAN RATINGS
STANFORD 60, KANSAS 57
St. Louis — It turns out Kansas University freshman Joel Embiid would have been available for Thursday's Sweet 16 matchup against Dayton, had the Jayhawks been able to defeat Stanford on Sunday in Scottrade Center.
"Yes. I would have played," said Embiid, a 7-footer from Cameroon, who missed the last six games of the season because of a stress fracture in his lower back. "I think I would have done some non-contact work (Monday)," he added. "Personally if it was my choice I think I would have played today," he added.
Embiid said he was ruled out on Friday.
"I tried to work out two days ago. I couldn't. I still had something (discomfort) so I couldn't," Embiid said. "I mean I wouldn't say it was hurting. It was really tight. I had to get a lot of treatment because it was tight. The doctor said I couldn't play. Coach (Bill Self) said he didn't want to put me out there to put me in jeopardy. The decision was for me to sit out the game and come back next week."
Embiid said it pained him to watch the Jayhawks lose to Stanford, 60-57.
"I wanted to be out there," he said. "It was hard watching us lose. I mean I could have done some things, but Tarik (Black, 18 points, six boards) had a good game. Wiggs (Andrew Wiggins, four points) couldn't get going. On the defensive end and offensive end, I think I could have done something."
It's possible Embiid's last game as a collegian was his 13 point, 13 rebound outing at Oklahoma State on March 1. 
There's a good chance that, like Wiggins, he's a one-and-done college player. He's projected to be one of the top picks in the 2014 NBA Draft.
"I am not thinking about that right now (NBA). We just lost the game," Embiid said.
He said he would speak with his family, his coaches and his "mentor, Luc," in coming up with a decision.
Luc is fellow Cameroon native and NBA player Luc Mbah a Moute.
"I am not thinking about that now," noted Self. "He'll be advised by his family as much as anybody. Whatever happens, happens. We'll be prepared for it."
KU freshman Wiggins has made it clear he will be leaving for the NBA after the season. 
On Sunday, asked about his immediate plans, Wiggins said: "I am not even thinking about that right now. We lost. I let my team down. I am not thinking about that now."
Freshman Wayne Selden and sophomore Perry Ellis also were asked about possibly turning pro.
"I am not thinking about that right now," Selden said, repeating that line several times to various reporters.
Ellis said: "I haven't even thought about that. I'm not even worried about any of that. I'm just going with the flow."
Earlier in the week, seldom-used sophomore Andrew White III was asked about possibly transferring.
"I am happy. I am on a winning team. I'm getting better every day. It's not seen on the court necessarily but in practice I'm working on a lot of things, improving a lot," White said. "We are still in the season. I have not given up on this season at all. It'd be selfish to think about leaving or anything right now. I'm just going day by day playing ball."
Off night for Traylor: KU sophomore forward Jamari Traylor scored three points off 1-of-8 shooting with five boards and three turnovers in 25 minutes.
"Besides Tarik (Black), I don't think we did a good job finishing at the rim today," Traylor said. "And those guys (Stanford players) are pretty long. But I don't know what it was, but we just couldn't buy a basket."
Bill Self on Stanford's 1-3-1 and 2-3 zones: "I don't think it surprised us at all. Teams have played zone against us for the most part all year long if it's part of the package. We didn't attack it well. I thought they really gapped it and we didn't do a good job of getting our nose dirty and getting in there until late. And then we got in there late, we actually got fouled or came away with at least potential scoring opportunities. We were passive against it. 
"That's what happens when you're not real confident sometimes or individuals are not confident, not having a great game. Things are open but you are a little hesitant to throw it. I thought they did a good job spacing us. You throw it inside, you have to score over 6-10, 6-11. We just didn't make shots (32.8 percent) and certainly didn't attack as well as we should," Self added.
Wiggins defended well: Stanford held Andrew Wiggins to four points off 1-of-6 shooting. 
"They're long," Self said. "We don't go against many teams that are bigger than us. The only position where we're as tall as them from a standing height standpoint is probably at the 3-spot with Andrew. He is about 6-7 1/2 and they're about 6-7 there (with 6-7 Josh Huestis). So they bothered him with length."
KU's press was effective on Sunday: "We tried really hard. We turned them over a few times. It was good for us," Self said. "That was one of our biggest game plans was trying to create pace defensively. It's hard to do if you don't ever make a basket. There weren't that many times when we took the ball out of bounds and where we forced them to take the ball out of bounds, especially in the first half. And then we got in foul trouble early. We had three starters (Wayne Selden, Naadir Tharpe, Tarik Black) get two fouls pretty early and then three starters get their third foul early in the second half.  So it may have taken us out of a little aggressiveness, but I thought it worked pretty well for us."
Self was asked if there was a particular reason Frankamp played seven minutes the final half. He played 11 the first.
"I thought Frank (Mason, 15 minutes second half) ... we had to get inside their defense and they're big.  When you play Conner and play with another guard, that puts him guarding a 6-7 guy. And they exploited that a little bit."