Photo Gallery
Kansas and Stanford press conferences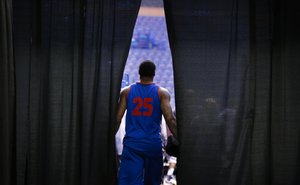 Images from a day of interviews and press conferences
St. Louis — At the time an MRI revealed a stress fracture in the lower back of Kansas University freshman center Joel Embiid, he led his team with 31 dunks. That's one area in which the Jayhawks have not slowed down without the Big 12 Defensive Player of the Year.
KU had eight of its 11 dunks in the second half of an 80-69 victory Friday against Eastern Kentucky. One in particular, sophomore forward Jamari Traylor's off a missed free throw, triggered the symbiotic energy flow between athletes and spectators. Alley-oops are responsible for many of KU's dunks, and it has been that way for a long time.
Stanford, the underdog in today's 11:15 a.m. tipoff vs. KU, knows what to expect.
"UCLA and Arizona throw a lot of lobs, a lot," Cardinal reserve center John Gage said, "although Kansas by far is the most athletic across-the-board team we've played."
Loud dunks trigger passionate audience participation.
"It definitely fires them up, and their crowd is going to be loud," Gage said. "But we're also a smart team. We're Stanford. We know that two points is two points. You just have to keep playing, move on, next-play mentality."
Stanford always has smart players. Too smart to assume that freshman center Embiid can be counted out of today's game 100 percent?
"You always want to play teams at their best," Gage said Saturday. "You hate to see a guy as good as he is be injured this time of year. Hopefully, he'll be back tomorrow. I mean, I don't know his current health situation. I believe he's out. It would be great if he could come back. If not, we'll play them either way."
It might shock much of the world if Embiid were to play today, but not the opposition.
"We expect anything and everything," Gage said. "I guess we'd be surprised, yes, but we're game-planning for him in the game and him out of the game. Both ways."
Interesting.
Regardless, much of what Stanford must do to limit KU's dunks starts on the perimeter anyway.
"I think a lot of what it comes down to is help, and furthermore, help the helper," Gage said. "You help up. You've got to take away the drive. That's what they're going to do, they're going to drive all night. You have to trust that my guys, Dwight (Powell), Josh (Huestis), are going to be there and be able to take away the oop."
Doing so is tougher than it sounds.
"We've got guys who can drive the ball and unselfish bigs, guys who can pass it big-to-big at times, and that's pretty much it," Jamari Traylor said, explaining how Kansas gets so many dunks. "Someone drives, someone steps up to help, and we have unselfish guys who are going to make the pass, and bigs who can get up and finish at the rim."
Nobody gets up higher than Andrew Wiggins, who leads the team with 35 dunks. Who gets up next-highest?
"I think I'm second," Traylor said. "Maybe Tarik (Black.)"
When one player gets up high enough to hammer one down, everybody gets up emotionally. Dunks definitely pep up a tired team and can deflate the guys on the other side.
"It pumps energy into the building," Traylor said. "It gets everybody motivated, fired up, gets the crowd into it, a little momentum boost. Sometimes, teams don't know how to adjust to it. We want to get as many dunks as we can."
Black had four second-half dunks in the victory against tough-to-shake Eastern Kentucky.
"The dunk is a basketball play that gets everybody hyper," Black said. "It gets everybody going, gets juices flowing, so it definitely helps our team. We had a lot of good dunks (vs. the Colonels). That's what kept us going and attacking them."
Dunks are not only the highest-percentage shots in basketball, they echo the longest and loudest.
More like this story on KUsports.com