Photo Gallery
Kansas and Eastern Kentucky basketball practices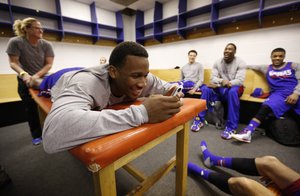 Images from a day of practices and press conferences prior to the Jayhawks' Friday tipoff against the Eastern Kentucky Colonels
Podcast episode
Kansas basketball coach Bill Self talks Eastern Kentucky, the NCAA tournament, Joel Embiid and Andrew Wiggins on Thursday afternoon at Scottrade Center, site of KU's Friday afternoon game against EKU.
On a scale of 1 to 10, Andrew Wiggins rates his one-and-done season at Kansas University a "10."
"I loved it," Wiggins said Thursday.
What has been the best part?
"The whole experience. Never a dull moment," said Wiggins, who enters the 2014 NCAA Tournament as KU's leading scorer (17.4) and third-leading rebounder (6.0).
"I had fun the whole year. Every time I was in Kansas, it was fun.
"It did," he added of his year in Lawrence exceeding his expectations. "(There's) nothing like college, sharing moments with your brothers you'll never experience again."
Conversing with brother: Wiggins recently spoke with his brother, Wichita State player Nick Wiggins, about the 2014 NCAA Tournament. The No. 1-seeded Shockers open the NCAAs against Cal Poly tonight in St. Louis, then, if victorious, will meet either Kansas State or Kentucky on Sunday.
"I was like, 'You have a tough bracket,' but him and his teammates think that it's easy," Andrew said. "They think whoever is in front of them, they (Shockers) will win. That shows how confident and hungry they are, their will to win."
Of his parents, Andrew said: "They are happy. They don't have to travel too much. They can see us both (in St. Louis)."
Trepidation: Senior center Tarik Black might have had the quote of the day Thursday when asked if he was "scared" of 24-9 Eastern Kentucky.
"Man, we can be playing the grandmas of North Dakota … this is the NCAA Tournament. I'd still be scared," he said with a smile. "Not necessarily scared, but I'd still be nervous and looking forward to playing them because it's the tournament. It's the top 64 teams in the country."
Embiid shoots: KU freshman Joel Embiid participated in KU's non-contact shootaround Thursday at Scottrade Center. The 7-footer is not expected to play this weekend because of a stress fracture in his lower back.
"I love the guy that we don't have, and he's really good," Self said of Embiid. "He wasn't a starter for us when the season started. The guy we recruited from Memphis I recruited to start over Joel," he added of Black.
"I thought Joel would be a nice backup until he figured it out. He (Black) is a guy every program in the country wishes he could have. He's playing very well."
Of Embiid's status, Self said: "We said all along he would be the longest of long shots for this weekend, but that hasn't, by any stretch, ruled out next weekend. And he's making progress in rehab.
"We're going slow, though. We're not pushing him out there at all. And that could possibly be the case, but we're not. That wouldn't be in anyone's best interests. We are very optimistic we can get him on the practice court the next week. If that is the case, there would be a chance he can play if we are fortunate enough to win two games.
"I think we are 3-2 without him. But in the games in which we lost, teams shot a lot of easy baskets, in large part because we made a lot of the same mistakes we have been making, but he wasn't there to clean them up. So we have to be much sounder out on the perimeter."
Not tired of talking: Black was asked if he tires of answering questions about Embiid.
"I don't take it too personal because it's something you have to roll with the punches," Black said. "You've got somebody who is potentially the No. 1 draft pick. If he is out, obviously there's going to be a lot of talk about him not playing. We love Jo Jo. It's not something personal. We love him to death and want him back. It's something we have to move on. We don't have him."
Puffy eye: KU sophomore Perry Ellis had a mark under his left eye Thursday afternoon.
"I got scratched in the eye earlier," Ellis said of contact while going against Jamari Traylor at practice held prior to a shootaround at Scottrade Center. "We're always competing. We're always trying to get better. Practice is time to get better."
Flipping out: KU freshman Frank Mason ended Thursday's 30-minute shootaround by performing three backflips, then a slam dunk off a pass off the backboard from Naadir Tharpe, to the delight of about 1,000 fans in Scottrade Center.
Team leader: As reported in the Journal-World last weekend, Ellis spoke up in the locker room after KU's loss to Iowa State in the Big 12 tournament.
"I wish I could have recorded that. I didn't hear it," Self said. "Somebody said Perry was getting after everybody. I'd have given anything to see that. We've been begging for that for two years now. I think he's taken on more of a leadership role, not much vocally but (setting) an example standpoint. He's still young."
Freshmen jitters: Self was asked if he's worried about the KU freshmen that will be making their NCAA Tournament debuts today.
"A little bit. I would worry about how everybody is going to respond," Self said. "We had that team in '05 with Mario (Chalmers), Julian (Wright) and Brandon (Rush) as freshmen. We rolled through the Big 12 tournament, beat Texas, came to Detroit and just laid an egg. I don't know if it was because of youth or as much maybe the first time that group was going through the pressures."
The '05 Jayhawks lost to Bradley in a first-round game in Michgan.
"I want our guys to be loose, care-free and go have fun. The hay is in the barn, so to speak, just go have fun," Self said.
Self on Andrew Wiggins:
• "I do think he has a flair for the moment. And I think that goes way back. And that doesn't guarantee playing great or anything like that tomorrow, but it gives me a lot of confidence that he will be very aggressive."
• "I think he has matured in that he's become a little bit more of a, maybe an alpha dog or assassin-type guy here of late than he was before. Because Andrew, he wants to fit in. He wants to be a part of a team. I think he's comfortable that he knows that everybody wants him to be the guy. But I don't think he's changed much. I don't think you can change this kid much, I think he is just right here."
• "For us to advance, he has to play a huge, huge role."
Facial hair: Black and Traylor sat at the podium together in Scottrade Center, both sporting hair on their chins.
"It just grows this way. We don't plan it. We don't go to the barber shop. I don't know. I think I look pretty good with this," Traylor said.
"I definitely did it first," Black said. "I guess he saw me come in the locker room and was like, hmm, that looks, kind of spiffy, so he started doing it himself."
"No chance," Traylor responded.
"We have a great bond on and off the court. That's why we play so well together because of our chemistry off the court. We are good friends. We relate to each other very well. And we're similar players, too, as well. When we get on the court we understand each other's game very well. So that's what helps us compliment each other so well," Black stated.
Tiger talk: Self was asked if the only way KU would play Missouri is in the NCAAs: "In the short-term, I'd say yes. Who knows what the future will hold. I have never said that Kansas will never play Missouri. I said it probably won't happen while I'm there. But I'm not going to be there forever, so there will be somebody there that can make that decision long after I'm gone, and administrators and chancellors and things like that," Self said.