Photo Gallery
Kansas and Eastern Kentucky basketball practices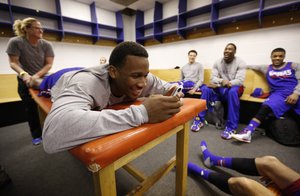 Images from a day of practices and press conferences prior to the Jayhawks' Friday tipoff against the Eastern Kentucky Colonels
Podcast episode
Kansas basketball coach Bill Self talks Eastern Kentucky, the NCAA tournament, Joel Embiid and Andrew Wiggins on Thursday afternoon at Scottrade Center, site of KU's Friday afternoon game against EKU.
St. Louis — On occasion, Kansas University junior point guard Naadir Tharpe lets his mind drift back to last year's season-ending loss to Michigan in the Sweet 16 of the NCAA Tournament.
That's the game in which senior Elijah Johnson gunned an ill-advised pass from the baseline past the three-point line to a surprised Tharpe, who missed a prayer of a three-pointer that barely beat the buzzer in an 87-85 heartbreaker.
"I think about it a lot, like, 'What could we have changed?'" Tharpe said Thursday, the eve of today's 2014 NCAA Tournament opener against Eastern Kentucky (3:10 p.m., Scottrade Center).
"Guys who played in that game were so disappointed about that. It's something we keep in the back of our minds. "(But) right now ... you think about, 'What can I do to be successful for this class, this team?'
"We're back at it again. We have another chance this year, and we're all really excited to get started."
The 5-foot-11, 170-pound lead guard from Worcester, Mass. — who took a lot of mental notes watching Tyshawn Taylor lead the Jayhawks to the national title game his freshman year, then logged 19.4 minutes a game subbing for Johnson last season — today begins his third postseason as KU's starting floor general.
"I have a whole different mind-set going into this," Tharpe said, indicating he's well aware the Jayhawks' next loss will be their last of the season. "The first thing I try to think about is getting the troops ready, (then) being out there playing aggressive both offensively and defensively. Once I do that, I feel they (teammates) follow. In games we've played well, I was aggressive on both ends. I have to make sure in this tournament I am aggressive in every single game we play."
For the season, he averages 8.7 points per game, with 165 total assists against 64 turnovers. He's had some huge offensive games, like the five in which he has scored 19 or more points. He also has gone scoreless three times and had two points in two other games.
"He's a point guard first. He looks for us," KU freshman Andrew Wiggins said. "Last game, he didn't score much, but he had nine assists (five points, nine assists in Big 12 tournament semifinals against Iowa State). Other games where he didn't have that many assists, he scores. He's a great point guard offensively.
"What can't he do? He can do everything," Wiggins added. "He can help us on the way to a national championship."
Winner of today's game will meet either New Mexico or Stanford at a yet-to-be-determined time Sunday, with the winner of Sunday's game advancing to the Sweet 16 next Thursday in Memphis.
"He's a great leader for us," sophomore forward Perry Ellis said. "On the court, he helps me out a lot, speaking to me about what he wants to do. He's experienced now. He is leader of this team. He will lead us."
Tharpe has spent a lot of time this week working on the minds of KU's freshmen.
"I've been talking to them, out of practice, in practice," Tharpe said, "to make sure they are focused, ready and excited. They should be excited about this because it's a one-time thing a lot of these players will get to play in. They shouldn't be worried at all. We've all played in a lot of big games. We all play in the (Allen) fieldhouse. That's a lot of nerves right there. This shouldn't be anything different."
As far as the technical aspects of today's game ... Eastern Kentucky (24-9) likes to shoot a lot of threes on offense (303 of 776 on season; KU is 184 of 533) and pressure on defense with its smaller, scrappier lineup.
"We've been working on getting the ball up the floor and being aggressive," Tharpe said. "If they are going to pressure us, coach (Bill Self) wants us to be aggressive and attack. Once the pressure occurs, we should be able to score by attacking it and getting layups."
Center Tarik Black says the Jayhawks welcome pressure.
"To be honest, as a big man, especially a 5-man (center), we love seeing that. When our guards handle the ball, come down the floor, that's easy backside lobs and dunks for us," Black said. "That's points on the board going up for us. Honestly I can't wait."
As far as the Colonels shooting a batch of threes ...
"What we've seen a lot is their guards shoot behind the screen. They put it up. They attack. We've got to get over ball screens," Tharpe said. "We have to make sure we have each other's back, helping out."
Black, a senior transfer from Memphis who like Tharpe is big in the leadership department, said a team that shoots threes can be "dangerous to anybody in the country.
"You catch them on a hot shooting night when they fall, when they are hitting crazy shots over defending arms, you can beat anybody in the country like that," Black said. "We will try to make them take some bad shots, shoot over outstretched arms, try to beat us by shooting bad shots."
Tharpe said a key is the Jayhawks have to "have energy, be excited. We have to take on the challenge and enjoy this time. I've been telling these guys a lot of teams want to play in the tournament every year. Every team doesn't get a chance to make it. We have a chance. We have to take on the challenge."
As such, he's "excited" for this one, he's also ready to make some new postseason memories.
"I don't feel any pressure at all," Tharpe said. "I'm just going to go out there and play basketball and have fun. That's all I've been trying to tell the other dudes, go out there and have fun, leave it all out on the floor, but really just to have fun."