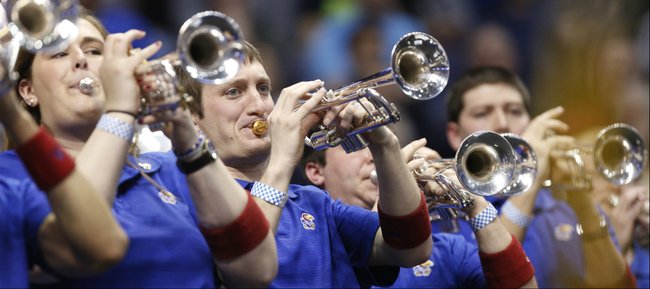 With a victory Friday over Eastern Kentucky in the second round of the NCAA Tournament, the second-seeded Kansas University men's basketball team earned a date with No. 10 seed Stanford at 11:15 a.m. on Sunday.
Stanford advanced to the Round of 32 with a 58-53 over New Mexico in the first game of the day Friday at Scottrade Center and did so by limiting New Mexico guard Kendall Williams to just three points on 1-of-9 shooting in 39 minutes.
Williams, who entered the game averaging 16.4 points per game, hit Kansas for 24 during an 80-63 KU victory back in December.
Podcast episode
Kansas basketball coach Bill Self, sophomore forward Perry Ellis and freshman guard Conner Frankamp discuss KU's NCAA Tournament win over Eastern Kentucky on Friday in St. Louis.
Photo Gallery
Kansas basketball v. Eastern Kentucky (NCAA Tournament opener)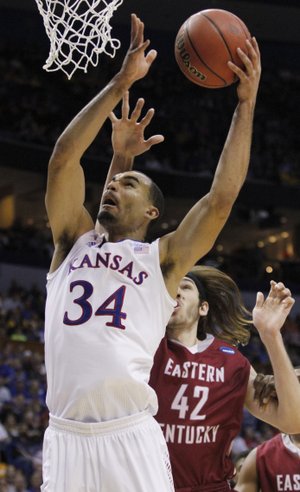 Images from Friday's first-round game between the Jayhawks and Colonels at Scottrade Center in St. Louis.
Photo Gallery
New Mexico v. Stanford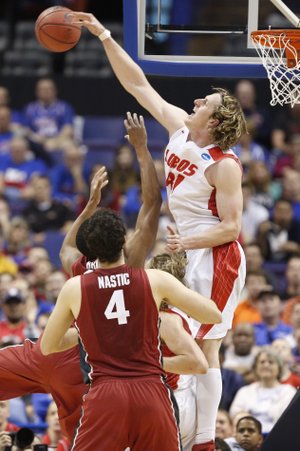 Image from the first-round game between the Lobos and Cardinal in St. Louis.
Junior Anthony Brown, who earned Pac-12's most improved player of the year award, played a huge role in frustrating Williams from the start and may have his hands full again Sunday with KU freshman Andrew Wiggins, who led the Jayhawks with 19 points in KU's hard-fought 80-69 victory over Eastern Kentucky on Friday.
"We didn't try to do anything in particular," said Brown of guarding Williams. "For me, I just wanted to use my length on Kendall. Knowing him, playing with him when I was little, I had a pretty good understanding of some of his tendencies and we knew we didn't want to let him get into a rhythm early. He didn't hit his first couple of shots and I think he started getting passive looking for others."
Junior guard Chasson Randle led the Cardinal (22-12) with 23 points on 7-of-15 shooting. Brown and Stefan Nastic added 10 points apiece for Stanford, which jumped out to a huge lead early in the game, led by five at halftime and held on for the victory.
Stanford coach Johnny Dawkins, the former Duke point guard now in his sixth season in Palo Alto, Calif., was asked after Friday's win about a potential meeting with Kansas in the next round. In talking about the match-up, Dawkins recalled his past encounters with KU as a Blue Devil, the most memorable of which came in 1986, when Duke topped KU, 71-67, in the Final Four in Dallas.
"Well, we actually played Kansas twice that year, so I remember it," Dawkins said. "Two hard-fought games. Both of the games came down to the wire, but especially in the Final Four. That game was deciding who would play for the national championship. Just a great environment and I thought both programs were competing and playing like, you know, everything was on the line."
Dawkins said he had no preference which team the Cardinal faced in the next round.
"I haven't had the chance to even think about that," he said. "I have been in this tournament a number of times as a player and a coach and the thing you have to do is stay focused on what you're doing. Both of those teams are great. Neither one of those teams would be here if they weren't very good at what they do. So we just have to wait and find out who we're going to play and we'll start preparing for them."
KU is 8-2 all-time against Stanford. The Jayhawks last faced the Cardinal in December of 2003 in Anaheim and lost, 64-58. Before that, KU played Stanford in the second round of the 2002 NCAA tourney (also in St. Louis) and won 86-63 en route to reaching the Final Four.
The Cardinal feature four players who averaged double figures in scoring this season and are led by all-Pac-12 first team selections Randle and 6-10, 240-pound forward Dwight Powell. In addition, senior forward Josh Huestis was named to the all-Pac-12 defensive team.
STANFORD AT A GLANCE:
Record: 22-12
Conference: Pac-12
Mascot: Cardinal
RPI: 40
Last 12 games: 7-5
High-profile opponents: vs. Pitt (88-67 L); vs. Michigan (68-65 L); at UCLA (91-74 L); vs. Arizona (60-57); vs. UCLA (83-74 W); at Arizona (79-66 L).
Double digit scorers: 6-2 guard Chasson Randle (18.7 ppg); 6-10 forward Dwight Powell (14.2); 6-6 forward Anthony Brown (12.7); 6-7 forward Josh Huestis (11.4).
Top rebounders: Huestis (8.3); Powell (6.9); Brown (5.0).
All-Conference honorees: Powell, all-Pac-12 first team; Randle, all-Pac-12 first team; Huestis, all-Pac-12 defensive team.