Photo Gallery
Kansas and Eastern Kentucky basketball practices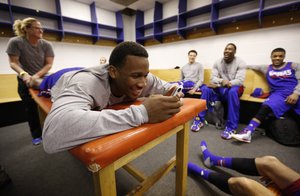 Images from a day of practices and press conferences prior to the Jayhawks' Friday tipoff against the Eastern Kentucky Colonels
Podcast episode
Kansas basketball coach Bill Self talks Eastern Kentucky, the NCAA tournament, Joel Embiid and Andrew Wiggins on Thursday afternoon at Scottrade Center, site of KU's Friday afternoon game against EKU.
St. Louis — On a team full of shooters, Eastern Kentucy forward Eric Stutz is the one guy the Kansas University basketball team probably won't have to worry about behind the three-point line during today's second-round NCAA Tournament game at Scottrade Center.
It's not that the 6-foot-8 junior from Newburgh, Ind., can't shoot, rather that he chooses not to. Stutz was responsible for just three of the 776 three-point attempts the 15th-seeded Colonels (24-9) fired up this season, the 13th-highest number in college basketball.
He missed them all, remembers each one and says it really doesn't bother him that he went from scorer in high school to scrapper in college.
"I like to think I'm still a pretty good shooter," Stutz said. "In practice I can hit 'em. It's just not something I needed to do this year."
Stutz actually has become one of EKU's best facilitators. His 59 assists rank third on the team and complement his 8.4 points-per-game and 4.7 rebounds-per-game averages nicely. With an offense that uses at least four shooters at all times, Stutz has found that driving and kicking to open teammates is a better use of his skills. So he does it. His teammates respond by knocking down shots. All within the offense, though.
"We just run plays and make the right passes," said senior guard Glenn Cosey, who drained a team-best 110 of 259 three-point attempts this season. "Most of the time we're open for threes because teams have to help in, and we just kick it out."
Cosey credits EKU coach Jeff Neubauer for running an offense that emphasizes long-distance jumpers.
"It's fun," Cosey said. "He gives you a lot of freedom with it, and you just have to take the right shot. I'll pull up from anywhere. I always joke in practice that I just need an inch, and I'll let it go."
The funny thing about EKU's style is that it in no way resembles what Neubauer was known for during his playing days at LaSalle. At least not offensively.
"He wasn't a shooter. He was a point guard," Cosey said of Neubauer the player. "He just got the ball to the scorers. That's what he told me. He was a big guard, so he didn't really have any speed or quickness or anything."
Help from Big Blue?
With EKU's campus sitting roughly 25 miles southeast of Lexington, Ky., the Colonels said they often felt like they were living life in the heart of Kentucky Wildcats country. That remains the case in St. Louis, where the eighth-seeded Wildcats will face No. 9 seed Kansas State at 8:40 tonight in a second-round game at Scottrade Center.
"Just can't get away from it," joked forward Deverin Muff. "Being in that area, you're obviously in the Big Blue Nation, so trying to get a little respect is tough to do. Now that some of their fans will be able to see us, I'm guessing they'll probably be rooting for us to beat Kansas because they don't really like Kansas too much, so it'd be kind of cool to have their support."
Under pressure
While the Colonels are known offensively for their three-point shooting, their defensive foundation is rooted in intensity.
"That's where our defense starts," senior Orlando Williams said. "The point guard picking up his man and everybody else is in the passing lanes denying their man. When our team gets going and gets hot, we're a hard team to stop. Our defense and our pressure is real sick, and then when we get it going on offense, it's like, 'What can you do?'"
One Colonels player called in "chaos," a description with which Cosey wholeheartedly agreed.
"Once you play against it, you don't know what to do because you're getting pressured, you can't pass it," he said. "You can't run your offense like you normally would."
Guarding Wiggins
The topic of slowing down KU forward Andrew Wiggins and his 31 points-per-game average in the Jayhawks' past three games came up often in the EKU locker room Thursday. Regardless of which player fielded the question, the answer was the same.
"Obviously, he's a pro," said Cosey. "So of course we have to know where he's at. But we're just trying to keep the ball out of his hands, deny him and make them do something they're not used to doing."
Added Stutz: "It starts with just not letting him catch the ball. He is gonna get it and he is gonna score, but it is a team effort. I don't think one guy can guard Andrew."
Match-up chatter
Asked about the possibility of the Jayhawks using a guard-heavy lineup to try to contain the EKU shooters, Neubauer downplayed the idea.
"When they play small, they are (still) significantly bigger than us," he said. "So I don't think that matters at all."