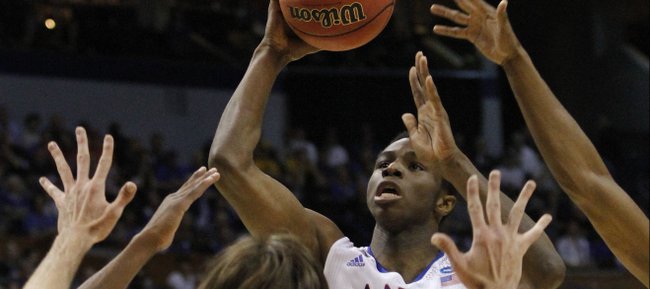 Photo Gallery
Kansas basketball v. Eastern Kentucky (NCAA Tournament opener)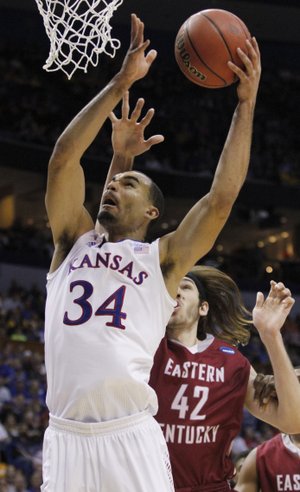 Images from Friday's first-round game between the Jayhawks and Colonels at Scottrade Center in St. Louis.
Podcast episode
Kansas basketball coach Bill Self, sophomore forward Perry Ellis and freshman guard Conner Frankamp discuss KU's NCAA Tournament win over Eastern Kentucky on Friday in St. Louis.
KEEGAN RATINGS
KANSAS 80, EASTERN KENTUCKY 69
St. Louis — For the better part of the past two weeks, a couple of players on the Eastern Kentucky roster made Kansas forward Andrew Wiggins the focal point of just about every basketball thought they had.
So when the time came to actually go out onto the Scottrade Center floor and guard him while hoping to lead the 15th-seeded Colonels to an upset of the South region's No. 2 seed, all of that attention to every detail of Wiggins' game paid off. For a while.
"Scouting report-wise, we had him down to a tee," said EKU senior Marcus Lewis, one of the two principal defenders assigned to Wiggins throughout Friday's game. "He didn't back-door much, maybe once or twice, so I just tried to deny him as hard as I could. I felt like I did a really good job. Especially for how highly touted he is. I feel like I played some of the best defense of my life."
But then something unexpected happened and the wiry, 6-foot-8, 200-pound freshman who turned 19 just a few weeks ago, shocked the Colonels and helped lead Kansas to an 80-69 victory with the one thing they did not know he had. Power.
"He doesn't have much weight on him because he's young," Lewis said. "But he actually drives it a lot harder than I expected."
Wiggins kick-started his night by finishing an alley-oop from Frank Mason midway through the first half. A couple of minutes later, he flushed another one, and, by halftime, he had slid quietly into his usual spot as the Jayhawks' leading scorer with 10 points on 4-of-7 shooting.
"I think they did a good job of drawing the lob play to get him open and get him going," said EKU guard Glenn Cosey, who opened the game on fire from three-point land and finished 5-of-11 from behind the arc for 17 points.
Added EKU guard Orlando Williams, who shared Wiggins watch duty with Lewis: "A lot of his touches came from us denying him and them throwing it over the top. Him being so athletic, he can just go up and go get it."
With the Colonels (24-10) in foul trouble and the Jayhawks heading to the free throw line for much of the second half, Wiggins began to make plays by attacking the rim. Even if it didn't always lead directly to points, it put pressure on the EKU defense and opened things up for Wiggins' KU teammates.
"What shocked me was, I didn't know he was gonna be that quick with the dribble," Williams said. "That kind of got me, and I had to get back into my stance and my defensive position."
When all was said and done, Wiggins left the floor as the game's leading scorer with 19 points, despite making just five trips to the free throw line and attempting (and missing) just one three-pointer all night.
The funny thing about it was, no one in the Eastern Kentucky locker room seemed disappointed by the way they played him.
"The first (and) best way to guard him is don't let him touch it and we did that very well, especially early in the game," EKU coach Jeff Neubauer said.
Added Williams: "I've played against a lot of good players. But I think Andrew Wiggins is the top. I think he's great. He's as good as advertised."