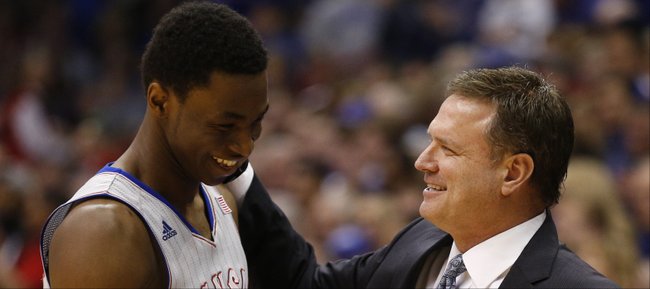 There are plenty of statistics available for those who wish to proclaim Kansas University's basketball program the most dominant in the country during the entire 11-year Bill Self era.
Perhaps most impressive is the fact the Jayhawks have won 10 consecutive regular-season Big 12 titles and 10 of 11 overall. Self's first KU team placed second in the conference.
Regarding postseason domination ... KU, which has been awarded a No. 2 seed in the 2014 NCAA Tournament, has been a No. 1 seed five of the last eight seasons, with a pair of No. 2 seeds and one 3.
In 11 years, the Jayhawks have never been lower than a 4 seed — in Self's initial season, as well as 2006.
"I think we won 30 games five of the last six years or something like that," Self said Tuesday on John Feinstein's show on CBS Sports Radio. Actually KU, which is 24-9 this season, won 30 games in six of the past seven seasons heading into 2013-14.
"This year I knew it'd be harder to win league because league was so good. You think about 14-4 (in league), that's good, but you don't consider it great. But if you look at our league, it is great," Self added. "We've got four nonconference losses: at Florida, Colorado full strength (before Spencer Dinwiddie was hurt), Villanova, San Diego State ... three of those teams were ranked in the top five at one time this year. Colorado made a 30-footer at the buzzer to beat us out there. It's been a hard year because our record is not as good as I think our talent level is. I think the schedule is obviously the reason for that."
Self has started three freshmen a majority of the season with a sophomore and junior.
"It's been a fun year, too," Self said. "When we play well, we're really good. When we play poorly, we can drop more than the really good teams drop. Maybe it's youth or leadership or whatever. That's the thing that has been different with this team. Our consistency hasn't been near as good as what it has in the past."
Self was asked if there's any anxiety over the fact his team's leading scorer is a freshman. Andrew Wiggins takes a 17.4 points per game average into Friday's 3:10 p.m. NCAA Tournament opener against Eastern Kentucky in St. Louis.
"No, not really," Self said on CBS radio. "These freshmen, whether it be Andrew, Ennis (Tyler, Syracuse), Randle (Julius, Kentucky), Parker (Jabari, Duke), whomever ... these guys have been through so much more by the time they get to school from an exposure and pressure standpoint than what kids were 15, 20 years ago. They've all been the leader of their respective teams from day one to now. I would say you'd like to have more experience in a lot of ways, but I do think he (Wiggins) is prepared because of all the things he went through this year."
Embiid update: Freshman center Joel Embiid did not practice on Tuesday and is still listed as doubtful for this weekend. The Jayhawks will practice today then leave via bus about 1 p.m. for the five-hour ride to St. Louis. KU will hold a shootaround open to the public from 2:15 to 2:55 p.m. on Thursday in Scottrade Center.
"We're preparing like we won't have him (at all), and then when he comes back, it'll just be a bonus," Self said on CBS Sports Radio. "But it is a little different. It kind of leaves your kids in limbo a little bit obviously. Even though you turn on ESPN the talk is, 'Joel Embiid this and that and Kansas, their hopes depend on this,' we've kind of used that as a rallying cry with our guys.
"(Self tells players) 'Hey, we're good enough,' which we are. We're good enough to have success without Joel. Of course, we'd love to have him, but if we don't, we shouldn't alter our expectations or our goals," Self noted.
"It's not the easiest thing. It's not like football where you probably have to have two different game plans (depending) on which quarterback plays. It's not that at all, but it does change up some things. For this first weekend, it shouldn't be that. We're not optimistic he'll play this first weekend at all."
Forcing turnovers: Eastern Kentucky, 24-9, enters the NCAAs ranked second nationally in turnover margin at +6.3 per game.
"Teams aren't going to have a problem with our length because we're not as long as other teams," guard Glenn Cosey told the Associated Press. He is EKU's top scorer at 18.8 points a game.
"But our pressure and our style of play is different. We play fast. We have good guards. The main thing for us will be our pressure. We've just been working on our defense," Cosey added. "We knew we were going to face bigger teams, so we need to pressure the ball and just defend. We know we've got to play harder."
Noted coach Jeff Neubauer to the AP: "Even with Embiid out, these guys are attacking the rim. What's scary about them is how they rebound. I mean, they're like the 10th best (in margin, +7.3), and we're (tied for) 10th worst (-6.1). One thing I've always stressed is stealing the ball, so that has to be our approach."
More like this story on KUsports.com