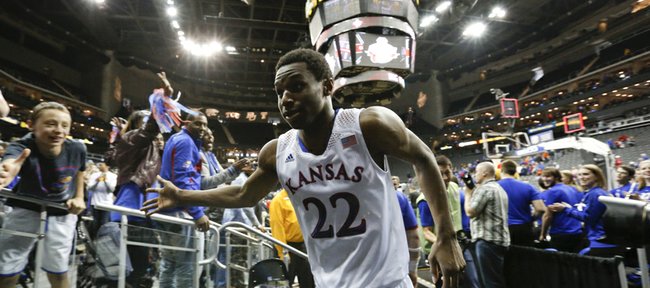 It lasted only a couple of days and ended two victories shy of expectations, but the recent Big 12 basketball tournament was a crucial experience for at least five players on Kansas University's roster.
Last week, freshmen Conner Frankamp, Brannen Greene, Frank Mason, Wayne Selden and Andrew Wiggins received their first taste of the win-or-go-home environment the Jayhawks (24-9) will face this week in the NCAA Tournament. The stakes will be higher Friday, when second-seeded Kansas opens against No. 15 Eastern Kentucky (24-9) at 3:10 p.m., but several of KU's first-year players said postseason play felt different than the regular season.
"I think it was good," said Mason, a 5-foot-11 point guard from Petersburg, Va., who enters the Big Dance averaging 16.2 minutes per game. "And it got us ready for the tournament and what the environment would be like, the crowd, the players, the coaches."
Greene, who played nearly as many minutes in KU's two Big 12 tournament games (22) as he did in the six games leading up to them (28), said it did not take long to understand that the postseason was a different animal. Greene said he thought the high intensity of the Big 12 tournament — from pre-game preparation to his time on the floor — was the perfect training ground for what he and his classmates will face this week in St. Louis.
"Being in the game was so much fun," said Greene, a 6-foot-7, 215-pound forward from Juliette, Ga., who is averaging just 6.7 minutes per game. "But it definitely had a different feel. It was just like a heightened level. The stakes are so much higher."
Pressure was the one word used by Mason, Greene and Frankamp when describing what changed most in the transition from the regular season to the postseason, but none of them indicated that the do-or-die magnitude had a negative impact on their games.
"It being new, and me being at the college level, it was definitely good to experience that," Greene said. "It was just a whole different type of feel, a whole different type of atmosphere. And now we go into the tournament knowing what to expect."
Both Mason and Frankamp said they believed that having more on the line with each game would inspire the Jayhawks to sharpen their focus and play their best basketball of the season.
Wiggins, one of the top freshmen in the country, expects to be energized by the excitement of fans in a win-or-go-home-setting.
"It's every basketball player's dream to play in front of a big crowd like that," Wiggins said. "National TV every game. There's no negative in playing in front of big crowds. We'll try to win and give our fans what they want."
Wiggins said that he wouldn't hesitate to shoot the ball in the NCAAs. In the conference tournament, he kept firing against Iowa State on a night he scored 22 points off 7-of-21 shooting. He made seven of 10 free throws.
"I kept shooting it. I'll keep shooting it," Wiggins said. "The greatest players ever to play the game have games they don't make shots. I don't sweat that. The games I'm not making shots, I try to drive, be aggressive. More important is our will to get stops (in NCAAs)."
Of his one and only NCAA Tournament, one-and-done Wiggins said: "I'll be confident. I play every game like now trying to attack, to win, do whatever it takes to win."
More like this story on KUsports.com