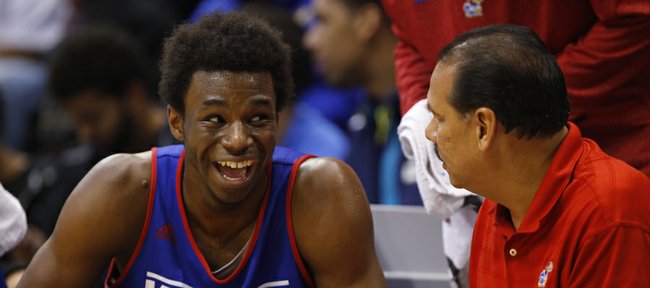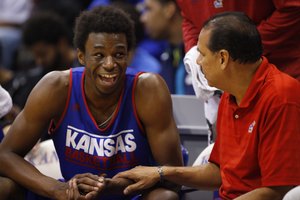 Former Western Kentucky basketball standout Kurtis Townsend remembers catching a lot of flak during a reception held before his one and only season as assistant hoops coach at Eastern Kentucky University.
"There were a lot of hard feelings about that. One of the first things they did when they introduced me ... they said, 'Hey, a Western Kentucky grad,' and they all booed me," Townsend, Kansas University's 10th-year assistant coach, said with a smile.
Townsend, who led WKU to the 1980 Ohio Valley Conference title and an NCAA Tournament bid, has fond memories of the one hectic year (1997-98) he spent at EKU, which will meet KU in a second-round NCAA Tournament game at 3:10 p.m. Friday in St. Louis.
"Back then I had to teach class and be an assistant coach. It was hard to keep up on that while recruiting, scouting, doing the games. It was a whole lot of work," said the former recreation teacher.
Walking down memory lane ... "I remember the 31-bypass where all the Applebee's and everything was on," Townsend said of a stretch of highway in Richmond, Ky., home of EKU.
"I worked under a guy named Scott Perry, who is now assistant GM with the Orlando Magic. We were picked to finish 10th (in Ohio Valley), and we ended up finishing seventh. We made it to the (postseason OVC) tournament. Only the top eight teams in that league made it. We ended up losing to the second seed, Middle Tennessee, on a last-second shot, or we'd have been in the final four of the tournament in Nashville. I'd say we overachieved in the year I was there."
The Colonels went 8-10 in the league, 10-17 overall in 1997-98.
"We had two great games against Murray State, which ended up being 29-2. We lost in the last three minutes of our (home) game when Mark Gottfried was their coach. We played well and had a great crowd (in 6,500 seat McBrayer Arena). I remember how crazy the basketball part was," Townsend said.
"The school is so close to the University of Kentucky, only 40 minutes down the road. You flew into Lexington and drove to Richmond. It's a real small town. Everything revolves around the university. It's an old teachers college. Their football program was really good, too."
Townsend left EKU after a year to become an assistant coach at Michigan.
He said the current EKU team (24-9, 11-5 Ohio Valley) presents problems for the Jayhawks (24-9, 14-4).
"I think they are really good. Everybody (on court) can shoot threes," Townsend said of a squad that has made 303 of 776 threes (39 percent), compared to their opponents' 204 of 570 (35.8). KU has hit 184 of 533 threes for 34.5 percent; KU's foes have made 207 of 577 for 35.9 percent.
"They beat a really good Belmont team in the finals of the Ohio Valley Conference tournament. That's another team we played last year (a 89-60 KU victory in Allen) that could shoot threes really well. Those teams are hard to guard. I think they are really good. I think we'll have a size advantage against them," Townsend stated.
Ninth-year EKU coach Jeff Neubauer led the Colonels to the schools' last NCAA bid — in 2007.
"I don't know him personally. I know his background. I know he coached with John Beilein, so they'll probably play a lot of the same things. We may see some 1-3-1 zone and all that," Townsend said.
Townsend, by the way, has the second-longest run of any assistant coach in Kansas history. Sam Miranda worked 11 years on coach Ted Owens' staff.
Embiid doubtful for St. Louis games: KU coach Bill Self said on Monday's Big 12 teleconference nothing had changed regarding Joel Embiid's status for this weekend's action in St. Louis.
"He's progressing nicely. The medical staff feels good about where he is. There's no update on a time frame," he said of Embiid's return from a stress fracture in his lower back.
Later on "Campus Insiders," Self said Embiid was "doubtful for this weekend. I'm not saying he couldn't get on the practice floor before the end of the weekend, (but) not to the point we'd put him out there and play. I'd want him to practice 3-4-5 days before we'd do that. We're hopeful if we are fortunate enough to advance — that's a big if obviously with the pocket we're in — that he'd be able to go next weekend (Sweet 16 and beyond)."
Tisdale Award: Duke's Jabari Parker has won the Wayman Tisdale Award, which is presented by the U.S. Basketball Writers to the country's top freshman. KU's Embiid and Andrew Wiggins are on the Tisdale All-America team with Parker, Tyler Ennis of Syracuse and Julius Randle of Kentucky.
Self talked about Eastern Kentucky on the Big 12 teleconference: "I am very impressed. They are quick. They've got eight guys that shoot a ton of threes. They are not real big but can stretch it at a minimum of four spots at all times. They'll try to spread us out. They get after you defensively. They are fun to watch play. I'll study them harder today. They play a fun style."
Forbes list: Forbes Magazine list KU as the second-most valuable (in terms of dollars) college basketball team behind Louisville.
Forbes has KU basketball's value at $33 million with a profit margin of $20 million. To look at Forbes' piece go to http://ljw.bz/1gwBM4V