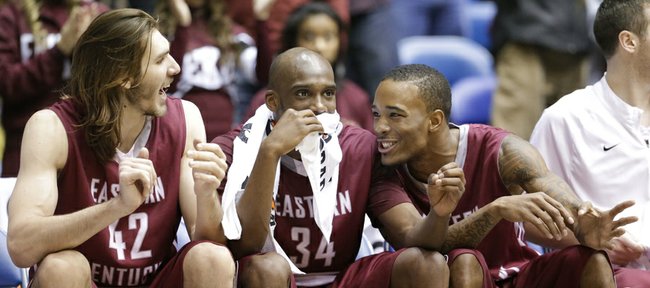 Eastern Kentucky men's basketball coach Jeff Neubauer and his players had very little reaction to seeing Kansas University on the line above theirs when the 68-team NCAA Tournament bracket was revealed Sunday afternoon.
"We knew we were going to draw a great team," said Neubauer, now in his ninth season in charge of the Ohio Valley Conference tournament champions. "We knew we were gonna draw a Duke or Michigan or Kansas. And we just happened to draw one of the greatest programs in the history of college basketball, so our team is looking forward to the challenge, and we'll see if we're ready for this test."
From a confidence standpoint, the Colonels (24-9 overall, 11-5 OVC) enter Friday's 3:10 p.m. matchup with the Jayhawks (24-9) riding a seven-game winning streak and having won 10 of their past 12 games, including three in a row in the OVC tournament as the No. 3 seed. EKU knocked off top-seeded Belmont, 79-73, in the title game after building an eight-point lead at the half and shooting 50 percent from three-point range.
In that one, the three-point-minded Colonels drilled two more triples than their season average by knocking in 11 of 22 three-point tries, led by senior guard Glenn Cosey's 5-of-8 performance. This season, different EKU players totaled at least 18 three-pointers, with four players draining 35 or more.
"That's who we are," Neubauer said. "We're one of the 10 best three-point shooting teams in the country. We make over nine three-pointers per game. I've got 10 guys in my rotation, and eight of them are elite three-point shooters."
Eastern Kentucky finished the season ranked 24th in the country in team three-point percentage (39.0), tied for fifth in three-pointers made per game (9.2) and tied for 12th in three-pointers attempted per game (24). What's more, EKU finished third in the nation with 303 three-pointers made and 13th in three-pointers attempted (776).
"It is what we do," Neubauer said. "We like to have four or five shooters on the floor at all times."
In addition to being known for the long ball, the Colonels play an aggressive style of defense and like to force opponents into mistakes by being aggressive everywhere on the court.
"We really focus on playing defense and playing hard," said junior forward Eric Stutz, the Colonels' leading rebounder at 4.7 rpg. "We try to use our defense to create our offense, but a lot of it is we just try to outplay our opponent with effort."
Working those strengths into a gameplan against Kansas will be the focus of the next several days for the Colonels, but Sunday was about celebrating the achievement of making it back to the NCAA Tournament for the first time since 2007. That was Neubauer's second season, and he came to EKU with NCAA Tourney experience, both as a player and an assistant coach. For the guys on his roster, though, this week's fun will be a first. And that's why they weren't letting things like scouting report or overwhelming odds spoil the mood Sunday night.
"Ah, man, it was awesome," Stutz said. "We worked the whole year to get to this point, and finally seeing our name up there on that screen on Selection Sunday was an amazing feeling.
"None of us have played in the NCAA Tournament," he continued. "And facing a program like Kansas just makes the experience more exciting for us. Regardless of who we play, the experience of being in the tournament is a dream come true, and we just want to soak it up and enjoy every minute of it."
---
EASTERN KENTUCKY, AT A GLANCE
Record: 24-9 overall, 11-5 conference
Conference: Ohio Valley
City: Richmond, Ky.
Mascot: Colonels
Enrollment: 15,968
Colors: Maroon and white
RPI: 99
Head coach: Jeff Neubauer, ninth season
NCAA Tourney record: 0-7
Last NCAA appearance: 2007
Points per game: 79.0, 28th nationally
Rebounds per game: 26.2, 350th nationally
Assists per game: 14.7, 55th nationally
Field-goal percentage: 49.0, 11th nationally
Strength of schedule: 234
High-profile opponents: at North Carolina State (75-56 L); at Wisconsin (86-61 L); at VCU (71-68 L, OT).