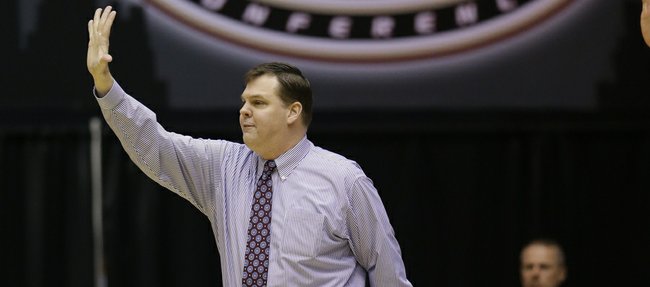 With just two players on the Eastern Kentucky roster standing 6-foot-8 and 11 of the 13 others coming in at 6-5 or shorter, the 15th-seeded Colonels know they caught a bit of a break by matching up with a second-seeded Kansas University squad that figures to be without 7-foot center Joel Embiid in the opening round of the NCAA Tournament on Friday in St. Louis.
Although EKU coach Jeff Neubauer remained vague in discussing whether he expected Embiid to play against his squad Friday, KU coach Bill Self reiterated Monday that Embiid was not expected to suit up.
Although his absence takes a future NBA lottery pick and potential game-changer off the floor and out of the middle of the paint, EKU forward Eric Stutz saw at least one negative aspect to Embiid missing the matchup.
"I would love to play against a future NBA player like him," said Stutz, a senior from Newburgh, Ind. "Either way, we just want to go out there and have fun and play regardless of who's on the court."
Despite missing an opportunity to test himself against one of the top big men in the country, Stutz, who averages 8.4 points and 4.7 rebounds per game, made sure to explain that he was not shedding any tears over facing the Jayhawks (24-9) without Embiid.

"I'm probably the biggest guy on our team," Stutz said. "I would've definitely been matched up with him. And 7-footers are never too easy to guard when you're not quite that tall."
Until Sunday night, the extent of Neubauer's knowledge about the Jayhawks came from highlights or bits and pieces of games he caught on ESPN during the course of the season. Though limited, those viewings gave the ninth-year EKU coach a pretty good indication that missing Embiid against the Colonels might not hurt the Jayhawks.
"Embiid is a big difference-maker against teams that throw the ball in the post," said Neubauer, noting that his team prefers to shoot from distance and rarely pounds the ball inside. "He's a huge difference-maker against teams that are reliant on attacking the rim. He's certainly a great player, and I know he makes a huge difference around the basket."
Embiid was not the only KU player about whom Neubauer had a strong opinion before diving into the game film and personnel breakdown that will dominate his thoughts for the next couple of days. Two other KU starters jumped to the front of the EKU coach's mind during his initial breakdown, one from those highlights he talked about and the other from the recruiting trail.
"Andrew Wiggins is the best freshman in the country," Neubauer said. "I understand he's gonna be the first pick in the NBA Draft, so I get that part. And I saw Perry Ellis play quite a bit back when he was an AAU player. I'm not sure why I crossed paths with his team, but I saw him play a lot. He's very talented."
That McDonald's All-American-type talent was the biggest thing that jumped out to Stutz when sizing up the Jayhawks immediately after learning about the match-up Sunday afternoon.
"They're on a lot of ESPN games, so I've watched quite a few of their games," Stutz said. "(The biggest thing that stands out is) definitely just the size and speed. You've got a lottery pick and a future NBA player in Wiggins. He's just a crazy athlete. And then you look at Embiid … he's a physical specimen, as well."
Stutz and Neubauer said they realized knocking off Kansas would be an incredible challenge for a team that faced just the 234th-toughest schedule in the country this season and has limited experience against the elite-level talent KU possesses.
But Neubauer has NCAA Tournament experience as a player and a coach and knows that anything can happen in the win-or-go-home environment of the postseason. That this is the first trip there for his entire roster and his first since 2007 only makes the Colonels hungrier.
"I had just come off working for eight years for John Beilein (at Richmond and West Virginia), and he was creating miracles with our basketball teams just about every year," Neubauer said of his former boss and current Michigan head coach. "So in my second year, we went to the tournament, and it kind of felt like it was what was supposed to happen. When you go six years and not go to the NCAA Tournament, you definitely appreciate it when you get back."
More like this story on KUsports.com