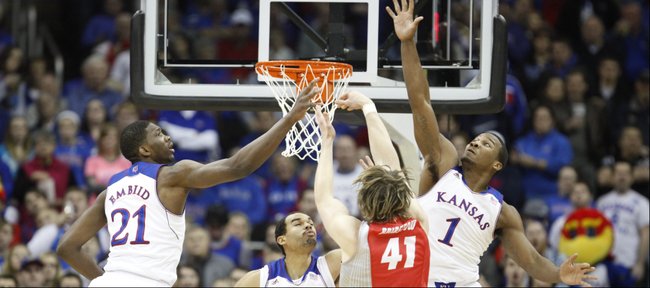 One game, more than any other, demonstrated how much having 7-foot freshman center Joel Embiid on the floor changes the Kansas University basketball team for the better.
It was neither the regular-season loss to West Virginia nor the Big 12 tournament semifinal elimination at the hand of Iowa State.
Embiid best demonstrated his value to a young Jayhawks team last Dec. 14 in Sprint Center against New Mexico, a possible NCAA Tournament opponent in St. Louis if KU survives Eastern Kentucky.
Embiid played seven minutes in the first half of the New Mexico game, drew his second foul with 10:50 left and took a seat for the rest of the half. He had two points and one blocked shot in those seven minutes. Kansas won that half, 39-38.
In 18 second-half minutes, Embiid scored 16 points and had three blocked shots. KU won that half, 41-25. (Stop searching for the calculator icon on your iPhone. The final was Kansas 80, New Mexico 63).
Much has changed in three months, but this much probably hasn't: With Embiid, Kansas is far better than the tall Lobos. Without him, it's closer to a toss-up.
Nobody was talking optimistically on Selection Sunday about the chances of Embiid playing Sunday in KU's second game, vs. either Stanford or New Mexico, but that game was still a week away. A lot can happen in a week.
Those who think only with NBA brains assume that because Embiid will be worth millions and is playing for room, board, tuition and books now, he'll skip the NCAA Tournament. Plus, his handler (read: Luc Mbah A Moute, a Minnesota Timberwolves reserve forward) will advise against it, some believe.
I suspect more is at work here. Thomas Embiid, Joel's father, is a colonel in the Cameroon military, a man by the nature of his position not easily swayed. Everybody claims to be about more than money, but not all professions include being willing to risk your life for unselfish reasons.
That's not to say that if any doctors, affiliated or unaffiliated with the Kansas basketball program, advise against Embiid the son playing that Embiid the father will say the heck with that and encourage his son to play. But the colonel's profession suggests that his advice won't be fear-based.
It wouldn't shock me if KU's center returns as early as Sunday, something teammates are not preoccupied with at the moment.
Big 12 basketball players don't pin their hopes on an injured player returning. If they had that little confidence in their own abilities, they wouldn't have made it to such a competitive conference in the first place.
"With or without him, we know what we have to do," KU freshman guard Wayne Selden said. "With or without him, we have to come out and compete. We have to play defense. We have to have energy. With or without him, we just have to play."
And play well if New Mexico is the next opponent after Eastern Kentucky.
It's not surprising that the Lobos, ranked 20th in the Associated Press poll, wound up on the No. 7 line, but it is unjust.
It finally hit me, after all these years, why the NCAA Tournament selection committee favors the dreadful RPI computer ranking system.
Follow the money trail to unlock the mystery.
The RPI puts far too much weight on strength of schedule, rewarding schools for playing tough nonconference slates and penalizing schools that don't, even if it's not their fault they can't get heavyweights to play them.
RPI Justice results in far more attractive nonconference matchups. Attractive games translate to higher TV ratings in November and December. The higher the ratings, the higher the rights fees.
So the goal of seeding isn't fairness, rather motivating schools to play tough schedules in November and December.
The very same RPI that penalized New Mexico with a No. 7 seed for not playing a tough-enough schedule rewarded nine-loss KU with a No. 2 seed, so that doesn't leave much room for complaining.
Louisville is a No. 4 seed in the Midwest, even though the Cardinals have won 12 of 13 games and the victories (four vs. Top 25 teams) came by an average margin of 24.9 points. Next to the Cardinals, Wichita State was cheated the worst. Assuming victories by the higher seeds, the Shockers' path to the Final Four would start with an as-yet determined 16th seed, then Kentucky, then Louisville, then Michigan. Nice.
KU's South region is the next toughest, featuring No. 1 Florida and No. 3 Syracuse.
Naturally, the South becomes a great deal tougher or less challenging for Kansas based on the availability of Embiid.