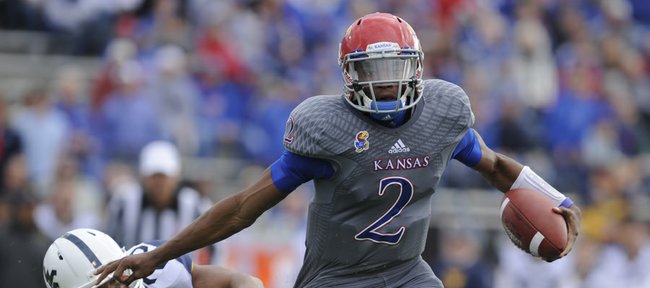 Todd Reesing beat out Kerry Meier in the spring of 2007, and not too long after that, Meier became one of the most prolific wide receivers in Kansas University football history.
Might that happen with Montell Cozart in the event either Jake Heaps or T.J. Millweard beats out Cozart for the starting quarterback job? Probably not.
"Montell was recruited to play quarterback," Kansas coach Charlie Weis said when asked the question. "I think he is good enough to play there. There is good competition at that position. No one is getting handed that job."
Cozart, the fourth quarterback to start a game at KU under Weis (following Dayne Crist, Michael Cummings and Heaps), is the only one to win a Big 12 game, 31-19, versus West Virginia. Cozart moved great, side-stepping rushes and ever-so-smoothly striding for first downs. Everything about him looked good, except for the football sailing way over the heads of intended targets.
Cozart's passing stats during his true freshman season: 23-for-63, no touchdown passes, two interceptions, 3.6 yards per pass attempt, a 36.5 completion percentage.
He overthrew receivers at an alarming rate. What caused that?
"I think that it was probably nerves," Weis said. "This is the first time he is playing real college football against the big boys at times of the game that count. You are starting against Kansas State; this isn't like you are just playing anyone. You are playing the arch-rival. He grew up in this area, you have a pretty good idea of who you are going against.
"I think that a lot of that comes with being a freshman. I'm not making excuses for anyone. (Those are) the facts. I mean, anytime you are a freshman, you are in there, and some of those passes are sailing, you probably are a tad bit nervous."
Cozart had a similar take on the overthrows.
"Last year that was a little bit of jitters, a little nervousness," he said. "It seems like everything was just happening so fast for me. Now I've been watching film, studying the game, going out in practice, and I've been able to get the timing and chemistry down with the receivers. This year I look forward to it being a little different."
Or a lot. He said he thinks a 70-percent accuracy rate is a good goal, which would mean completing twice as many passes.
Two factors ought to help right off the bat. First, new offensive coordinator John Reagan's offense will feature quicker, shorter passes, which are easier to complete. Second, whoever wins the quarterback job in Nick Harwell will have a go-to receiver who isn't learning on the job but already has had a season in which he caught 97 passes, nine for touchdowns, and amassed 1,425 yards.
Weis' pro-style offense required the physical and mental challenges of seasoned pros and was too much for developing youngsters to execute. Mix in an untalented and/or inexperienced group of receivers, and the quarterbacks had two strikes on them before taking a snap.
Reagan's offense, Cozart said, is simpler because the calls at the line of scrimmage are more streamlined — for example, he said, he doesn't have to relay as much to receivers because they are looking at the signals as well — and it features "a lot of quick game, a lot of short routes and let the receivers do what they do in space. I'm looking forward to that."
Heaps, the favorite to win the job, sounded just as eager early in the spring as Cozart to embrace the new approach.
"We came from a very complicated system, and guys have that confidence that it's not going to get much harder than that, and we feel we can pick up anything," Heaps said.
If both Heaps and Millweard beat out Cozart, he could always spend his second season as a red-shirt and have three remaining years to play.
"Everyone looks at a quarterback and says, 'Well, if he doesn't play there, let's move him someplace else.' Well, usually those guys at the other positions have been playing there for a long time and have a huge head start over those players," Weis said. "We always look at those things, but I think Montell is a quarterback."