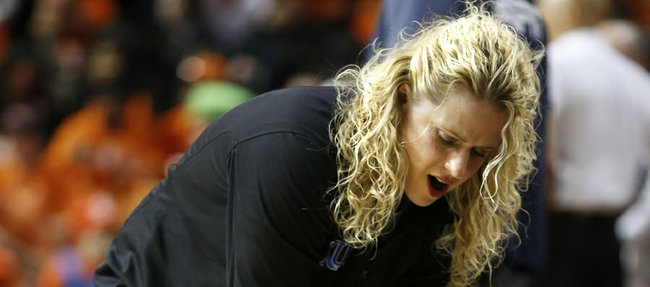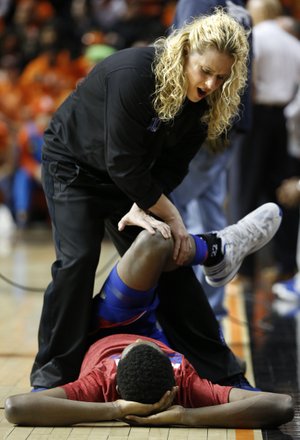 To the naked eye, Kansas University freshmen Conner Frankamp and Andrew Wiggins are about as different as can be.
But through the finely trained eyes of those in charge of bulking up and working out the KU basketball roster, the two are exactly alike.
Although Wiggins has eight inches, 35 pounds and a fast-arriving NBA future on Frankamp, the two have been trained the same during their time as Jayhawks.
It's strength coach Andrea Hudy's job to ensure that, and she follows Kansas coach Bill Self's lead to make it happen.
"The thing is, everybody plays defense in basketball," Hudy said during a recent sit-down interview with the Journal-World designed to investigate any differences between training one-and-done athletes like Wiggins and everybody else. "That's the staple I have as my foundation in training a basketball player. Everybody plays defense, and coach loves defense."
There are, of course, subtle differences from player to player that make Hudy's training unique for each Jayhawk. For example, she would not ask Frankamp to lift the same amount of weight as senior forward Tarik Black. And the expectations for Black's flexibility and foot speed differ from Frankamp's. But in terms of the overall process — Monday through Sunday, 46 to 48 weeks a year — the training regimen is the same for every player in the KU program.
"We know what we're trying to train," Hudy said, "and that's a reactive basketball player."
The five seasons
Hudy's training is broken up into five "seasons" each year. Her recently completed book, "From the Ground Up," covers this topic, and she is awaiting details on a release date from her literary agent, Waxman Leavell in New York.
The postseason, the point the Jayhawks are in today, focuses on bringing each athlete closer to the athletic state he had at the beginning of the season in order to maximize efficiency and, perhaps more importantly, decrease the odds of injury. During this time, the intense, hard-core training methods are cut back or eliminated altogether in favor of a more yoga-like resistance approach.
When the postseason ends, in mid-March or early-April, Hudy's training moves through the offseason (April and May), the summer (June through August), the preseason (September and October) and, finally, back into the season (November through February).
"Each one of those has a different focus," she said. "It's creating an outlier and then recreating a healthy athlete. It's a cycle. And that's what makes my job fun. ... It's figuring out what's the best exercise prescription for keeping the guys healthy and then making them the best basketball athletes they can be."
It's also what makes her job one of the most consistent aspects of Kansas basketball. While Bill Self has to deal with poor shooting nights, foul trouble, adjustments by opponents or unpredictable calls made by officials, Hudy's time with the Jayhawks is finely detailed and starts at the same point every year.
"The best time to train a male athlete is at 18," she said. "That's why I can get such great results because they come in at 18 every year. So I have consistencies in my life that they're 18 and that our foundation is defense. ... I get older, they stay the same age."
While that general approach allows Hudy to train and treat one-and-done athletes like the others even though she has them for just a quarter of the time, it's what happens after that first year that the guys who leave early miss out on the most.
"Once we've taught the technique and skill development in the weight room, now they can start loading," said Hudy of the returning players' ability to lift more weight. "And then we're talking huge increases in force production. My biggest gains and biggest increases in athleticism are what you see between their freshman and sophomore year."
Maximizing potential
Although Hudy was quick to point out that it's not her job to decide an athlete's future, she said she wished every Jayhawk she ever worked with would stay in school for four years.
That's not her being selfish. That's her wishing to maximize the potential of each athlete, some of whom make incredible progress under her care and risk going down the wrong path once they leave Lawrence.
To illustrate the point, Hudy told the tale of one former Jayhawk, whom she did not name, who left KU early, got into the wrong training practices at the request of an agent and quickly went from prospect with sure NBA potential to out of the league in a frighteningly short time.
"We're in exercise prescription," she said. "And it's an unregulated field. You can make or break a millionaire or somebody's life."
The goal is not to take these already gifted athletes and turn them into something they're not. The goal is to enhance the traits they already have and to get them to fit the fundamental philosophies that define the KU program. It's the same with one-and-dones as it is for the guys who stay four or five years.
"She brought so much more out of me than I ever knew was in me," Wiggins said. "She's always trying to push you to reach your limit. And she's good. She's been doing it for years, so she knows when you're slacking off, if you're not going hard."
Asked if he thought Hudy's training techniques with him differed from the rest of the roster, Wiggins did not hesitate to answer.
"She treats us all the same," he said. "The body's the same. Some people are just stronger than others."
Although a back injury has muddied the water for freshman center Joel Embiid's future, he may very well be in line to follow Wiggins out the door after just one season with Hudy. Asked recently if he ever had worked with anyone like her, the 7-foot center from Cameroon who still is in the early stages of his basketball career flashed a look that hinted that the question might as well have been rhetorical.
"Um, no," he said. "I didn't have anything like that (before Kansas). She knows what she's doing, and she knows what I need to work on. She's really helping me. I've gotten so much stronger since I've been here."
The next chapter
Since November, 10 professional sports teams have come to Lawrence to watch Hudy work. And several other universities regularly inquire about KU's practices as well.
Despite KU's status as an industry leader in the sports-performance field, Hudy never loses sight of the program's goal no matter if she's working with an athlete for just eight months or close to half a decade. Her job is to keep the Jayhawks healthy and increase their on-court efficiency by maximizing the results they get while doing the same amount of work.
The gains may be greater for the guys who stick around, but the process is always the same.
When the Jayhawks' postseason run is over, Wiggins will begin the next chapter in his life. It will involve working out for NBA teams, getting ready for this summer's draft and trying to ride the momentum of all the physical strides he made under Hudy at KU.
When told the tale about the former Jayhawk in a similar position who took the wrong steps and flamed out after leaving Hudy before his NBA career ever really got started, Wiggins simply shrugged.
"I've (trained) with other people," he said. "And I think I know what's wrong, what's right. I have a good circle behind me."
Because of that, Wiggins said he had no plans to beg Hudy to follow him to whatever NBA city awaits.
"No," he said. "It would be nice, though."
More like this story on KUsports.com