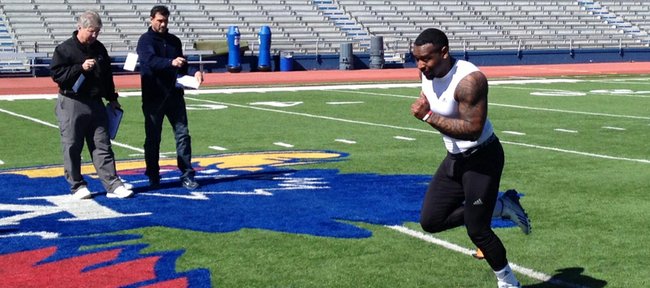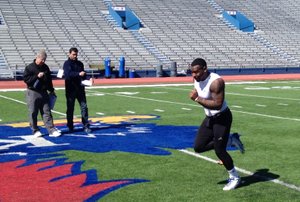 The minute former Kansas University running back James Sims learned he had been left off the list for February's NFL scouting combine in Indianapolis, he refocused his mind to KU's Pro Day, which took place Friday morning at the KU football facilities.
KU's four-time leading rusher zeroed in on one aspect of Friday's workout.
"Just the 40," Sims said of one of the most popular measuring sticks in all of sports. "I wanted to crack a good time to put myself in a good position for the draft."
Sims did just that in front of more than a dozen NFL scouts Friday at Memorial Stadium, ripping off a 4.56-second 40-yard dash on his second of two tries.
Sims, who finished his KU career with the third-best rushing-yardage total in school history, was joined by 11 teammates, as well as former Jayhawks Greg Brown and Tunde Bakare in running through all of the drills they run at the combine. Sims was, by far, the most popular attraction for the pro scouts Friday, and he delivered solid numbers in every area he was tested.
He ran 4.19 seconds in the shuttle drill, 7.21 seconds in the three-cone drill and also flashed good speed, drive and mobility in the sprints and receiving routes out of the backfield.
Earlier in the day, the 6-foot, 205-pound Sims, who recently signed with an agent out of Houston and has spent the past few months training at home back in Irving, Texas, did 16 reps at 225 pounds in the bench press and recorded a leap of 32.5 inches in the vertical-jump test.
"I feel pretty good about the numbers I put up," Sims said.
He also felt good about being back in Lawrence one final time as a Jayhawk.
"Me being out here just feels normal," he said. "Not going through the season at Kansas is going to be different, but I'm just anxious to see where I end up next fall and take things from there."
Although it was clear that he had gotten over it, Sims admitted to being surprised by the lack of a combine invitation. Despite the slight, he emphasized he knew just how to react because he had been overlooked plenty of times before.
"It caught me off guard," he said. "But once I found out I wasn't going, I just used it as motivation to come out here today and show everybody what I could do. I just have to prove myself again. That's nothing new for me."
Other Jayhawks who performed well Friday included safety Dexter Linton (4.53 40, 33-inch vertical, 9-foot, 11-inch broad jump); fullback Nick Sizemore, who along with Keba Agostinho led all competitors with 21 reps in the bench press; and Josh Ford, who matched Sims with a 4.19-second shuttle time and also jumped 31 inches and ran a 4.62-second 40-yard dash.
Ford, Sims, Sizemore and offensive lineman Aslam Sterling seem to be drawing the most interest from NFL scouts, but a handful of others figure to get invitations to camp following this year's draft, which is scheduled for May 8-10.
"I've been training so long for this, it's just kind of a relief for it to finally be here, be done with it and see where you stand," Sizemore said. "I have an agent, and he seems to think I have a good shot to get an opportunity. The big thing is, there aren't a lot of fullbacks in college football with everybody going to the spread offense."
Added Sterling: "I haven't heard from anybody yet, but I'm still optimistic about it. You never know what can happen. Teams always need offensive linemen."
More like this story on KUsports.com