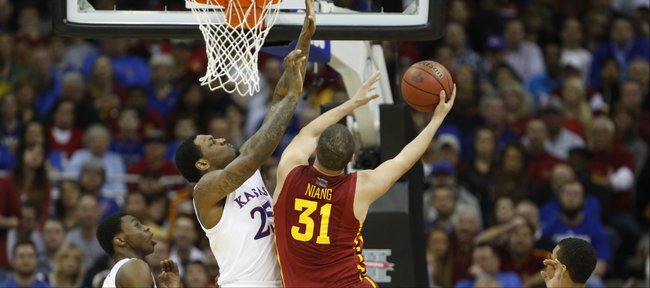 Photo Gallery
Kansas basketball v. Iowa State (Big 12 Tournament)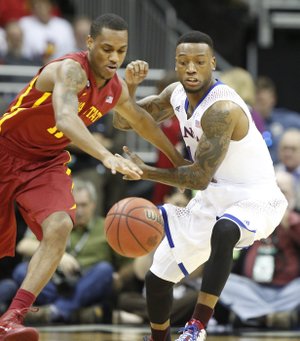 Images from the semifinal round of the Big 12 Tournament between the Jayhawks and Cyclones at Sprint Center in Kansas City, Mo.
Podcast episode
Kansas coach Bill Self, as well as post players Perry Ellis and Tarik Black, react to KU's BIg 12 semifinal loss to ISU, and discuss how the Cyclones broke down the Jayhawks' defense to reach the Big 12 championship game.
KEEGAN RATINGS
IOWA STATE 94, KANSAS 83
Kansas City, Mo. — In the waning minutes of Thursday's quarterfinal game between Kansas and Oklahoma State, the Jayhawks benefitted greatly from OSU's willingness to settle for jump shots with the game on the line.
Kansas was not as lucky in the semifinals on Friday, as fourth-seeded Iowa State continually attacked the rim and exploited the absence of Joel Embiid in a 94-83 victory at Sprint Center.
"We definitely noticed that," said ISU junior Dustin Hogue of Oklahoma State's decision to rely on its outside game in Thursday's loss to Kansas. "With such a good shot blocker like that out of the game, you have to attack the paint because there's not a lot of guys who have his ability to change shots."
In the two previous meetings with ISU this season, Embiid blocked six shots and altered countless others. On Friday night, KU had three blocks, but two came from guard Wayne Selden and the Cyclones often had clear paths to the rim when they pounded the ball inside to their big men.
Sophomore forward Georges Niang led ISU with 25 points on 11-of-22 shooting and many of his biggest buckets came on the type of moves preferred by fathers against their sons in the driveway. Back them down with the dribble, turn at the rim and flip the ball into the hoop.
"Georges, we felt, was the guy that could go out and make plays for us, and he did that," said ISU coach Fred Hoiberg, who picked up just the second technical foul of his entire life during a KU run in the first half. "(He) had a few turnovers that he'd probably like to have back, but he must have scored six or seven straight possessions there to create some separation for us."
Asked about Niang's contribution, which included two three-pointers, seven assists and eight turnovers, Hogue had just one word to describe it.
"Unbelievable," he said. "When Georges gets going, our whole team is at another level."
As for Niang's review of his big-time night, the 6-foot-7 forward deflected all praise.
"I give all the credit to Coach Hoiberg," he said. "He puts me in great situations to use my advantages. And my teammates. They do a good job of spacing the floor and let me go to work."
For a half, the Jayhawks (24-9) found similar success in running their offense through Perry Ellis, who poured in 21 points on 9-of-10 shooting to help Kansas lead 48-46 at halftime. Hoiberg and the Cyclones (25-7) took note of Ellis' hot hand, however, and limited the sophomore to just two shot attempts in the second half.
"We put a big emphasis on Perry Ellis," said Hogue, noting that ISU's focus at tip-off was mostly on KU freshman Andrew Wiggins, who tallied 22 points in the loss. "In the second half, we felt like let's double him down in the post and make him make tough shots and make a decision, because if we can make him uncomfortable it'll be harder for him to make shots."
Added Hoiberg: "We were probably a little too complicated with our one-day prep, as far as when we were going to double and when we weren't. The second half we just decided to go any time (Ellis) caught the ball."
The victory snapped Iowa State's five-game losing streak against Kansas and advanced the Cyclones to Saturday night's Big 12 championship game.
"(Kansas is) a great team," Hoiberg said. "It's a great win for us for the fact that it gives us confidence that we can compete with anybody in the nation. It was good to finally get one of these at the end after struggling to close out games against Kansas these past few years." 
More like this story on KUsports.com