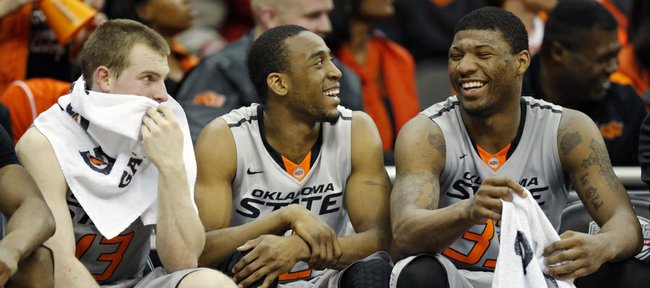 Kansas City, Mo. — The basketball rims at Sprint Center looked a little larger than normal to Oklahoma State senior guard Markel Brown Wednesday night, as his 20 points helped the Cowboys dispose of Texas Tech, 80-62, in the first round of the Big 12 Men's Basketball Championship.
The on-court landscape, Brown hopes, will continue to shift in Oklahoma State's favor today, when the eighth-seeded Cowboys (21-11) face top-seeded Kansas University (23-8) for the third time this season.
OSU knocked off the Jayhawks less than two weeks ago in Stillwater, Okla., and KU only won by two points on Jan. 18 in Lawrence. When the two teams most picked as the league favorites before the season began meet for a rubber match in the conference tournament quarterfinals at 2 p.m., Kansas won't have 7-foot freshman center Joel Embiid anchoring the paint this time.
Does that make the lane a little more drivable for OSU? The rim, a little easier to reach?
"You could say so," Brown said after going 5-for-9 from the field and 3-for-6 from three-point range against Texas Tech. "I mean, Embiid's a great shot-blocker for their team, and with him out, we're gonna attack them. We're gonna take advantage of him being out of the game, and, yes, the lane does a look a little more drivable than it did before. I think we're gonna take advantage of it."
Without Embiid waiting for them at the rim, Brown said he, sophomore guard Marcus Smart (18 points, seven rebounds, seven assists against Tech) and junior forward Le'Bryan Nash (10 points, four rebounds) plan on attacking the paint and making the Jayhawks react.
"It does make us more excited (for the game)," Brown said. "We're all slashers on the team, and we also got guys that can shoot on this team. So I feel like going into (today's) game, we've gotta play inside-out. We've gotta take it to them on the inside first, and then let the outside take care of itself."
Following OSU's rout of the Red Raiders (14-18), Nash said the Cowboys want to win the season series with Kansas. Still, he wasn't ready to dismiss the rest of KU's bigs, just because Embiid — out resting a stress fracture in his back — won't be patrolling the interior.
"They got Tarik Black," Nash said. "That's another big guy. He could easily be an all-conference guy if he was on another squad. What he did on Senior Night, we've all seen it."
Black put up 19 points and pulled down six rebounds in the Jayhawks' home finale, an 82-57 throttling of Texas Tech.
"I feel like they ain't lost nothing," Nash said. "They got another big in there for him (Embiid)."
Smart reiterated that sentiment, calling Kansas a great team, even without the phenomenal pivot from Cameroon. The All-Big 12 first-team guard even said he hopes Embiid can return to the floor soon.
"But their inside presence isn't as strong as if he was on the court," Smart clarified.
The previous four meeting between Kansas and OSU — with each team winning twice — have been heated at times. Smart said that comes from the competitive nature of the Cowboys' on-court leaders.
"We respect KU. No doubt about it. We don't hate KU at all. We don't hate nobody from KU; we don't hate the coaching staff. We love playing against that type of competition," Smart said, before taking a brief pause. "But that respect goes out the door when you step between the lines. Off the court, you respect them. They've earned everything that they've worked for, and respect. But on the court, you're not friends; you're not supposed to be nice. You're out there to play ball. You're out there to beat the other team."
Oklahoma State pounded the competition in its postseason opener. OSU spotted Tech eight points in the first three minutes and still ran away from the Red Raiders before halftime.
Brown drilled 3 of 4 three-pointers in 18 first-half minutes, sent down a gravity-defying reverse jam in transition and scored 18 of OSU's first-half points on 5-for-7 shooting. The Cowboys shot 52 percent form the floor in the first half, including a 5 of 11 clip from three-point range, to double up the Red Raiders, 46-23, by halftime.
OSU pressed — with traps near mid-court — to create havoc, panic and 14 Tech turnovers, which turned into 22 Cowboys points in the first 20 minutes. What's more, the Cowboys pulled down eight offensive rebounds, which led to 12 second-chance points.
Said Brown: "I honestly think that we're playing good right now, but our best basketball is still to come."
More like this story on KUsports.com