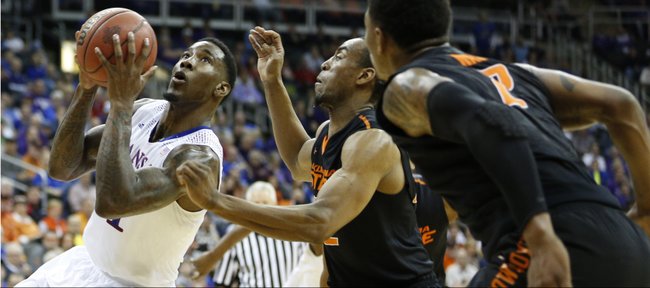 Photo Gallery
Kansas basketball v. Oklahoma State (Big 12 Tournament)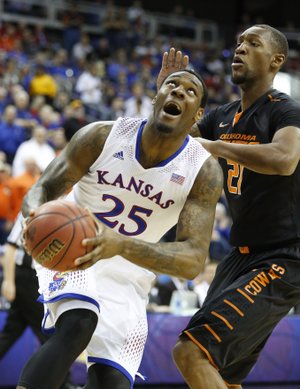 Images from the Jayhawks' second-round game of the Big 12 Tournament against Oklahoma State.
Podcast episode
Kansas basketball coach Bill Self, as well as freshmen Andrew Wiggins and Wayne Selden, discuss KU's OT win vs. Oklahoma State in the Big 12 Tournament quarterfinals.
KEEGAN RATINGS
KANSAS 77, OKLAHOMA STATE 70 (OT)
Kansas City, Mo. — Thursday's 77-70, overtime victory by the Kansas University basketball team over Oklahoma State in the Big 12 tournament served as the stage for arguably the most Jamari Traylor night of any the Jayhawks have had all season.
Overflowing with emotion and packed with raw power and critical hustle plays, the 6-foot-8 reserve forward contributed six points, nine rebounds and two blocks in a career best 27 minutes while helping pick up some of the slack for the absence of starting center Joel Embiid.
Not all of it was good, as Traylor missed a couple of easy buckets inside and threw the ball away a couple of times while trying too hard to make a play. After each miscue, Traylor slammed his hands to the floor, threw his head back or found some other way to show how bothered he was by the mistake.
For some players, that kind of boiling over of emotions can take them out of their game and lead to more mistakes. Just the opposite tends to be true for Traylor.
"That's how he is," said sophomore forward Perry Ellis. "When he gets emotional it makes him more of a focused player and he competes more."
Asked why that kind of passion seems to lead to such good things, Traylor shrugged and offered a simple explanation.
"I'm just gonna be me," he said. "I don't even try to do some of the things I do. It's just my emotion, just how it goes. It's in my DNA or something."
Never was that swing of emotions more evident than in the waning seconds of Thursday's first half, when Traylor missed a running layup at the rim but followed it up by chasing down OSU's Phil Forte and blocking an attempted buzzer-beater from behind as the horn sounded.
"I didn't want to go into halftime with him making that shot after I missed one," Traylor admitted. "So I definitely wanted to chase him down and I did."
Each one of Traylor's missteps on Thursday seemed to be followed by a triumphant recovery. A turnover here led to an offensive rebound and put-back there. A missed layup one minute, led to a blocked shot the next.
"If I make a bonehead play, I'm just trying to make a play to make up for it," he said.
When asked about his favorite contribution of the night, Traylor needed no time to think.
"The best play was when I got a block that led out to an alley-oop dunk," he said of the sky-walking block that led to a a lob from Wayne Selden to Andrew Wiggins that put KU up 65-62 with 2:43 to play in regulation. "That was probably the highlight of what I did tonight: Defensive end, came out to transition, turned into a quick bucket and gave us a lot of energy and momentum."
While Traylor's 27 minutes marked a career-high, thus giving him a greater opportunity to make an impact, the Chicago native said he received more than a little help from the injured Embiid throughout the game.
"He was out there on the bench coaching me a little bit and talking a little trash," Traylor said. "When I threw the lob (turnover) to Perry, he said, 'You can't pass, you can't pass.' But when I made plays he was just telling me, 'Good job, good job,' and being a good teammate."
Although Traylor and his teammates were proud of his performance, none of them seemed surprised.
"That's just Jamari," said junior point guard Naadir Tharpe. "He plays with a motor every day, if it's practice or if it's a game, and we need that. I love playing with that dude." 
More like this story on KUsports.com