Photo Gallery
Kansas basketball v. Oklahoma State (Big 12 Tournament)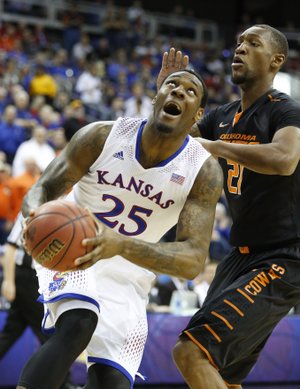 Images from the Jayhawks' second-round game of the Big 12 Tournament against Oklahoma State.
Podcast episode
Kansas basketball coach Bill Self, as well as freshmen Andrew Wiggins and Wayne Selden, discuss KU's OT win vs. Oklahoma State in the Big 12 Tournament quarterfinals.
KEEGAN RATINGS
KANSAS 77, OKLAHOMA STATE 70 (OT)
Kansas City, Mo. — Even though his presence would have added a 7-foot shot-blocker in the paint who averaged 11 points, eight rebounds and blocked 72 shots during the regular season, Oklahoma State senior Markel Brown said he would rather have seen Kansas University's Joel Embiid on the floor during the Cowboys' 77-70, overtime loss to KU in Thursday's Big 12 tournament quarterfinal match-up at Sprint Center.
"I honestly wish he would've played tonight," said Brown in the Cowboys' locker room after the game. "We kind of planned around him and had our game plan on him playing. After we heard he was out, we kind of changed things up."
The way Brown saw it, Oklahoma State's regular season preparation for the Jayhawks with Embiid might have come in handy on Thursday since the Cowboys, who shot just 38 percent for the game and were out-rebounded 46-30, had multiple days to prepare for those meetings and less than 24 hours to brace for Kansas without him.
As it turned out, the OSU senior who finished with 12 points on 5-of-13 shooting in 43 minutes said the Jayhawks did not look or play that far off from their norm without the freshman center, who sat out to nurse a back injury and has been ruled out for the rest of the tournament.
"I don't think they're different," Brown said. "Kansas has a lot of bigs and once one goes out, another comes in. An All-American goes out, an All-American comes in."
Although neither Perry Ellis, Tarik Black, Jamari Traylor nor Landen Lucas wound up on any All-American teams this season, the quartet filled in admirably for Embiid on Thursday by combining for 22 points, 30 rebounds and three blocked shots to help the Jayhawks (24-8) hold off yet another second-half rally from Oklahoma State.
While their play in the paint was huge, the biggest reason the Cowboys (21-12) encountered the Jayhawks they expected to see was the play of Andrew Wiggins, who went off for 30 points on 9-of-17 shooting and added eight rebounds, three steals and three assists.
"He had 41 against West Virginia and 30 against us," Brown said. "He's stepping up to the plate. He's demanding the ball more, taking more shots. If he's gonna continue doing that, their team could go really far."
Thursday's slugfest likely was the final college meeting between Wiggins and Oklahoma State sophomore Marcus Smart, who tallied 14 points and seven rebounds in 44 minutes. Before the season began, Smart made headlines for being critical of the way Wiggins had been hyped up heading into college. After going head-to-head with KU's 6-foot-8 freshman forward one last time on Thursday, Smart had nothing but complimentary things to say about the Jayhawks' leading scorer.
"They said he was the best player," said Smart, recalling the preseason hype surrounding Wiggins. "(What I said) wasn't a shot or anything. He had to earn that. He came out and took a bit to get used to it and (now) he's doing what he's supposed to be doing for his team. He's leading his team.... He made the baskets when they counted and his teammates went to him. He was hot."
Added Brown, who couldn't help but smile when talking about the Wiggins-Smart showdown: "That's the match-up they want to see. Marcus vs. Andrew Wiggins. And they got it tonight."
With the victory, Wiggins and Kansas advance to Friday night's 6 p.m. semifinal against Iowa State. Asked to size up Round 3 between the Jayhawks and Cyclones, a couple of Cowboys gave their opinions.
"It depends," Brown said. "If Iowa State makes shots, Iowa State. But if Kansas goes out there and controls the boards, Kansas."
Added OSU guard Phil Forte (12 points on 5-of-15 shooting vs. Kansas): "That's gonna be a good game. Iowa State's offensive power makes it difficult for teams to match up, but Kansas playing here in Kansas City, that's always a big advantage. It's gonna come down to the end and it's gonna be the team that makes the most plays."