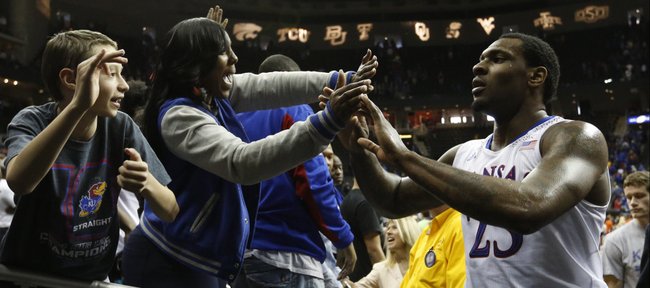 Photo Gallery
Kansas basketball v. Oklahoma State (Big 12 Tournament)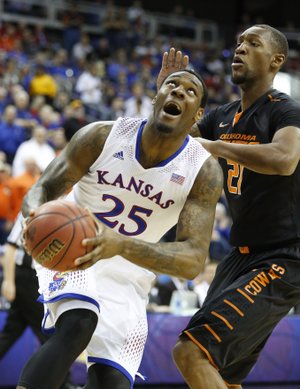 Images from the Jayhawks' second-round game of the Big 12 Tournament against Oklahoma State.
Podcast episode
Kansas basketball coach Bill Self, as well as freshmen Andrew Wiggins and Wayne Selden, discuss KU's OT win vs. Oklahoma State in the Big 12 Tournament quarterfinals.
KEEGAN RATINGS
KANSAS 77, OKLAHOMA STATE 70 (OT)
Kansas City, Mo. — Some college basketball fans view conference post-season tournaments as a chance to exhale between the regular season and NCAA tournament.
Anyone in the Sprint Center for Kansas University's 77-70, overtime victory Thursday afternoon against Oklahoma State who still feels that way needs to press a finger against a vein and check for a pulse.
Players never view it that way, and they illustrate that not as much with their words as with the urgent way they play the games, start to finish.
Tarik Black knows it better than anyone on the Kansas roster because he's played in more of them than anybody.
KU's lone senior, Black played a key role for Memphis, as a starter most of the time his first two seasons, a reserve in his junior year.
"We're here now, so this is the most important moment," Black said after the victory. "We're here to win the tournament. We're not here to play around and have fun."
Both teams demonstrated that mentality with passionate play.
"Throughout the season, you know next game's coming, next game's coming," Black said. "We're at the point now, you lose and the next game's not coming. You have to wait another week. And then once that game comes, you lose that one, the season's over. We all know that."
Nobody needed Black to be a shorter, thicker version of Joel Embiid. That's not within his or any other college basketball player's capabilities.
Black's teammates, who look up to him for his experience, wisdom and imposing physical presence, just needed him to be the man that he is, minus the foul trouble.
Black answered the call in a big way Thursday.
He clogged the lane and relied heavily on teammates lending help. He owned the defensive boards, with 11 of his game-high 12 coming at that end, and stayed on the floor for 26 minutes, picked up his fourth foul with 10:54 left and never was called for a fifth.
Black's defense played a huge role in Kansas taking a 31-23 lead at the half, and he was whistled for one foul before intermission.
"The best defensive teams win championships," Black said. "It's so cliche, but it's true."
Andrew Wiggins, averaging 35.5 points in KU's past two games, did the heavy lifting offensively, defended well and played all 45 minutes. Wayne Selden carried out the most pivotal defensive assignment in strong fashion by making Marcus Smart work so hard for his 14 points.
Black didn't need to join Wiggins on the marquee just because Embiid does. He just had to be an on-court presence because you can't lead from the bench. Vocal encouragement and towel-waving can add juice to a team, but  his muscle is needed helping to cause missed shots and cleaning them up.
He had a couple of memorable moments offensively as well. During the final minutes of regulation, when the lead shot back and forth over the ping-pong net, Naadir Tharpe threw up a courageous lob and Black hammered it home in traffic to put KU up by one point with 3:12 remaining.
At the end of regulation, Black rebounded Wiggins' off-balance misfire and threw it off the glass and in, a fraction of a second too late for it to count.
Recruited from Memphis to Kansas after he graduated in three years, he transferred after playing a career-low 20.8 minutes as a junior.
"It's great to have a senior out there," said red-shirt freshman Landen Lucas, who picked up three fouls a rebound and a blocked shot in four minutes. "Coach recruited him to be a starter. Jo Jo just ended up being the starter we know now. And I'm capable of being Tarik's backup. I just have to start playing like that and cut out the fouls and silly mistakes."
Black willed his feet to move as quickly as they could under his 260 pounds and he was able to make himself a roadblock for shorter, quicker players driving the lane.
Lucas said he was impressed with the way Black supplied help and got back to his man.
"It's a hard job to do that and not get into foul trouble," Lucas said. "Look at me. I came in and got three quick fouls."
It was Lucas' first post-season game.
"I remember being on an all-freshman team and not really knowing what I was doing yet," Black said. "It's good to get the first-game jitters out of the way."
Black's passion for postseason play showed.
"I love it," he said. "I'm amped, man."
It showed and he was far from alone.
More like this story on KUsports.com