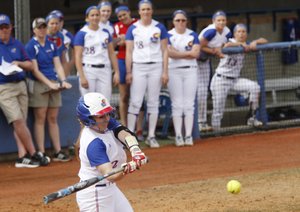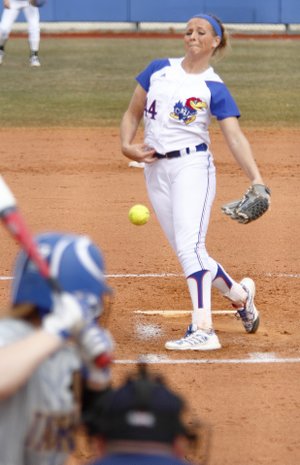 Chaley Brickey spent most of the past few weeks punishing opposing softball pitchers around the Southeast. Tuesday afternoon at Arrocha Ballpark, the Kansas University sophomore shortstop finally got a chance to do the same in Lawrence.
South Dakota State's pitchers fared no better than earlier KU opponents this season, as Brickey went 5-for-5, with a home run and six RBIs, in a pair of 8-0, five-inning victories for the Jayhawks in their home opener.
"She is just on a tear, and she's not slowing down," Kansas softball coach Megan Smith said of Brickey after KU won its sixth straight to improve to 17-7. "She's so confident. You can see it in her approach ... She's just a force right now."
Hitting .449 this season, with a team-leading six home runs, to go with 20 RBIs, Brickey has done much of that damage in the past six games. During the winning streak, the sophomore from Haltom City, Texas, is 14-for-19, with 12 RBIs and a home run. Last week's games also earned her the distinction of co-Big 12 Player of the Week, the league announced Monday.
Lately, Brickey has learned to make pitchers work, while staying relaxed at the plate.
"At the beginning of the year, I know I got tensed up when I got two strikes on me," Brickey said. "But there was a joke that was made by one of our coaches, that told me to let loose and have some fun up there. Now I'm letting loose when I have two strikes and not tensing up as much."
The Jayhawks out-hit the Jackrabbits, 21-5, in the doubleheader sweep. Senior center fielder Alex Jones, junior first baseman Maddie Stein and senior right fielder Taylor Hatfield joined Brickey with multi-hit games in the opener, while senior second baseman Ashley Newman and junior third baseman Chanin Naudin did the same in Game 2.
Smith said the Jayhawks have progressed all season, and really began to come around this past weekend, in Tampa, Fla., where the winning streak began.
Sophomore pitcher Kelsey Kessler (10-5) opened Tuesday with a 10-strikeout victory, and junior hurler Alicia Pille (6-2) followed with a two-hit shutout of S.D. State (5-14).
Said Brickey: "With Kessler and Pille out there, I know they're gonna do their job and take care of business. They know they have a defense behind them that will take care of them if they get ground balls and pop flies."
Kessler has gone 19.1 innings since she last allowed a run — in a KU win Friday against South Florida.
Kansas continues a six-game homestand Friday at 3:30 p.m. against Northern Illinois.
---
Game 1
South Dakota State 000 00 — 0 3 0
Kansas 403 01 — 8 12 1
W — Kelsey Kessler, 10-5. L — Jennifer Sutton, 2-5.
2B — Alex Jones 2, Maddie Stein, Taylor Hatfield, KU. HR — Chaley Brickey, Hatfield, KU.
KU highlights — Kessler, 5 IP, 3 H, 10 Ks, 0 BBs, 0 Rs; Jones, 2-for-3, 2 Rs; Brickey, 3-for-3, 4 RBIs, R; Stein, 2-for-3, RBI, R; Hatfield, 3-for-3, 2 RBIs, R.
Game 2
South Dakota State 000 00 — 0 2 3
Kansas 202 13 — 8 9 1
W — Alicia Pille, 6-2. L — Ashlyn Bender, 3-4.
KU highlights — Pille, 5 IP, 2 Hs, 0 Rs, 1 BB, 5 Ks; Ashley Newman, 2-for-2, 2 Rs, RBI; Brickey, 2-for-2, 2 RBIs, R; Chanin Naudin, 3-for-3, R, RBI.
More like this story on KUsports.com