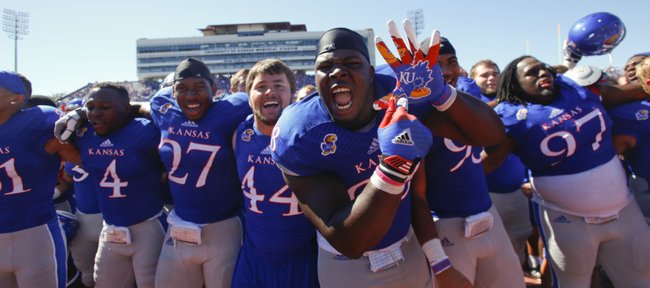 The Kansas University football squad's spring practices mark the beginning of the end of two dozen college careers.
But Tuesday, as the team went through its third day of spring practices and first in full pads, the majority of the Jayhawks' seniors said their focus was elsewhere.
"I haven't been thinking about it being my last one at all," said senior running back Brandon Bourbon, who entered the spring atop the depth chart for the first time in his career. "Just because I have so much to worry about, like where am I supposed to line up, this new call, what's that mean and stuff like that. It takes all your concentration."
Senior defensive lineman Keon Stowers is one of the seniors pushing aside nostalgia to build the foundation for a rewarding final season, especially after doing the heavy lifting during the program's lean years. Even though Stowers came to Kansas from a junior college, he's entering his third season with the team and wants to convey a simple message to KU's fan base.
"If there's one thing you could tell the fans, tell 'em we're hungry," Stowers said. "The hoping is done. We expect to win."
Like Bourbon, Stowers believes that the demands of a fresh start, the influx of new players and a change in roles for some of the veterans are enough to put the big-picture thinking on the shelf for the next month.
"It gives me a new challenge, something else to take on," said Stowers, who served as a team captain in 2013. "I'm always trying to find different things to better myself and (this spring) gives me a little spark to take my mind off of this being my last year."
While spring ball brings with it a new offense, a few intense position battles, a couple of new coaches and renewed hope for the season ahead, the one thing that has not changed is the Jayhawks' team-first mentality.
"It hasn't hit me quite yet," said senior Jake Heaps, who enters the spring battling to be the team's starting quarterback. "But I do realize this is my last season and there is a sense of urgency to make it my best season and the best season it can possibly be for our team."
Talib heading to Denver
Former KU football All-American Aqib Talib agreed to a six-year deal with the Denver Broncos, the Associated Press reported late Tuesday night. Talib, a shutdown cornerback with New England in 2013, will join former KU defensive back Chris Harris in the Broncos' secondary.
Tuesday was the beginning of the NFL's free-agent signing period.
Stuckey signs
Former Jayhawk Darrell Stuckey, who spent the 2013 NFL season as a special teams captain with the San Diego Chargers, recently signed a four-year contract extension with the team, which drafted him in the fourth round in 2010.
Pro Day set for Friday
Friday marks the program's annual pro day in which a handful of scouts from around the NFL will come to Lawrence to run several former Jayhawks through a combine-type workout at KU's facilities.
Running back James Sims is the headliner of KU's draft hopefuls. Kansas coach Charlie Weis has said in the past that Sims has the talent to play professional football.
In all, 12-15 former Jayhawks are expected to participate in Friday's skills showcase, which will take place in the morning and is closed to the public.