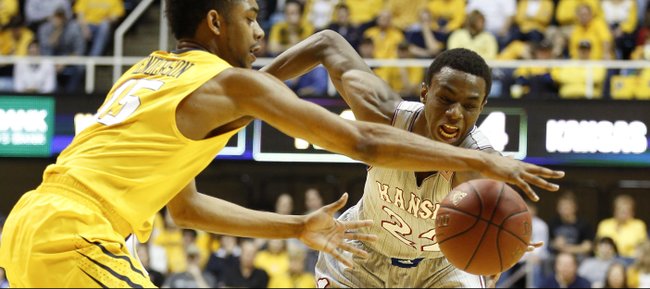 Photo Gallery
Kansas basketball v. West Virginia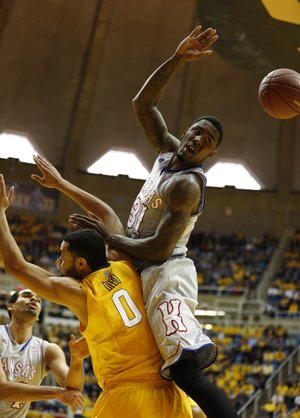 Images from Saturday's game between the Jayhawks and Mountaineers in Morgantown.
Podcast episode
Kansas basketball coach Bill Self, freshman Andrew Wiggins and sophomore Jamari Traylor discuss the Jayhawks' loss at WVU, and what's next for KU.
KEEGAN RATINGS
WEST VIRGINIA 92, KANSAS 86
Morgantown, W.Va. — Fans in the state where Kansas University freshman Andrew Wiggins played high school basketball booed him and/or chanted "USA, USA" in derision pretty much every time the Canadian sensation touched the ball on Saturday at WVU Coliseum.
He didn't quite get the last laugh, as the West Virginia Mountaineers, who led at one point by a whopping 25 points, beat the Jayhawks, 92-86, before a sellout crowd of 14,038.
Yet the 6-foot-8, 200-pound off guard did make a statement of sorts in scoring a KU freshman record 41 points off 12-of-18 shooting. He made 15 of 19 free throws in surpassing Ben McLemore's old KU rookie record point total of 36 points, coincidentally set against West Virginia on March 2, 2013.
"I'm just happy to be here, blessed to be in the moment playing in front of people who showed me love the past two years. It's a blessing," said Wiggins, who also had eight rebounds, five steals and four blocks.
"It's a good thing, but we lost," Wiggins added of becoming the school's top single-game freshman scorer of all time. "I'd rather score five points and win than score 40 and lose. To me, it's not really something that great because we lost."
Wiggins, who had 24 points the second half off 7-of-11 shooting, helped the (23-8, 14-4) Jayhawks slice a 25-point deficit (64-39, 16:44) to five points 85-80, at 1:21. 
However, (17-14, 9-9) West Virginia, which was led by the offensive onslaught of Eron Harris (28 points), Juwan Staten (24) and Devin Williams (22), scored three straight points off Staten free throws to lead 88-80 at :34.
"I never stopped believing in my team. We fought hard until the end and we almost had it," said Wiggins, who scored the most points by a Jayhawk since Terry Brown went for 42 against North Carolina State on Jan. 5, 1991. It was the second-best scoring game by a freshman in Big 12 history, behind only Michael Beasley of Kansas State, who had 44 against Baylor in 2008. Wiggins' 15 free throws were the most by a Jayhawk since Tyshawn Taylor hit 15 against Kentucky on Nov. 15, 2011.
"I didn't want it more," Wiggins said of playing in the state where he led Huntington (W.Va.) Prep to greatness for two seasons. "I want it every game. I play every game like it's my last so this is no different from any college game I've played this year."
Still ... "It just shows what I can do when I'm aggressive and attacking. It puts pressure on the defense," Wiggins said.
KU coach Bill Self, who showed his displeasure with point guard Naadir Tharpe (no points, no assists, 16 minutes) by playing him just seven minutes the final half to Frank Mason's 15, recognized the special outing by Wiggins.
"Their big three had 74 on us. Our big one had 41," Self cracked, "so I thought Andrew probably played as well as he has played all year long. He was plugged into the game. He gets eight rebounds, is our best defender even though we didn't guard worth a flip. He had four blocks, five steals. Anytime you get 41 points, which I never did (as guard at Oklahoma State) on 18 shots means you had a pretty good day. There's nobody in America will have a better game than what Andrew had today. He was really good."
Of junior floor general Tharpe, who missed the only three shots he took, Self said: "He didn't play as much. I thought he got off to a rough start. He needs to do things probably to help lead us a little bit when things aren't going well. We tried to play our most competitive guys late. I thought Jamari (Traylor, six points, seven boards, 24 minutes) was terrific with his energy.
"One thing that (49ers coach) Jim Harbaugh spoke to the team about (on Wednesday at shoot-around) was, 'Energy always finds the ball.' When you think about it, it's true. We played with more energetic guys late. They did a better job swarming to the ball and some good things finally happened," Self stated.
Self thought his team might pull this one out after Mason (10 points, two assists) drilled a three at 1:21 to cut the gap to 85-80.
"We (Mason) fouled with :02 on the shot clock. They were going to shoot a bad shot or have to throw one up. We fouled. It basically went from five to seven (off Staten free throws)," Self said. "Everything had to go perfect. When one or two things didn't go perfect, it was too much to overcome."
A major problem was defense. West Virginia outscored KU, 50-38, the first half.
"We were lucky they only had 50," Self said. "They were on pace to get 60 halfway through the half. They were terrific. We didn't guard at all. It's as poor as we have been."
It was KU's second-worst half of the year. Wake Forest scored 52 in the second half of a Nov. 28 game in the Bahamas. It was most points allowed in a first half since Texas torched KU for 54 in March of 2007.
Wiggins remained the one, huge bright spot on a day Perry Ellis had 14 points and five boards, Wayne Selden eight points and Tarik Black just two tallies and four fouls in 22 minutes.
"He's a great player. I mean the sky is the limit for him," Traylor said of Wiggins. "When you come out like that and play, nobody can play with him."
"He played great. If it wasn't for him, who knows how bad the game would have gone. He was terrific," Tharpe said.
KU will next meet the winner of Wednesday's 6 p.m., first-round Big 12 tournament game between Oklahoma State and Texas Tech at 2 p.m., Thursday in a tourney quarterfinal in KC's Sprint Center.