Photo Gallery
Kansas basketball v. West Virginia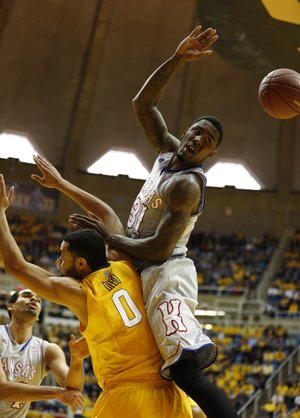 Images from Saturday's game between the Jayhawks and Mountaineers in Morgantown.
Podcast episode
Kansas basketball coach Bill Self, freshman Andrew Wiggins and sophomore Jamari Traylor discuss the Jayhawks' loss at WVU, and what's next for KU.
KEEGAN RATINGS
WEST VIRGINIA 92, KANSAS 86
Morgantown, W.Va. — Two superstar painters can throw enough fresh paint on a rotting porch to make it look presentable enough to close the sale, but there is only so much one can do in 40 minutes.
Freshman Andrew Wiggins, looking every bit like the No. 1-ranked recruit he was when he last played basketball in the mountain state, for Huntington Prep, did it all Saturday for Kansas University and it wasn't enough to prevent another court-storming, this time in WVU Coliseum, where West Virginia defeated the Jayhawks, 92-86.
Even on a day Wiggins totaled 41 points, eight rebounds, four blocked shots and five steals, he needed another superior talent, fellow freshman Joel Embiid, for KU to knock off a hungry team that played a terrific game.
Embiid wasn't in West Virginia, will be on a plane for Los Angeles today and in the office of a renowned back specialist Monday, getting a second opinion on his nagging back injury. If that doctor concurs with the others who have seen him so far and lets the 7-footer from Cameroon know that he won't be risking further injury by playing, Embiid will reappear on the court either at some point during the Big 12 tournament or more likely, it would seem, the NCAA Tournament.
Nobody expects him to be 100 percent upon his return — stiffness will limit his mobility and make him less than his graceful self — but even a diluted Embiid can greatly change Kansas for the better.
It's easier to play point guard when dumping the ball into a 7-footer with a soft touch is a go-to option. It's not as costly when a point guard gets blown by if a 7-footer lurks.
Embiid and Wiggins clearly distanced themselves as the team's two most important, most consistent players, a pair of long, athletic wonders who learned through the year how to use their gifts in so many different ways all over the floor. In so doing, they masked the weaknesses of teammates. Take one of them away, a couple of things go wrong early in a game and things can snowball the margin becomes 25 points.
Plenty went wrong around Wiggins against a Mountaineers squad that returns every player next year.
Coming off a dominant senior night in which he scored 19 points vs. Texas Tech, Tarik Black needed to stay out of foul trouble on the road and didn't. He was whistled for his second personal at the 15:56 mark of the first half. West Virginia's quickness made this a tough game for Landen Lucas to play in and he committed four fouls in his seven minutes.
Kansas, more than any game this season, needed Perry Ellis to assert himself, become a force under the boards and on the scoreboard. It didn't happen. After an 11-point, four-rebound first half, Ellis faded into the background, the one place his team couldn't afford for him to go. He totaled three points and a rebound in nine second-half minutes.
But if I had to guess which play might be shown over and over to Ellis in front of the entire team it would one from the first half, the one in which he perfectly executed the footwork of a bullfighter and conceded a basket. Pivoted right out of the way. If you didn't see it, don't find it because it might loop in your head until your brain is tied in knots.
Junior point guard Naadir Tharpe, the only player with more game minutes in a Kansas uniform than Ellis, couldn't prevent Mountaineers' all-conference-worthy point guard Juwan Staten from controlling the game. Tharpe couldn't get Kansas in its offense, either, and went without a point, rebound or assist in 16 minutes. Staten outscored Tharpe, 46-5, in the two games this season.
Conner Frankamp, sometimes looking as if he aimed his shots, maybe because he was so wide open, missed all six tries, including four three-pointers.
Frank Mason had his share of freshman moments but also made 3 of 4 three-point shots, twice cutting a deficit that had been 25 points to five points in the final 1:29. But the deficit might have shrunk from there had Mason not bailed out Staten by fouling him with a couple of seconds left on the shot clock with 44 seconds left on the game clock. Staten made both and pumped the lead back to seven.
Too little defense — the Mountaineers (17-4, 9-9) shot .529 from the field and .563 from three — and not enough rebounding (West Virginia won that battle, 37-31) — shined a light on Embiid's absence.
Wiggins and Jamari Traylor, the two Kansas players brought to the post-game media session, were asked about how much they missed Embiid. Wiggins hesitated, perhaps trying to formulate an answer that wouldn't offend Embiid's replacement and Traylor stepped in to answer the question.
"We definitely missed him," Traylor said. "He could have altered some shots in the lane, help us rebound. But like coach said, we've got to make plays and other players have to step up."
Not enough others did.
Kansas coach Bill Self had no use for another explanation for poor play offered: Having already clinched the Big 12 title, the Jayhawks didn't have anything for which to play, right?
"I don't want to use that as an excuse," he said. "This time of year, guys have got to get up. That's not a factor."
Embiid's absence and Tharpe's play were factors, big ones, and it appears KU has one less thing for which to play, a No. 1 seed. No big deal. Playing as a No. 1 seed doesn't compare to the boost the team would receive from again playing with No. 21.